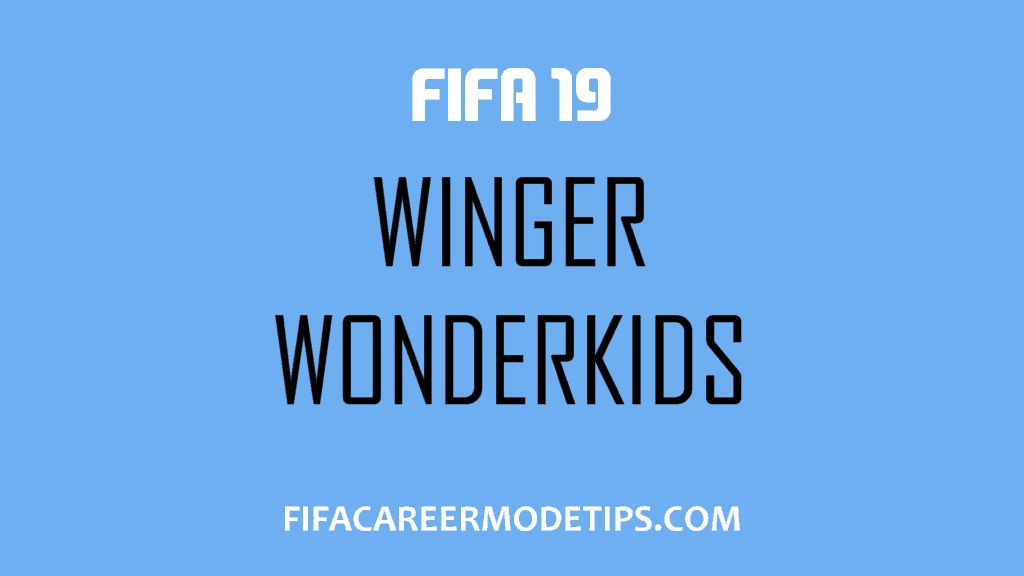 UPDATE: If you've landed on this page but you're looking for more up to date content, head over to our guide to the best Winger Wonderkids in FIFA 21.
Having great wingers in your team is a great way to strengthen your attack. Lot of managers prefer to develop a player rather than buy one, so we created the following list. FIFA 19 Winger Wonderkids, fifty players you need to consider whether you're looking for a left winger, left midfielder, right winger or right midfielder.
FIFA 19 Winger Wonderkids – Top 50
50. Glenn Middleton
Left Winger for Rangers, H/L work rates means he's unlikely to provide much support to your left back. Impressive potential of 84 and only starts out at 64 overall.
49. Anthony McDonald
McDonald also plays in the Scottish Premiership but is a Right Midfielder. He also has 84 potential but from a starting point of 62. He has H/M work rates and is left footed.
48. Amine Harit
Schalke's Moroccan Right Winger is already rated 78 but has the potential to hit 85. His other big selling point is his ability to perform 5 star skill moves.
47. Dani Olmo
A right footed Left Midfielder with four star skill moves and weak foot. Also has 85 potential but starts out at 75, so has a little more room to grow.
46. Riccardo Orsolini
Another inverted winger on our FIFA 19 Winger Wonderkids list, he plays RW for Bologna. Just like Olmo he has four stars for both attributes and 85 potential. His starting overall is 73.
45. David Brooks
Bournemouth's left footed Right Midfielder. Rated 72 but has an impressive 85 potential.
44. Matias Zaracho
A 'natural' Right Midfielder, playing for Racing Club de Avellaneda. 72 rated, but he's only 20 years old so has plenty of time to hit that 85 potential.
43. Myziane Maolida
You might recognise the name if you've been hunting wonderkids in previous editions of FIFA. Inverted LW with 4* weak foot and skill moves. 85 potential but currently only 71 overall.
42. Orji Okwonkwo
Another Bologna player on our FIFA 19 Winger Wonderkids list and he is also an inverted LW. Flying under the radar currently with 70 overall but has 85 potential.
41. Jordi Mboula
The Monaco Right Midfielder isn't super hard working but has four stars for skill moves and weak foot. Also 70 overall with 85 potential.
40. Javairo Dilrosun
Disappointing work rates but he can play on either wing. Currently 69 overall but could reach 85 eventually.
39. Marcus Edwards
Currently on loan at Excelsior from Tottenham. Should have improved upon his 66 rating by then, but the left footed RM has 85 potential.
38. Reiss Nelson
A natural Right Winger and has a better weak foot than Edwards. They're tied with 85 potential but Nelson only has 65 overall.
37. Tahith Chong
United's inverted RW is rated 65 overall but can claim a first team spot if he reaches his 85 potential. His contract runs out in 2019 so he might be elsewhere by then.
36. Emile Smith Rowe
Right footed Left Winger, also with only a year to run on his contract. Arsenal won't want to lose the 18 year old, only rated 63 now but has 85 potential.
35. Allan Saint-Maximin
The 79 rated Nice winger is a little more established than some of the others on our FIFA 19 Winger Wonderkids list. Low defensive work rate is a downside for a RW but double four stars and 86 potential is promising.
34. Raphinha
Sporting Lisbon's Right Midfielder is left footed and has four star skill moves. 79 overall is a good place to start but 86 potential is why you'll go out and buy him.
33. Viktor Tsygankov
The 21 year old Ukranian is already rated 79 but has an impressive 86 potential. He's a Right Midfielder who is naturally left footed, but has four star weak foot anyway.
32. Diogo Jota
78 rated now but the inverted LW could reach as high as 86 eventually. Four star skill moves and weak foot, and also has H/H work rates.
31. Steven Bergwijn
The PSV Left Winger is also right footed, rated 78 and has 86 potential. Disappointingly his work rates and weak foot aren't as good.
30. Richarlison
The Left Midfielder has five star weak foot so it doesn't really matter that he is naturally right footed. He's arguably underrated at 78 but his 86 potentially is reassuring.
29. Henry Onyekuru
On loan at Galatasaray from Everton, so you won't be able to buy the Left Midfielder for the first season. His 76 rating is decent enough but he should be exceptional if he reaches his 86 potential.
28. Justin Kluivert
The highly-rated Dutchman is already rated 75 but has 86 potential and four stars for both attributes. The Left Winger has only just joined Roma so his contract doesn't expire until 2023.
27. Samuel Kalu
The best way to describe Kalu is as a very pacey Right Midfielder. Buy him from Bordeaux while he's rated 74 and reap the rewards when he hits his 86 potential.
26. Jovane Eduardo Borges
Not quite as pacey as Kalu, but quick enough and has four star skill moves. A natural RM but can also play on the left, he's rated 74 but has 86 potential.
25. Ferran Torres
Also a Right Midfielder who can also play on the left. Torres has 86 potential but has great finishing ability for a 73 rated winger.
24. Paulinho
The Leverkusen RM is only rated 71 but should hit 86 within a few years. Four star skill moves is a bonus but his five year contract means he's unlikely to be cheap.
23. Brahim Diaz
The Manchester City youngster has an impressive potential of 86, despite only being rated 69 overall. He's a right footed Left Winger but has five star weak foot ability.
22. Abdoulaye Dabo
Dabo is a great investment for a future LM. None of his stats particularly stand out while he's rated 62 overall but that could change by the time he reaches his 86 potential.
21. Goncalo Guedes
Not a huge amount of growth potential in the inverted Left Midfielder as he already starts out at 83 overall. However, 87 potential is still very impressive.
20. Oyarzabal
The Real Sociedad man also has 87 potential but starts out at 80, so while still a readymade option, he should be more affordable. He's a Left Winger but can also play on the right side of midfield if needed.
19. Carlos Soler
Just like Oyarzabal, Soler should go from 80 overall to 87 one day. He plays as a Right Midfielder but can also be deployed centrally.
18. David Neres
87 potential is the reason everyone is clamouring to buy another Ajax youngster. The left footed Right Winger is already rated 79 and has five star skill moves.
17. Federico Chiesa
The Italian is a very strong option at RW. 78 overall with 87 potential, H/H work rates and four star weak foot and skill moves.
16. Cengiz Under
Yet another inverted winger on our FIFA 19 Winger Wonderkids list. Naturally a RW but can play on the other wing, he's a respectable 77 now and has the potential to reach 87.
15. Ismaila Sarr
Given he only has one star weak foot ability, Sarr is definitely an inverted winger. The 76 rated Left Midfielder is bound to be popular thanks to his 87 potential.
14. Yann Karamoh
A great dribbler for a 75 rated winger. Plays at RM and has an impressive 87 potential.
13. Alphonso Davies
Only 72 rated currently so might be available on the cheap. The hardworking Left Midfielder has an impressive 87 potential.
12. Joao Felix Sequeira
The Benfica LW has great growth potential, increasing from 71 to 87. He is right footed but can also play at CAM.
11. Callum Hudson-Odoi
Similar to Sequeira in almost every respect but starts out at 69 overall, so might be a cheaper option.
10. Christian Pulisic
Now into the top ten FIFA 19 Winger Wonderkids. The American Right Midfielder is comfortable on either wing, rated 79 and will likely end up one of the best wingers in the game due to his 88 potential.
9. Ryan Sessegnon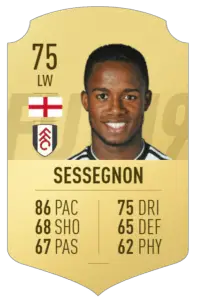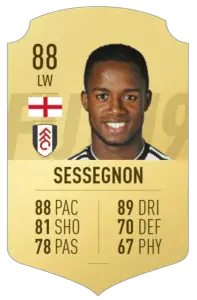 Previously a left back but has since converted to a Left Winger. Effective with a 75 rating but will be incredible at 88 overall.
8. Malcom
Won't be available until the summer transfer window but the inverted Right Winger has a lot to offer. Already an impressive 82 but will be a superstar if he fulfils his 89 potential.
7. Leon Bailey
Bailey is just like Malcolm, 82–89, skilful and comfortable on his weaker foot. The Left Midfielder is currently playing in the Bundesliga for Bayer Leverkusen.
6. Marcus Rashford
The United youngster is listed as a Left Winger but is just as effective as a striker. Currently rated 81 overall but could hit 89 overall within a few years.
5. Jadon Sancho
Currently reaping the benefits of switching the Premier League for the Bundesliga. The 75 rated Left Midfielder is already gaining admirers, can Dortmund hold onto their player with 89 potential?
4. Ezequiel Barcos
The Argentinian LM is now playing for Atlanta United. He's 74 overall today but has the potential to hit 89 in the future.
3. Ousmane Dembele
Another Barcelona winger that tends to keep Malcom out of the team. The Right Winger has five star weak foot ability and can already tear defences apart with his 83 rating. His 92 potential is phenomenal, how much are you willing to pay for him?
2. Vinicius Junior
Skilful and already rated 77, he won't be cheap – especially because of his 7 year contract. His 92 potential means he can be Dembele's LW equal.
1. Kylian Mbappe
The top spot on our FIFA 19 Winger Wonderkids list goes to PSG's Kylian Mbappe. An 87 rating for a 19 year old is already incredible, but his 95 potential is the highest in the game.
Be sure to check out the rest of our Wonderkid Lists.
Goalkeepers (GK) | Centre Backs (CB) | Full Backs (RB/LB) | Defensive Midfielders (CDM) | Central Midfielders (CM) | Attacking Midfielders (CAM) | Wingers (RM/RW/LM/LW) | Strikers (ST/CF)