Last Updated on
Best High Work Rate Players in FIFA 19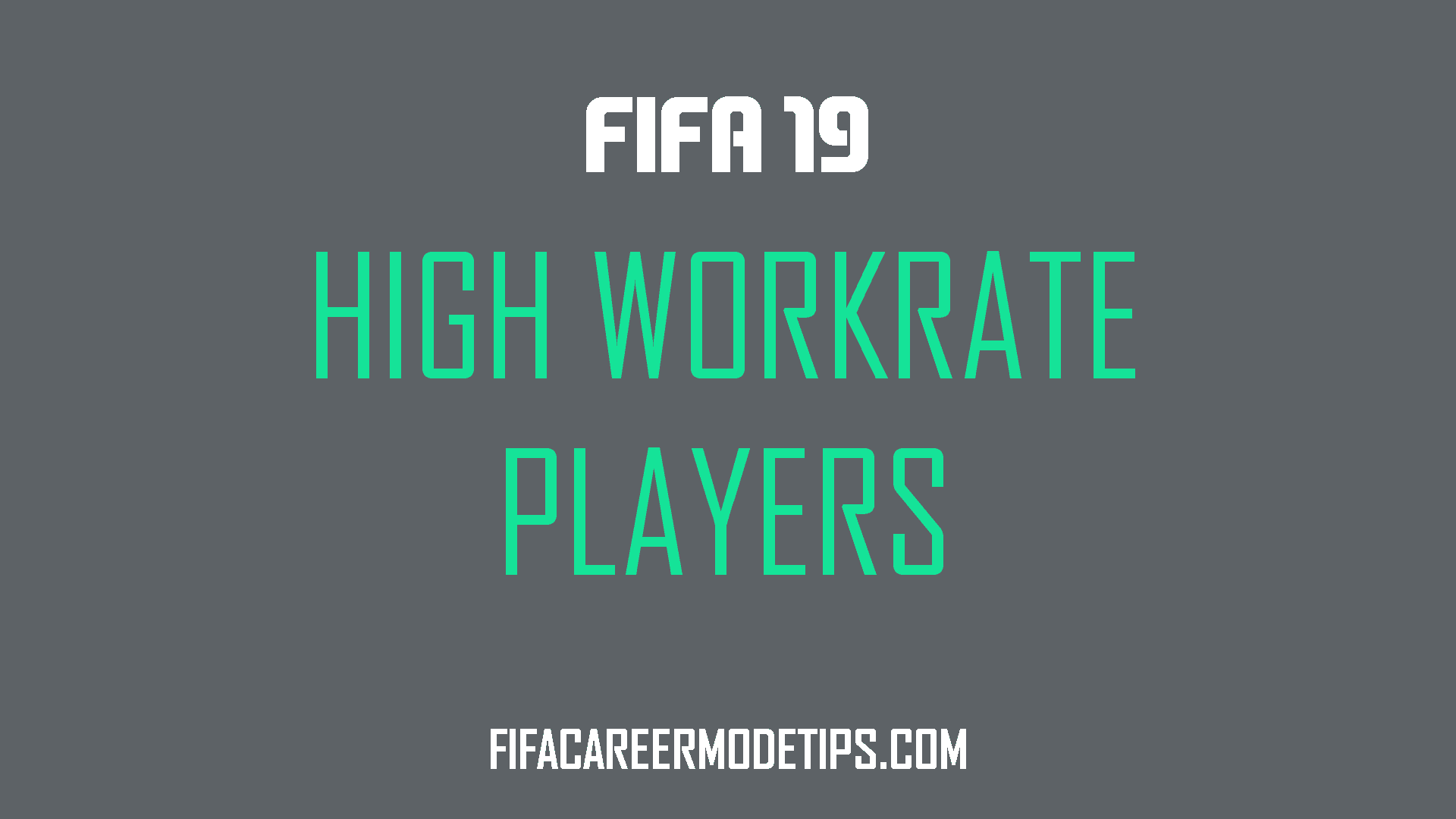 Work rates are sometimes overlooked by career mode managers, but they really do make a difference. All the players in this list have high work rates for both attack and defence, and are rated based on their potential and overall ratings. These are the 50 best high work rate players that can be found in FIFA 19.
50. Emre Can
Juventus were smart to acquire the midfielder recently, rated at 80 but has a potential of 85.
49. Fred
Manchester United have only just signed Fred, who also has 85 potential.
48. Ricardo Pereira
Also with 85 potential, Pereira is a pacey and attack minded right back.
47. Giovanni Simeone
A hardworking striker that is a great choice if you like to press high up the pitch. The Fiorentina man starts out at 78 but has plenty of room to grow.
46. Mahmoud Dahoud
Dortmund's Dahoud is a well-rounded central midfielder at 79 overall. Some of his stats will look more impressive if he reaches his 85 potential.
45. Franco Cervi
A hardworking winger with 85 potential will always interest managers, the fact that he has five star skill moves is an added bonus.
44. Alexandr Golovin
Can certainly be described as an engine, whether operating in central midfield or out on the left.
43. Jakub Jankto
Another player with 85 potential, but Jankto starts out at 76. This makes him a more affordable option for most managers.
42. Richarlison
The Brazilian has been prolific since arriving in the Premier League, his potential suggests there's more to come.
41. Wesley
Starts out at 77 overall but is already one of the strongest players in FIFA 19. Now he's one of the best high work rate players.
40. Erling Braut Haaland
At 6'4″, he's a target man with surprising pace. Pick him up while he's only rated 68 overall and help him realise his 85 potential.
39. Mykola Shaparenko
A versatile young midfielder who is initially unremarkable but has the potential to be one of the best midfielders in the game.
38. Alexis Sanchez
The Chilean's move to Manchester United hasn't quite worked out yet, but everybody knows what he is capable of. On his day, he is without a doubt one of the best high work rate players in the world.
37. Thomas Muller
His high work rates help explain why he is involved in so many goals for Bayern Munich, but his stats are damn good too.
36. Alex Sandro
Has probably hit his ceiling at 86, but remains one of the most exciting full backs in the world.
35. Nicolas Otamendi
The 30 year old should really be in his prime now, his well-rounded stats suggest that he is.
34. Koke
Great at picking a pass and comfortable in a few different midfield positions.
33. Hakim Ziyech
Older than you might have guessed at 25, but the playmaker still has time to reach his 86 potential.
32. Roman Zobnin
High work rates are essential for a CDM. He's effective at 79 overall but will control games when he hits his 86 potential.
31. Andrew Robertson
Liverpool's industrious left back has the potential to cement himself as one of the best full backs in the world.
30. Diogo Jota
In the unlikely event that Wolves are relegated, this winger will have no shortage of admirers.
29. Nordi Mukiele
Leipzig continue to show how shrewd they are. Mukiele may look average at first, but one day he'll be a world class centre back. He can even cover the right side if needed.
28. Pablo Fornals
A playmaker and versatile midfielder, the Villareal man can continue to improve.
27. Kieran Tierney
With this kind of potential, it's surely only a matter of time before the young left back is prised away from Celtic.
26. Henry Onyekuru
Plenty of growth left in this one. A pacey dribbler and an effective finisher too.
25. Gedson Fernandes
Likely your best option to acquire a future midfield star for a reasonable transfer fee.
24. Ivan Rakitic
The Barcelona man has probably tapped out his potential now but his stats across the board are incredible.
23. Jan Vertonghen
An excellent and reliable centre back, providing his stats don't plummet due to his age. A tireless defender that loves getting forward means Jan Vertonghen is one of the best high work rate players in FIFA 19.
22. Sergi Roberto
Not necessarily a pacey right sided player, but can consistently pick out other players and dispossess opponents.
21. Rafinha
His 87 potential suggests we haven't seen the best of the Barca playmaker yet.
20. Roberto Firmino
Almost at his peak, the Brazilian attacker has plenty of ability to trouble defences with.
19. Andrea Belotti
Could still grow to 87 overall, he's a clinical finisher and is adept at shooting with both feet.
18. Inaki Williams
Blessed with pace but perhaps lacking in stamina, Williams can play up front or on either wing.
17. Amath Ndiaye Diedhiou
His pace and skill at dribbling make him well-suited to playing at left midfield, but his 87 potential makes him a viable striking option.
16. Alphonso Davies
Huge growth potential in this pacey Canadian winger. Currently only rated at 72 but will end up at one of the biggest clubs in world football thanks to his 87 potential.
15. Federico Chiesa
Try and get the Italian winger while he's still below 80 overall, otherwise you might regret it.
14. Leon Goretzka
The versatile engine room of Bayern Munich's midfield will be closer to 90 overall within a few seasons.
13. Thomas Partey
If you can afford to buy Partey, you'll have an absolute beast covering your defence even before he hits his 88 potential.
12. Franck Yannick Kessie
Also has 88 potential but prefers the CM role, he has insane physical stats even now.
11. Tanguy Ndombele
At 79, he's an effective midfielder with a great burst of pace. Should be frightening if he hits his potential.
10. Edinson Cavani
At 31 years old, he's not lost his eye for goal and still works hard for them.
9. Coutinho
His high work rates are really just a bonus for a player that is capable of producing magic from nothing.
8. Mateo Kovacic
If Chelsea keep Kovacic beyond his loan spell, they'll have one of the best midfielders in the world when he hits 89 overall.
7. Presnel Kimpembe
PSG perhaps aren't famous for their youth players, but Kimpembe is certainly one they want to keep hold of. With 89 potential, they'll be hoping that he will be marshalling their defence for the next decade.
6. Antoine Griezmann
Might just hit 90 overall if he can stay in form at Atletico Madrid. Maybe not the first name to mind when you think best high work rate players, but he really is.
5. Kalidou Koulibaly
Napoli have done well to hold onto one of the best centre backs in the world. Physically imposing and still has time to grow.
4. Luka Modric
Arguably the best midfielder in world football right now. He may not have many years left in him, but you wouldnt know that from his stats.
3. Kevin De Bruyne
Simply an outstanding midfielder that will regularly be involved in goals. Jose Mourinho must certainly regret letting him go.
2. Harry Kane
Continues to defy the critics that said he'd never be good enough. Learn to use Kane effectively and you'll have one of the most devastating strikers in FIFA 19.
1. Gabriel Jesus
Matches Kane for his 92 potential but edges him in our list due to his pace and the fact that his 83 rating makes him the more affordable striking option of the best high work rate players.
Be sure to check out our other guides to the best players in FIFA 19.