Last Updated on
Youth Challenge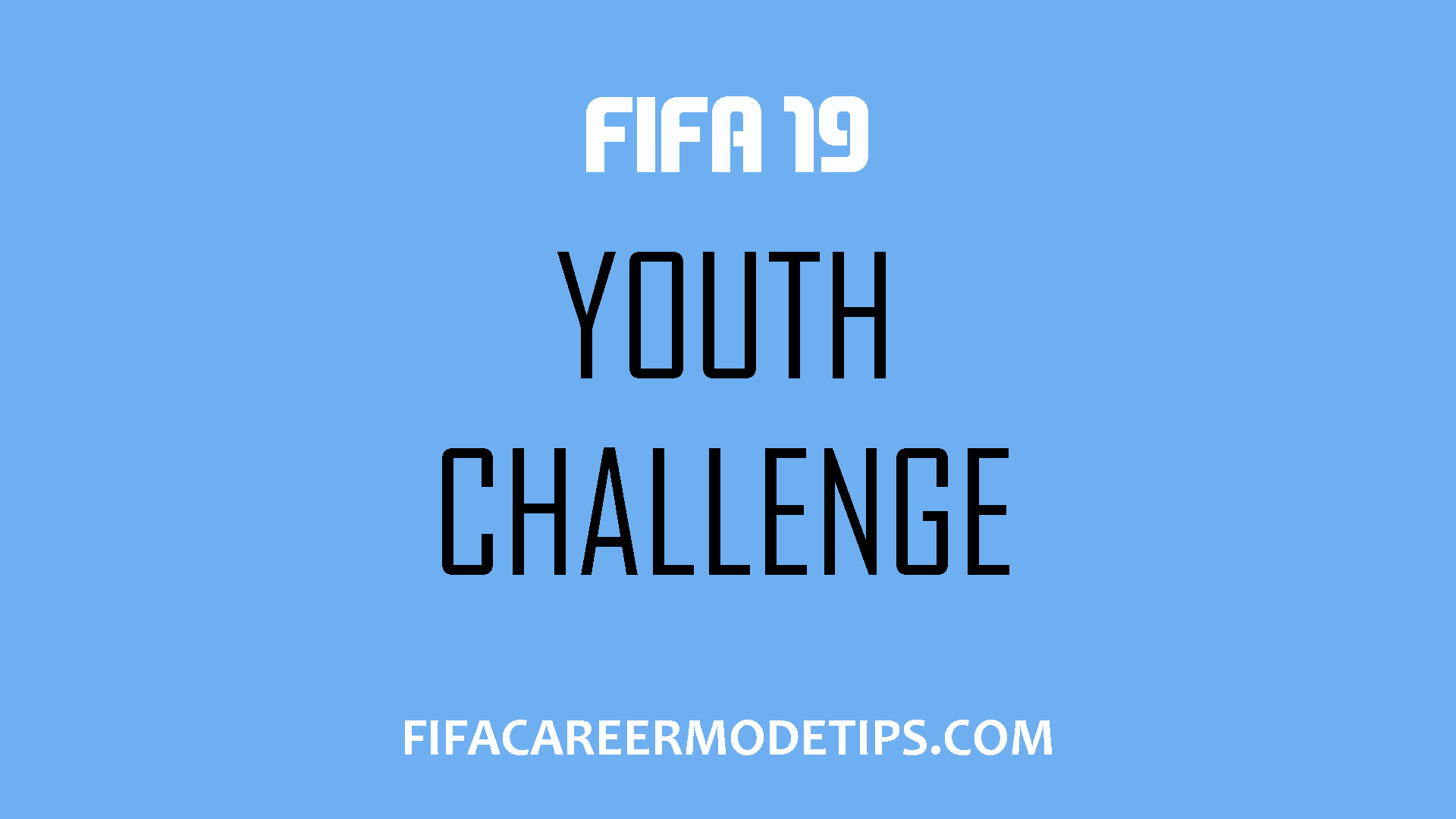 Summary
This is a fairly simple one to understand and really popular. Basically, you're only allowed to use youth players from your own youth academy.
Youth Challenge Rules
For the Youth Challenge, when I say 'youth players' I specifically mean those that came through your own academy. You can't sign youth players from other teams.
Each matchday squad must consist entirely of youth players (starting XI and bench).

The exception to this rule is the very first pre-season tournament which you may use to get your real players into form so that they can be sold.
This means you need to build up a squad of at least 18 players very quickly. During this time you should value Experience over Judgement when hiring scouts as they will deliver more players.

Until you have a large squad, you should be signing and promoting any youth players you can, even ones with low overall and potential.
If you don't have enough players for a competitive game, you must forfeit the game and take the 3-0 loss.

You aren't allowed to put a real player in your squad, even if 'they're just on the bench and won't even play'.

Real players should be shipped out as quickly as possible:

Sell them, even if their value isn't met
Loan them out on a short term basis (means you can't use them and they'll have a better chance of being sold in the next window)
Release them – best to save this option for the lower rated players you won't receive many offers for as you can only release two players per season.

Doing a 'Save & Reload' on your scouting reports is frowned upon. I think it's more fun to struggle to have enough players initially and make a bad start to your league campaign. However, how you play the game is up to you!
OPTIONAL: Use the Scouting Ladders system to mix your scouting habits up.
Aim
This is more of a restriction-based challenge, so there isn't a fixed aim. You should still be looking to meet the board objectives and avoid being fired. Silverware should also be the ultimate goal, regardless of the team you start with.
The difficulty of the youth challenge tends to evolve in three phases:
1.  Scouting enough players to fill a squad
2. Finding players with decent stats and/or high potential
3. Holding onto your best players while you pursue silverware
Clubs
Which club you choose to start with isn't so important for this challenge, you can do it with any club you like. It's probably more realistic to use an 'underdog' club that is more likely to take the academy approach. However, it can be just as fun getting rid of all the star players at a big club and starting from scratch.
A basic requirement would be a reasonable budget, so that you can afford to hire scouts initially. You will make money from player sales but you really need to hire three scouts at the start of the game so it's best not to wait.
Squad size should also be taken into account when choosing a club for the youth challenge. The smaller your starting squad, the fewer players you have to sell. As I've said already, if you don't sell them they can just sit in the reserves, but you don't want to be constantly getting messages about how unhappy they are.
Tips
If you need some help with youth scouting, check out our detailed guide.
Hire three scouts on day one and dispatch them instantly
In your first scouting reports, don't bother with players aged 15 – you need older players you can promote instantly.
While you're trying to find players quickly, don't specify a player type to your scout
Remember to check out the rest of our challenges!