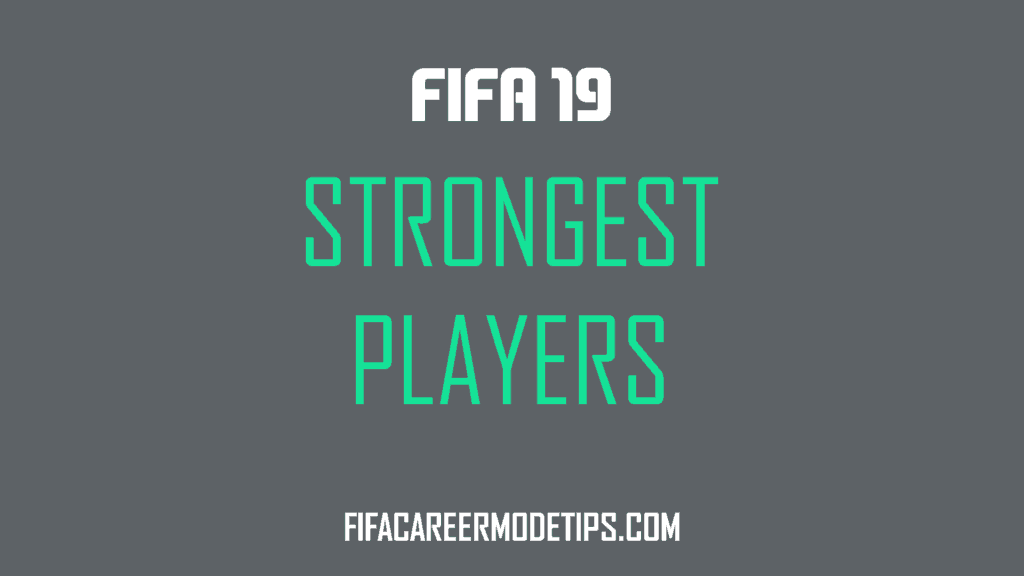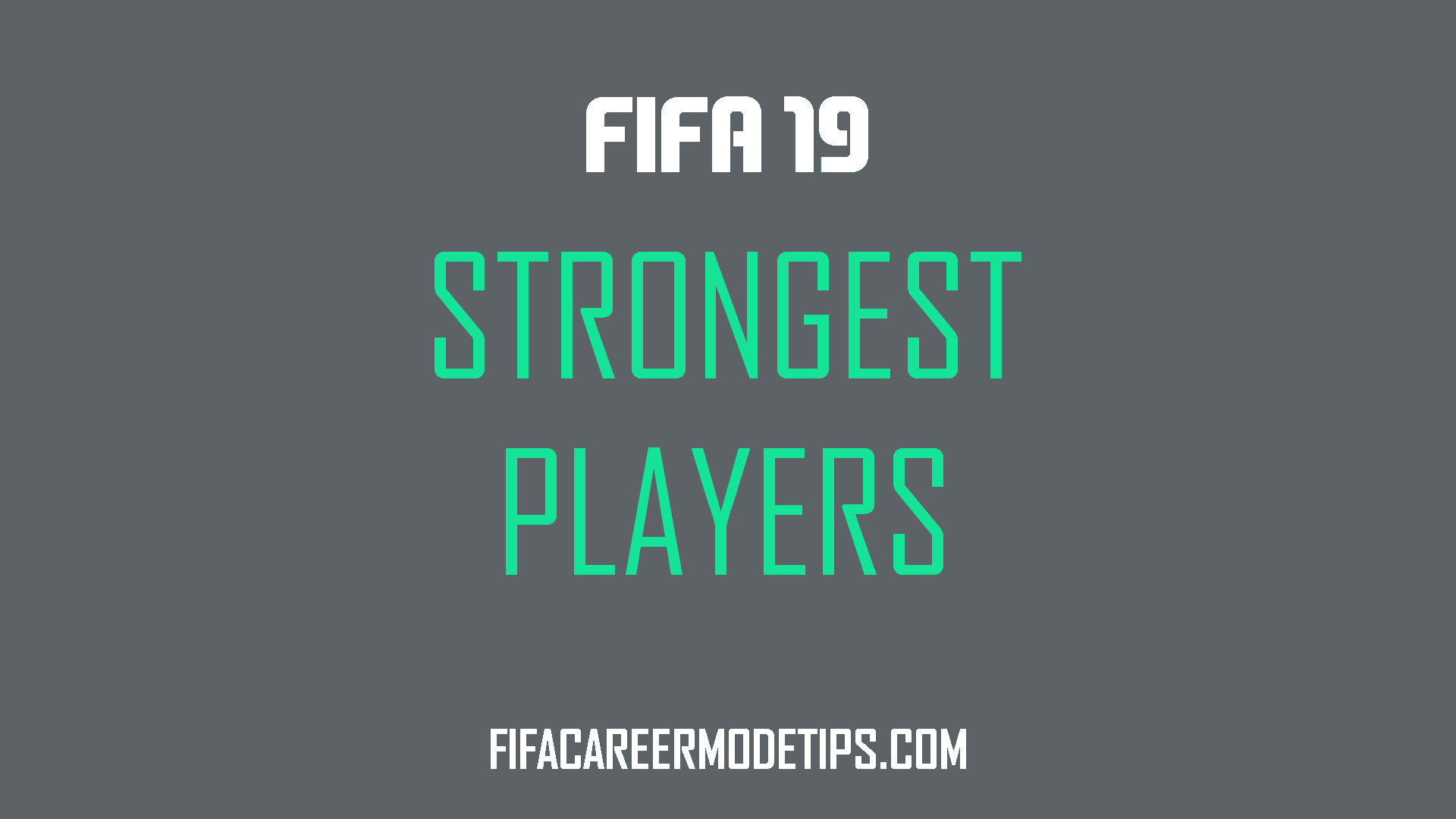 Wondering who the strongest players are in FIFA 19? You're in the right place. You'll notice this list is dominated by centre backs and has some of the best strikers FIFA 19 has to offer. Some of these players might come in handy if you're doing the Pulis-Ball Challenge.
50. Leonardo Sanchez
Strength: 92
We start our list with a 69 rated centre back.
49. Janeiler Rivas
Strength: 92
A lower overall rating than Sanchez and no growth potential.
48. Jay-Roy Grot
Strength: 92
Great strength for a 66 rated striker. Even better that he has a potential of 75.
47. Julian Quinones
Strength: 93
Has some growth potential, so a good option if you need a centre back in the 71 range.
46. Anderson Esiti
Strength: 93
One of only a handful of defensive midfielders on our list of strongest players. Currently 71 overall but can grow to 76.
45. Lukasz Szukala
Strength: 93
No growth potential here but this CB is still powerfully strong considering his overall rating.
44. Ronny Konig
Strength: 93
65 rated striker, might be useful in one of the lower leagues.
43. Matt Smith
Strength: 93
Similar to Konig, this striker doesn't have the best stats.
42. Zakaria Diallo
Strength: 93
68 rated centre backs don't tend to excite people, but he should keep you out of trouble.
41. Stefano Okaka
Strength: 93
The Watford striker has enough to trouble most Premier League defenders, his strength is a real bonus.
40. Luca Miracoli
Strength: 93
Another low rated striker, but Miracoli does have some growth potential.
39. Aljaz Struna
Strength: 93
This centre half shouldn't lose his impressive stat anytime soon, the others might even increase slightly.
38. Cheikh N'Doye
Strength: 93
A rare central midfielder amongst the strongest players in FIFA 19.
37. Dominic Peitz
Strength: 93
Peitz is a strong CDM, but doesn't have any growth potential.
36. Oleksiy Dytyatev
Strength: 93
One of the lowliest players on our list at 60 overall.
35. Gaston Campi
Strength: 93
Campi might just be your man if you need a 70 rated centre back, he even has a little growth potential.
34. Christian Schoissengeyr
Strength: 93
This centre back starts out at 65 but can grow to a semi respectable 69.
33. Bismar Acosta
Strength: 93
No growth potential but 93 strength in a 72 rated centre back can be very useful.
32. Nikolai Topor-Stanley
Strength: 93
Nothing much to get excited about here, 65 rated centre back.
31. Ezequiel Rescaldani
Strength: 93
This 69 rated striker will increase in value if you can get him to fulfil his 72 potential.
30. Michael Frey
Strength: 93
Similar to Rescaldani but you might be more comfortable with his 72 overall rating. His 78 potential is more promising too.
29. Frode Kippe
Strength: 93
Low rated centre backs seem to be common on this list, Kippe is probably only worth it if you can strike a bargain.
28. Garrido
Strength: 93
Another CDM, but you'll have to settle for his 71 rating.
27. Andreas Cornelius
Strength: 93
This promising striker starts out at 75 overall but can reach 79. He could be a useful backup option for your team.
26. Mouhamadou-Naby Sarr
Strength: 93
Sarr is a decent buy at centre back if you don't mind him starting out at 67, he'll grow to 73.
25. Fabian Noguera
Strength: 93
Half way through our list. Another centre back with 93 strength, but Noguera has the potential to go from 68 to 73.
24. Harold Moukoudi
Strength: 93
A really promising option at centre back. Only 70 rated to start with but can reach an impressive 81 overall.
23. Frantzdy Pierrot
Strength: 93
63 rated striker to begin with but being able to grow by nine points is valuable.
22. Obbi Oulare
Strength: 93
Another striker that will improve over time. Buy him at 70 and reap the rewards when he reaches 77.
21. Jonathan Tah
Strength: 93
Tah's potential (88) has been clear for years, but his current overall of 83 would make him an excellent addition to any top side. One of the first names that comes to mind when we think about the strongest players in FIFA 19.
20. Willy Boly
Strength: 93
The Wolves man perhaps flies under the radar somewhat but you can have an 80 rated centre back on your hands if managed carefully.
19. Nicolas Spolli
Strength: 93
Solid but unspectacular centre back with a 75 overall rating.
18. Niklas Sule
Strength: 94
The first player on our list with 94 strength. You'll have a hard time stealing this centre back away from Bayern but his 90 potential might tempt you to try.
17. Sebastian Coates
Strength: 94
Possibly a familiar name to you? He does still have a tiny bit of growth left in him.
16. Romelu Lukaku
Strength: 94
One of the biggest names amongst the strongest players. United won't want to give up their 87 rated striker.
15. Alberto Cerri
Strength: 94
This striker can grow from 72 overall to 80. His 94 strength will ensure he's useful for you from day one.
14. Kalidou Koulibaly
Strength: 94
Won't be a cheap signing at centre back, but does have 90 potential.
13. Kara Mbodji
Strength: 94
Potentially a more affordable choice at centre back. 78 rated but he won't be bullied at set pieces.
12. Marco Torsiglieri
Strength: 94
If his 72 rating is around your team's level, this CB is a good buy.
11. Roman Torres
Strength: 94
Very similar to Torsiglieri. Might be worth comparing their stats side by side, or seeing who is cheaper.
10. Florian Ballas
Strength: 94
Ballas can grow to 73 but is unlikely to grow much beyond that.
9. Uche Ikpeazu
Strength: 94
If you might need a strong 74 rated striker in a few seasons, buy Ikpeazu while he's still 68 overall.
8. Felipe Carvalho
Strength: 94
Another strong player that can grow by 6 overall points. Carvalho is a centre back.
7. Renato Civelli
Strength: 94
Doesn't have age on his side, but could be a decent stop gap CB for you if you can pry him from Banfield.
6. Matt Rhead
Strength: 94
His overall stats are nothing to get excited about, but he could be the man for you if you're just looking to bully lower league defenders.
5. Jannik Vestergaard
Strength: 94
Another solid centre back who would be a good addition for most title-chasing sides.
4. Kendall Waston
Strength: 95
Currently 30 years old and plying his trade in the MLS, this 30 year old centre back could help shore up your defence.
3. Tomas Chory
Strength: 95
Only 61 overall but has a potential of 66. This striker could certainly do a job for a lower league side.
2. Wesley
Strength: 95
If you play in one of the higher leagues, you should sign this striker. He starts out at 77 but can grow to an impressive 85 overall.
1. Adebayo Akinfenwa
Strength: 97
Who else? The man dubbed 'The Beast' was always going to be high on this list. The strongest player in the game, despite the fact that he is getting on a bit now. He completes our list of the strongest players in FIFA 19.
Check out our lists of the other best players in FIFA 19.