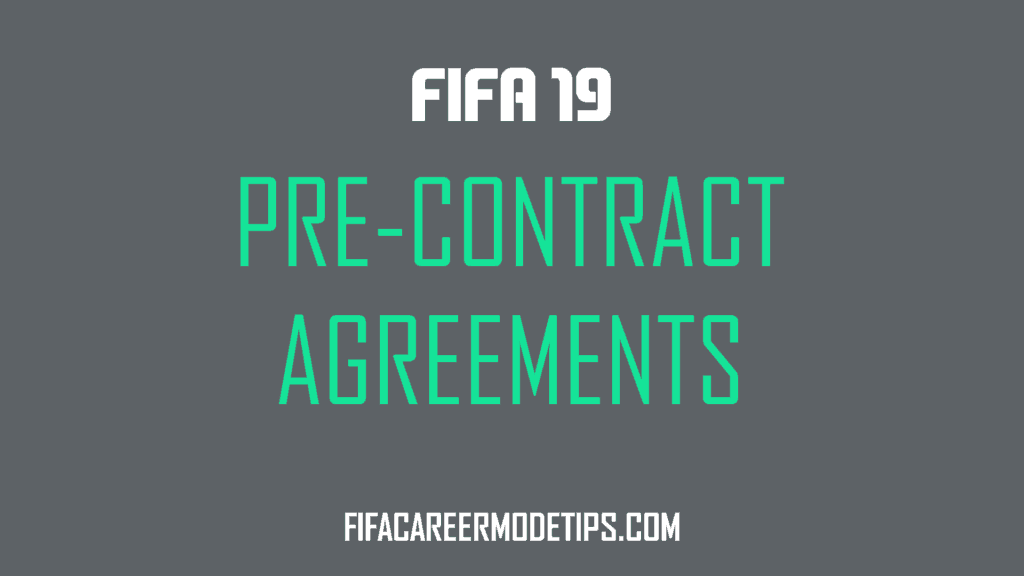 If you're unsure about what they are, their pros, cons and who to consider signing, you're in the right place. Read on for our simple guide to pre-contract agreements in FIFA career mode.
Note: If you're already familiar with the concept and just want to know which players you could sign on a free transfer, check the links at the bottom of the page.
What are Pre-Contract Agreements?
Let's start with the basics. As you know, footballers are employed by clubs on a contract basis. That means they will stay at that club on the same wages until one of four things happens.
The club issues the player a new contract. Usually to keep the player at the club for a longer amount of time and often requires offering the player improved wages.
The club terminates the player's contract and releases the player. The club will have to pay the player his wages for the remainder of his contract in one payment.
Another club pays a fee to transfer the player, effectively terminating their existing contract.
The contract comes to an end and the player becomes a free agent.
Number four on that list is the important one here. Once a player's contract ends, he is free to join another club and they won't have to pay the original club a transfer fee. 
In FIFA, this is known as a pre-contract agreement but in the wider world of football they are also known as free transfers or Bosman transfers. This is in part thanks to the famous case of Jean-Marc Bosman. Although pre-contract agreements or free transfers are commonplace now, it wasn't always this way. If you're not familiar with the history, we strongly recommend reading up on the subject.
However, you don't need to wait until a player's contract has expired to make a move. For players aged 23 or older, clubs are able to approach them in the final six months of their contract.
Advantages of Pre-Contract Agreements
The way we see it, there are three distinct advantages to pre-contract agreements in FIFA career mode.
No Transfer Fee. In a day and age where the world record transfer fee stands at almost £200 million, it's refreshing to be able to sign players for nothing.
Plan Ahead. Although the player's contract won't finish until the end of the season, doing a deal of this type allows you to lock in a key transfer ahead of time. 
Big Names. This point is somewhat linked to number one but deserves it's own spot. Not having to pay a transfer fee means you could potentially sign a player that you wouldn't be able to afford normally. 
Disadvantages of Pre-Contract Agreements
That being said, there are also some key disadvantages to consider.
No Guarantees. Even if you know when a player's contract is due to expire, you can't count on it happening. If they have a year or more left on their contract, they could still be sold for a fee. Even with months to go, their existing club could offer them a new contract, scuppering your plans.
Wages and Bonuses. Sure, you don't have to pay a hefty transfer fee and you might sign a big name. However, players can sometimes have significant wage demands alongside expectations of signing or performance bonuses. If you're not able to negotiate them down or accommodate their requests, it's likely they'll end up at another club.
Waiting. Even if you get the deal done, they won't become your player until the start of the next season (July 1st). This can be frustrating if your squad needs additional depth right now. 
Tips
Scouting. It's always a good idea to have one of your senior scouts looking for 'First Team Quality' or 'World Class' players with less than a year left on their contract. You never know who will pop up.
Speed. If you're set on signing a player, don't wait around. You're able to negotiate a pre-contract agreement from January 1st, that's the best day to do it. If the player is highly rated, you're likely to have competition for their signature.
Squad. Don't forget that this applies to your players as well. Any players with less than a year left on their contract that are currently (or will soon be) 23 years old are at risk of being poached by another club.
Players to Sign on Pre-Contract Agreements
To help you out, we've rounded up the best players that have contracts expiring within the next few years. Follow the relevant links to take a look at each list.
FIFA 19
Players with contracts expiring in 2019, 2020 and 2021.