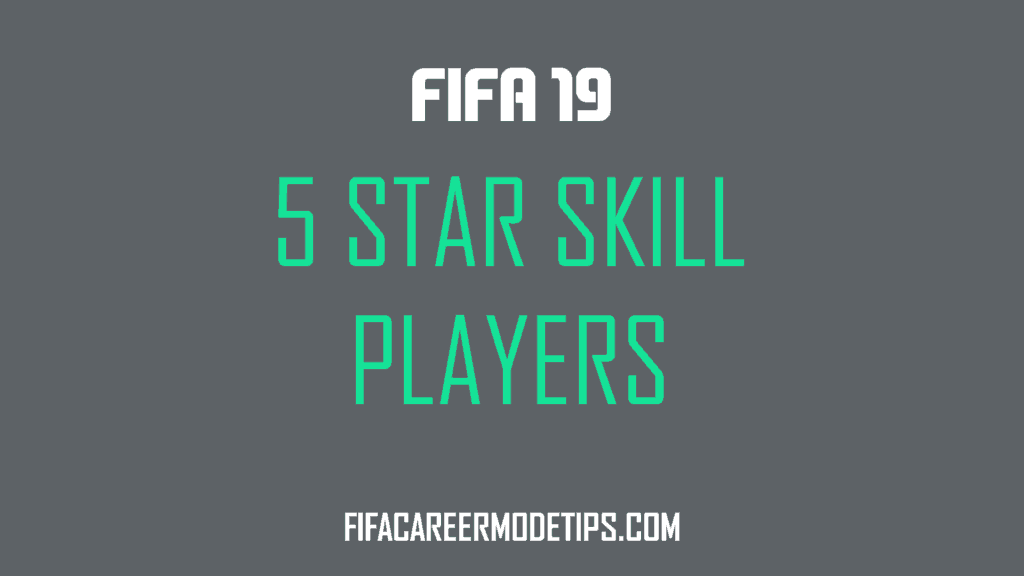 UPDATE: Our guide to FIFA 21 Five Star Skill Players is now live.
You can play effectively without skill moves in career mode, but they can be useful at unlocking defences or earning set pieces. There aren't that many players in FIFA 19 that can perform all available skill moves, but we've rounded them up for you.
Best Players in FIFA 19 with Five Star Skill Moves
49. Ilsinho
Yes, it bothers our OCD that there are only 49 players in FIFA 19 career mode with five star skill moves. The Brazilian right midfielder is rated 67 overall but getting on a bit at 33 years old.
48. Gary Mackay-Steven
Scottish left midfielder who currently plays for Aberdeen. Unlikely to grow beyond his 70 rating but he still has a few good years left in him.
47. Jordan Botaka
The Congolese right midfielder is rated 69 overall but can grow slightly to 71.
46. Aiden McGeady
Well known for his trickery on the wing. 32 now and only rated at 73, but could still prove useful at breaking down opposition defences.
45. Elton
Into his thirties now and rated 73 overall but could be a reasonable option if you're looking for a five star skiller in the CAM position.
44. Alexandru Maxim
Another CAM that can match Elton's 73 rating. Maxim is four years younger though, so might be a better investment.
43. Braydon Manu
65 rated left midfielder that has the potential to hit 74 one day. Can perform five star skill moves but also made our list of the fastest players in FIFA 19.
42. Matias Fernandez
Most five star skill players will be attackers, so it's good to see the occasional central midfielder. Rated 75 overall but now in his thirties.
41. Yannick Bolasie
The skilful left midfielder is currently plying his trade in the Championship. He's not yet 30 and rated 75 overall so could still do a job for you.
40. Carlos Villanueva
At 32 years of age, his stats might start to decline and affect his 77 rating. However, this CAM will always be able to perform five star skill moves.
39. Sam Larsson
Left winger at Feyenoord rated at 75. Still only 25 years old so should be able to hit his 77 potential.
38. Ricardo Kishna
73 rated left winger that plays for ADO Den Haag in the Eredivisie. Will be even more effective if you can get him to reach his 77 potential.
37. Eljero Elia
Plays on the left side of midfield in the Turkish league. Rated 78 overall but those starts might start to decline now that he is 31 years old.
36. Omar Abdulrahman
A central attacking midfielder currently playing in the Saudi league. Currently rated 77 overall but can grow to 78.
35. Nani
Into his thirties now but the Portuguese winger is still rated 80 overall and hasn't lost his penchant for trickery.
34. Santi Cazorla
Now at Villareal, Cazorla is still rated 80 overall despite the fact he is now 33.
33. Ignacio Piatti
Even skilful wingers are still reliant on speed, so buying a 33 year old might be a risk, even if he is rated 80 overall.
32. Marcos Acuna
Acuna is 27 years old, so still has a good few years left in him. The left winger is rated 80 overall.
31. Xherdan Shaqiri
The 27 year old Swiss winger isn't likely to improve much beyond his 81 rating, but he's already shown at Liverpool that he's an effective attacker.
30. Marlos
Shakhtar's right winger has just hit 30 years old and is rated 82 overall.
29. Stephan El Shaarawy
The tricky Italian winger was always thought to be very promising while at Milan, but he perhaps hasn't quite lived up to that. He is still rated 81 overall and could see a marginal growth to 82.
28. Vincent Aboubakar
The first striker with five star skill moves on our list. He's rated 80 overall but could reach 82 in time.
27. Jesus Corona
Another player at Porto. However, Corona plays on the right flank, is rated 81 overall and has a potential of 83.
26. Quaresma
Definitely one of the older players on this list at 35. However, he still has an impressive 84 overall rating.
25.  Franck Ribery
Also 35 years of age and rated 84. Ribery plays on the left though and is still at Bayern Munich.
24. Angel Di Maria
Di Maria can also boast an 84 overall rating but at 30 years old, he has an advantage over the previous two names.
23. Juan Cuadrado
A similar option given his 84 rating and age of 30. Cuadrado might be a better option if you need a RM rather than a RW.
22. Quincy Promes
The Sevilla left midfielder is currently rated 83 overall but has an 84 potential so you could still increase his value slightly.
21. Martin Odegaard
Once he finishes his loan at Vitesse and heads back to Real Madrid, you might be tempted to put an offer in for him. Now listed as a 74 rated right winger, he can perform all skill moves but has the potential to hit 84 overall.
20. Zlatan Ibrahimovic
37 years old but continues to defy expectations. The 85 rated striker is known for scoring unbelievable goals and is great at skill moves.
19. Riyad Mahrez
The Manchester City winger is only 27, so there's always a possibility that he can improve upon his 85 rating.
18. Wilfried Zaha
One of few players in the game listed as a CF, Zaha is infamous for drawing fouls using his skill and pace. Rated 82 overall in FIFA 19 but has the potential to hit 85.
17. Franco Cervi
80 rated left winger for Benfica that has 85 potential.
16. Amine Harit
A very promising young winger at Schalke. 21 year old Harit is already rated at 78 but has the potential to reach 85 one day.
15. Thiago
The Bayern Munich central midfielder brings skill to the middle of the park and has an impressive 86 rating.
14. Douglas Costa
A year older than Thiago but also rated 86 overall. Costa plays on the left, where his rapid acceleration is devastating.
13. Kingsley Coman
The Frenchman has bags of pace and trickery. He's currently rated 83 overall but has a potential of 87.
12. Federico Bernardeschi
Juventus seem to be fond of pacey wingers that can perform five star skill moves. Bernardeschi is rated 82 but could go as high as 87.
11. Gelson Martins
Another example proving that pace and trickery go hand in hand. Just like Bernardeschi, he plays on the right and can go from 82 to 87 in time.
10. David Neres
A fantastic prospect as we enter the top ten players with five star skill moves. The Ajax winger has a respectable 79 rating at present but has the potential to hit 87 in the future.
9. Marcelo
The only left back on our list, best to use those skill moves in the opponent's half. The Real Madrid man is one of the best defenders in the world and deserves his 88 rating.
8. Memphis Depay
Reinvigorated since moving to Ligue 1, five star skill moves are just one facet of his game. Still rated at 83 but listed as a striker, his 88 potential will make him a popular transfer target.
7. Coutinho
The Brazilian magician is already rated 88 overall but could even hit 89 if he continues to perform.
6. Jadon Sancho
Leading the way for young English talent to seek opportunities in other leagues. Sancho is already a decent player with a 75 rating, but his 89 potential is incredible.
5. Paul Pogba
At 88 overall, he's one of the best central midfielders in the game, regardless of how his real-life performances are judged. If he can reach his 91 potential, he'll truly be a force to be reckoned with.
4. Vinicius Junior
A 77 rated left winger would be a good acquisition for most teams. However, most won't be able to afford the tricky Brazilian thanks to his 92 potential.
3. Neymar
The world's most expensive footballer. That buys you a 92 rated player with 93 potential, and the ability to perform all five star skill moves in game.
2. Cristiano Ronaldo
Listed as a striker in FIFA 19 but unlikely to be playing there for Juventus considering they have Higuain and Dybala. 94 rated Ronaldo is one of the best players in the game and can still perform all the tricks that helped him to make his name at Manchester United and Real Madrid.
1. Kylian Mbappe
One of the hottest young talents in world football, with the potential to be one of the best in the world should he reach his 95 potential. He's already rated at 87 though so don't expect a bargain.
If you found this list useful, check out our other guides to the best players in FIFA 19.