Last Updated on
Regens and Pregens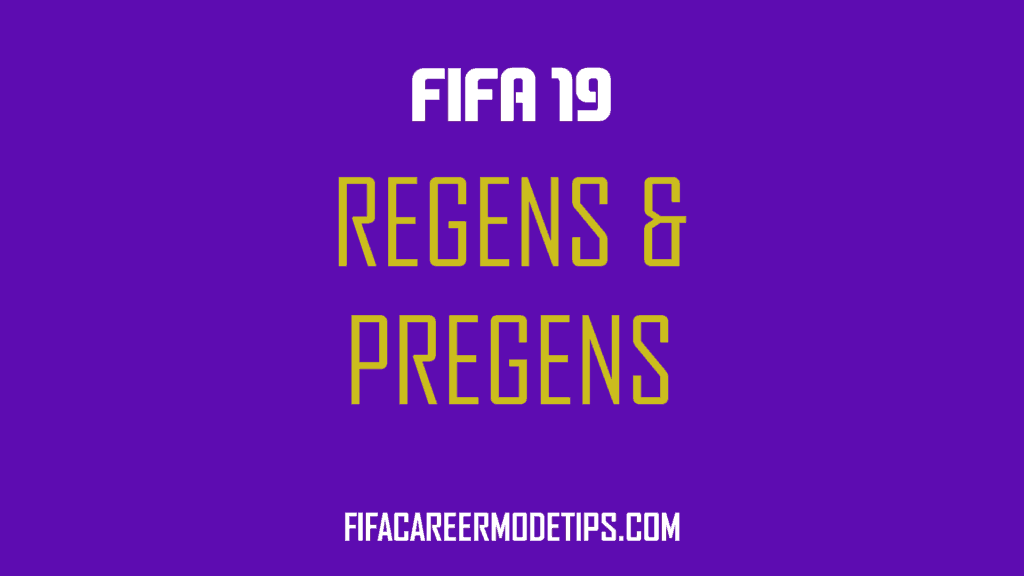 Let's start with the basics. FIFA has a vast player database to fill all the teams at club level and internationally. This is fine for the other game modes as nothing changes over time. However, in career mode you can play for more than a decade. For career mode to work, players have to grow and decline as they age, before eventually retiring. The problem here is that the player database would shrink significantly over time. If you consider that at the start of FIFA 19, there are over 1000 players aged 33 or over. If approximately this many players retire at the end of each season, that means every team on average would lose 2 players.
There are free agents, which almost works as an overflow bucket, but these players will also age and retire. Obviously you can effectively 'create' new players via youth scouting, but you wouldn't create nearly enough new players to balance things out. Don't forget that other teams don't scout like you do, although they do poach players from your monthly scouting reports.
Therefore the game has to create new players to make sure there isn't a net loss of players in the database. The way that it has managed this for years and continues to do so in FIFA 19, is to create regens and pregens.
What are Regens?
'Regens' is the term used by the community for regenerated players. 'Regenerated' because they are exactly that, FIFA career mode reincarnates players. Presumably this is done because the player database has some sense of balance with regards to positions, nationalities and ratings. It's possible that without regenerating players, and instead using a generator to create players from scratch, the database could be in a real mess by the time you begin your tenth season.
When a player retires, a young regen is created. They will have a different name and appearance, but play in the same position and come from the same country as the original player. He'll also be playing for a team in the same league. Let's use Petr Cech as an example. He is 36 at the start of FIFA 19 so is likely to retire within a few seasons, let's assume he's still at Arsenal when this happens. At this point, a new player will appear in the Premier League, a Czech goalkeeper aged between 16-20. He may look different and have a different name, but think of him as Petr Cech reincarnated.
So why is everybody so obsessed with finding regens in their career mode? Because they also have the same potential as the original player. This means that you have a chance of finding the next Messi, Ronaldo and Neymar (literally). Using Luka Modric as an example, his potential in FIFA 19 is 91. His regen will also have 91 potential, meaning a young Croatian CM will appear with the 'Has Potential to be Special' tag.
The fact that a regen has the same nationality as the original player can make career mode a bit dull. Inevitably, the Messi and Ronaldo regens will show up and move to a big club. Traditionally successful international sides will continue to dominate. However, we've found a way to make things more interesting – read our guide on how to create regens.
What are Pregens?
They are similar to regens in almost every way, but occur before the original player has actually retired. Hence the 'pre' in pregens. It's a much rarer occurrence and isn't predictable. The other thing to note is that pregen potential is equal to the original player's current overall rating.
Pregens tend to appear at the same club the original player is at.
How to find Regens?
It's not an exact science but we've got four main methods for you to find regens. Some of these methods can be prepped from the first season, but don't forget regens won't appear until at least the second season.
Retiring Players
The first step to take is to anticipate highly rated players that will retire. Build a list of players that are likely to retire soon, the final section of this guide will help you there. Write or print out your list, and add the players to your transfer shortlist in-game. Check your transfer shortlist towards the end of the season, look at the player bios. If any say 'Retiring at End of Season', make a note of it on your physical list. Be sure to write down their nationality, position and which league they are playing in.
When the next season begins, you can search that player's league for his position and nationality under the age of 21. It's not always obvious which player is actually the regen, but a lot of green stats are a giveaway.
The physical list is also useful in case any players retire/disappear without warning. It's worth checking this against your shortlist at the start of every season just in case.
Pregens
As we've already covered, pregens are a lot harder to predict. So how can we go about finding them? Remember how we said that pregens appear at the same team? Where are all the best players in the game usually? At the big clubs. Once a season, do a search for players under the age of 21* and specify a big club like Barcelona. Rotate through the clubs, you might get lucky.
*You can increase the upper age limit in later seasons. Remember you might have missed a pregen earlier, who will now be older.
Free Agents
Sometimes they'll end up as free agents. At the start of a season, search for players aged 21 and under, with 'Free Agent' transfer status. It's a little time consuming, but look out for green stats or any of the high potential statuses if visible. It really is worth scouring through the entire list as any regens you find can be acquired without paying a transfer fee.
Scouting
Providing you've got enough scouts at your club, task a few with looking for young and promising players. Send them to countries with the 'big' leagues (England, Spain, Germany, France). As always, be on the lookout for players with good potential statuses or encouraging green stats.
If you think you've found a regen but aren't sure, check it against the original database at FUTWIZ. Specify the position and nationality, focus your search on slightly older players (depending on which season you're up to) and highly rated ones. If you find a 'match', go back into your game and try searching that player. If they don't exist, you've probably found a regen. However, if they do and they're at the same club, you've probably found yourself a pregen.
FIFA 19 Regens to Watch
Looking for regens requires patience and a bit of luck. The following list of players are all highly rated in FIFA 19 and likely to retire within the first few seasons of the game. Keep an eye out for them.
| Name | Position | Age | Nationality | Team | League | Potential |
| --- | --- | --- | --- | --- | --- | --- |
| Cristiano Ronaldo | ST | 33 | Portugal | Juventus | Serie A | 94 |
| Luka Modric | CM | 34 | Croatia | Real Madrid | La Liga | 91 |
| Sergio Ramos | CB | 33 | Spain | Real Madrid | La Liga | 91 |
| Diego Godin | CB | 32 | Uruguay | Atletico Madrid | La Liga | 90 |
| Manuel Neuer | GK | 32 | Germany | Bayern Munich | Bundesliga | 90 |
| David Silva | CAM | 32 | Spain | Manchester City | Premier League | 89 |
| Giorgio Chiellini | CB | 34 | Italy | Juventus | Serie A | 89 |
| Thiago Silva | CB | 34 | Brazil | PSG | Ligue 1 | 88 |
| Samir Handanovic | GK | 34 | Slovenia | Inter Milan | Serie A | 88 |
| Gianluigi Buffon | GK | 40 | Italy | PSG | Ligue 1 | 88 |
| Andres Iniesta | CM | 34 | Spain | Vissel Kobe | JFL | 87 |
| Naldo | CB | 36 | Brazil | Schalke 04 | Bundesliga | 86 |
| Fernandinho | CDM | 33 | Brazil | Manchester City | Premier League | 86 |
| Edin Dzeko | ST | 32 | Bosnia & Herzegovina | Roma | Serie A | 85 |
| Miranda | CB | 34 | Brazil | Inter Milan | Serie A | 85 |
| Radamel Falcao | ST | 32 | Colombia | AS Monaco | Ligue 1 | 85 |
| Felipe Luis | LB | 33 | Brazil | Atletico Madrid | La Liga | 85 |
| Franck Ribery | LM | 35 | France | Bayern Munich | Bundesliga | 85 |
| Vincent Kompany | CB | 32 | Belgium | Manchester City | Premier League | 85 |
| Pepe | CB | 35 | Portugal | Besiktas | Super Lig | 85 |
| Zlatan Ibrahimovic | ST | 37 | Sweden | LA Galaxy | MLS | 85 |
| Arjen Robben | RM | 34 | Netherlands | Bayern Munich | Bundesliga | 85 |
| Mario Mandzukic | ST | 32 | Croatia | Juventus | Serie A | 84 |
| Jonas | ST | 34 | Brazil | Benfica | Primeira Liga | 84 |
| Stephane Ruffier | GK | 32 | France | St-Etienne | Ligue 1 | 84 |
If you came here straight from Google or Twitter, be sure to go and check out the rest of our Career Mode Guides.