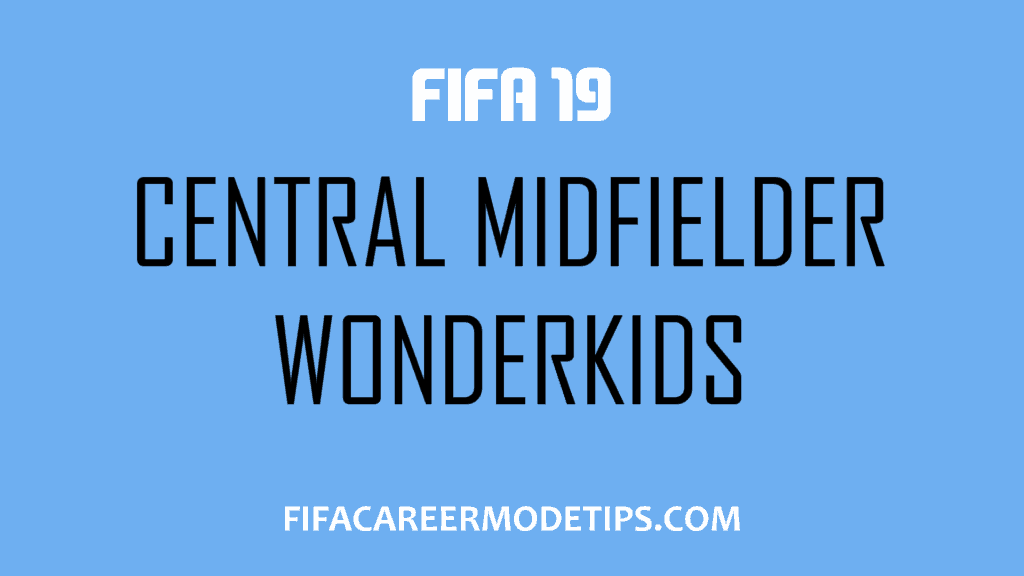 UPDATE: More recent content for this topic can be found at FIFA 21 CM Wonderkids.
FIFA 19 Central Midfielder Wonderkids
In the middle of the pitch you need talent or the opposition will pass you by time and time again. While there are plenty of world class players already out there, why not develop a future star? We've scoured the game and rank our top 50 FIFA 19 central midfielder wonderkids for your pleasure. Don't just skip to the end as there are some fantastic players throughout, even if their potentials aren't as high.
FIFA 19 Central Midfielder Wonderkids – Top 50
50. Ridle Baku
Our FIFA 19 central midfielder wonderkids list kicks off with this versatile Mainz youngster. Currently 67 overall but can reach 82. High work rates and four star weak foot.
49. Morgan Gibbs-White
Also has 82 potential but the highly rated Wolves midfielder only gets a 64 rating in game. Four star skill moves is a nice bonus but two star weak foot is disappointing.
48. Jose Pascual Alba Seva
Matches Gibbs-White for overall and potential (64 and 82 respectively), but his stronger passing stats and four star weak foot edges it.
47. Curtis Jones
Jones offers a little more growth potential going from 61 to 82, and at 17 years old he has plenty of time to fulfil that. High attacking work rate and can also play at CAM.
46. Suat Serdar
The German is happy playing anywhere centrally (CM, CDM or CAM) and has 83 potential. He's currently rated 74 overall and has a nicely balanced set of stats.
45. Teun Koopmeiners
A year younger than Serdar but has the same rating and potential. Marginally better in our opinion because of his stats, but mainly his versatility – he can also slot in at CB.
44. Federico Valverde
Unlikely to get many minutes at Real Madrid considering his 73 rating but could do a job somewhere else. 83 potential and his strengths seem to lie in passing and distance shooting.
43. Douglas Luiz
Not quite as versatile as Valverde but possesses better stats considering they're both rated 73. Also has 83 potential but maybe one to avoid if you only want CMs with high weak foot ability.
42. Xaver Schlager
Another favourite amongst the FIFA 19 central midfielder wonderkids because of his ability to play CM, CDM and CAM. He's rated 72 overall and has great stamina and acceleration. Still has plenty of time to reach 83.
41. Manu Morlanes
The 71 rated central midfielder isn't physically imposing but has a good range of passing and is comfortable on the ball. His free kick accuracy should also improve on his way to 83 overall.
40. Szymon Zurkowski
Also a 71–83 CM but we prefer Zurkowski for a number of reasons. He's taller and more physical but is also a lot faster. Four star weak foot and has high work rates, meaning he already has the engine speciality.
39. Djibril Sow
None of his stats really stand out but he is only 70 overall. His pace and stamina are two positives, the rest should develop as he grows towards his 83 potential.
38. Eljif Elmas
Even beyond the identical 70 rating and 83 potential, Elmas is very similar to Sow. They both have four star weak foot but Elmas' ability to shoot from distance puts him in the lead.
37. Alena
On first look, Alena doesn't look all that different to the previous two CMs in our list. Upon closer inspection his all round stats are better and high attacking work rate is always a welcome boost. Going from 70–83 will make him a popular buy.
36. Giulio Maggiore
Maggiore also has 83 potential but has to be ahead of the others because he only starts out at 67. At that level, it's no surprise that none of his stats stand out, but give him time.
35. Harry Cochrane
Want 83 potential but need more than what Maggiore is offering? How about a 64 rated central midfielder with four star weak foot and high attacking work rate.
34. Maximilian Eggestein
Already has the Engine speciality, so would work hard in any central position for you. Adds to your goal threat with his ability to score from distance but also passes and dribbles really well. The first on our FIFA 19 central midfielder wonderkids list to have 84 potential, and at 78 overall he's ready to go.
33. Lewis Cook
Cook is rated slightly lower than Eggestein at 77 but his stats are generally better. The Bournemouth midfielder also has 84 potential.
32. Christopher Nkunku
An interesting mix as Nkunku can always play on either wing but his work rates show he puts more effort into defending. His stats are fantastic for a 76 rated CM, and include reliable finishing and excellent dribbling. Will be quite the player at 84 overall.
31. Tom Davies
The Everton youngster can play as far back as CDM and as far forward as CAM. In that more attacking role is where you're likely to get the best out of him, considering his high attacking work rate. Rated 75 currently but will be representing his country at senior level if he reaches his 84 potential.
30. Renato Sanches
Despite a poor loan spell in the Premier League, he's still rated 75 and has 84 potential. His stats profile has made him a favourite of ours for years, four star weak foot and the engine speciality help with that.
29. Pape Cheikh Diop
The 73 rated Spaniard can also operate in a more defensive role. Four star skill moves is a nice to have, but his attributes will only get better en route to 84 overall.
28. Florian Neuhaus
Another 73–84 CM. This one can also play at left midfield, which is a little strange considering he is right footed. Good all round stats for passing and dribbling.
27. Weston McKennie
Also rated 73 but his stats are better on the whole, especially his physical attributes. Has 84 potential and can also fill in at CDM.
26. Ibrahim Sangare
The final 73–84 CM sits at #26 on our FIFA 19 central midfielder wonderkids list. If you can improve his stamina along the way he'll pick up the engine badge, and also has four star weak foot. We like him because of his 6'3″ height, impressive strength and the aerial threat he provides.
25. Ainsley Maitland-Niles
For a 71 rated central midfielder, his passing is decent but his pace is where he stands out. He can put that to good use at RM or LB. Can Arsenal hold on to their youngster with 84 potential?
24. Dennis Geiger
If you want a central midfielder with 84 potential, Geiger is a good choice if you prefer short and agile players. Already an excellent passer and dribbler considering his 70 rating.
23. Ovie Ejaria
Ejaria is a fantastic option if you like to play aggressively and break opposition lines. High attacking work rate, four star skill moves and moves the ball well for a 69 rated player. Will be bossing the midfield by the time he hits his 84 potential.
22. Yacine Adli
If you want a solid dribbler in the middle of the park but aren't worried about pace, Adli could be a good choice. 84 potential but the CM/CAM starts out at just 65.
21. Billy Gilmour
Over halfway through the FIFA 19 central midfielder wonderkids list and Billy Gilmour is our final 84 potential player. He's a similar player to Geiger but is only rated 61 at the start of the game.
20. Rolando Mandragora
Will work tirelessly to cover your defence, but pair him with a pacier player. Has a respectable 75 rating already and can hit 85 eventually.
19. Wendel
Wendel is a great option if you like to press the opposition. H/M work rates and is fast enough to chase down opponents. Already has an unbelievable long shot at 75 overall, should score lots of goals on his way to a 85 rating.
18. Mickael Cuisance
Offers a more technical option at CM with four star skill moves. Can unleash long shots and curving free kicks from his left boot. Only rated 72 but he's 19 so has plenty of time to hit 85.
17. Exequiel Palacios
Palacios offer a well rounded option with great growth potential. Currently sits at 71 overall but a 85 rated CM with four star weak foot is very tempting.
16. Mykola Shaparenko
Not nearly enough stamina to earn the Engine badge but he's a solid passer in any central role. He has 85 potential but try to snap him up while he's still rated 70.
15. Salih Ozcan
Despite having only medium work rates Ozcan jumps ahead of Shaparenko because of his superior stats despite their shared 70 rating. Also has 85 potential and can play the CDM role too.
14. Enzo Loiodice
There are few better options if you want a central midfielder wonderkid that you can train into an 85 rated powerhouse. He's only rated 63 overall at the start of the game so should be more affordable than others.
13. Denis Zakaria
Just 13 names to go and our FIFA 19 central midfielder wonderkids list really hots up. Zakaria has 86 potential but even at 77 overall he has a lot going for him. Tall, powerful, fast and a good tackler.
12. Gedson Fernandes
Fernandes is your man if you need a midfielder with 86 potential in the engine mould. At 75 he's already pacey, reliable on the ball and accurate from distance.
11. Arne Maier
Also has 86 potential but starts out at 73, so has a little more room to grow. He's already an able passer and trustworthy enough to play in a defensive midfield role.
10. Ruben Neves
Known for his impressive goals from distance but also has great passing ability for an 80 rated CM. 87 potential means we're into the top ten central midfielder wonderkids now.
9. Amadou Diawara
Doesn't quite have the same eye for goal as Neves but is a lot more capable defensively. 87 potential in a 21 year old is great to see, and a starting rating of 77 might make him slightly cheaper than the Wolves man.
8. Frenkie de Jong
The Ajax man has outstanding passing and ball control stats for an 80 rated player. Four star skill moves and 88 potential in a player that is also comfortable at CDM and CB is incredible.
7. Youri Tielemans
Things aren't quite going to plan at Monaco but the 79 rated Belgian still has 88 potential. Five star weak foot and his long distance shooting are his real strengths.
6. Franck Yannick Kessie
The 79 rated CM is already an engine and reliable enough to take penalties. He will be outstanding with an 88 rating.
5. Tanguy Ndombele
Very similar to Kessie, including the 79–88 growth profile. Isn't far off earning the engine badge but has four star skill moves at his disposal.
4. Rodrigo Bentancur
The Uruguayan won't be a cheap option considering his 76 rating, but 88 potential is too good to turn down. Excellent dribbler and passer of the ball.
3. Riqui Puig
Was tipped to move away from the Nou Camp in the summer but it never happened. Probably won't get much game time in his first few seasons because of his 68 rating, so buy him now and laugh when he reaches 88 overall.
2. Houssem Aouar
This 79 rated CM is also happy to play out on the left. Very well balanced stats profile which includes reasonable finishing for a central midfielder. 89 potential is joint best in FIFA 19.
1. Nicolo Barella
Also has 89 potential but steals the top spot due to his 77 starting rating. Not the tallest but makes up for it in plenty of other ways.
Goalkeepers (GK) | Centre Backs (CB) | Full Backs (RB/LB) | Defensive Midfielders (CDM) | Central Midfielders (CM) | Attacking Midfielders (CAM) | Wingers (RM/RW/LM/LW) | Strikers (ST/CF)