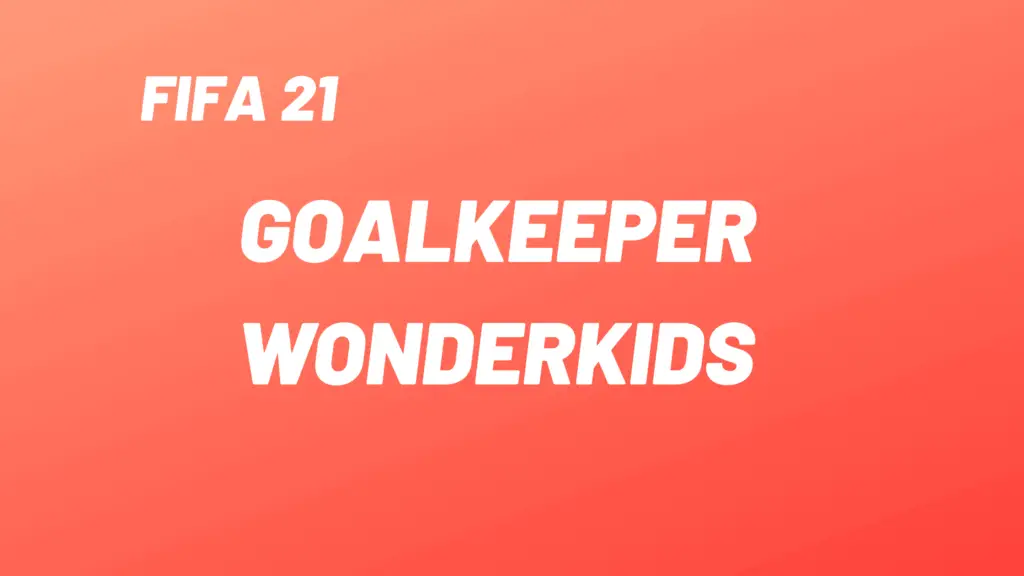 FIFA 21 Goalkeeper Wonderkids (GK)
Let's face it, it's no good having a world class attack if you're leaking goals every game, a dependable goalkeeper is key in any team with ambitions of silverware. We've scoured all the game to bring you the top 50 goalkeeper wonderkids in FIFA 21, enjoy!
Goalkeeper Wonderkids in FIFA 21 – Top 50
50. Lautaro Alberto Morales
Kicking off our list is this 20 year old at Club Atlético Lanus. Well rounded and currently rated at 65, his potential is a respectable 78.
49. Anthony Racioppi
Another 6'2″ keeper, albeit a year older than Morales. Racioppi also has 78 potential but starts out at 64 overall.
48. Leonardo Román Riquelme
The Spaniard has no real standout stats to speak of, but can still reach 78 overall within a few years. If money is really tight, his 63 rating might make him a little more affordable.
47. Yehvann Diouf
Diouf also has a 63 rating with 78 potential, a solid option if you're not offended by a 6'0″ goalkeeper. Providing he doesn't have a release clause in your save, he should be a cheap acquisition.
46. Carlos Alberto Higuera de los Ríos
Higuera is much the same as Diouf, only a year younger – 63 overall and potential of 78. His kicking attribute is a little low but you can work on that in training.
45. Arda Akbulut
The Turkish stopper is one of the first really interesting names on this list. 19 years old, 63 overall and 78 potential, so far he's much the same as the previous names. However, his reflexes stat is promising and he stands at an impressive 6'5″.
44. Jerónimo Pourtau
Pourtau is only an inch shorter than Akbulut but starts at 62 overall with the same potential of 78. Although a young players stats can change over time, his goalkeeping attributes mean he skews towards the "Acrobatic" type.
43. Florian Palmowski
Also in the 78 potential bracket with a 61 rating at the start of the game. Doesn't have an especially long contract with Hertha Berlin so you might be able to get him cheap.
42. Elia Caprile
Only 18 at present and rated 60 overall. Should you manage to convince Leeds to part ways with him, you'll have a young goalkeeper with a shot-stopping profile and 78 potential.
41. Bart Verbruggen
Lots to like about this young goalkeeper at Anderlecht. He's tall, only 17 so there's plenty of time to boost his rating from 59. Potential is 78 but already has a very impressive GK Diving attribute, though you might need to train his positioning.
40. Iago Domínguez Rodríguez
Providing he doesn't have a release clause in your save, you should be able to purchase this 78 potential Spaniard cheaply as he's only contracted to Celta Vigo until 2021. He of course is on this list because of his growth from a starting rating of 59. However we need to point out that he is only 5'11" and his attributes aren't great, he needs to be trained before seeing first team action.
39. Konstantinos Tzolakis
His kicking and positioning need some work, but don't ignore the Olympiakos youngster. He's 6'4″ so ticks the height box for most people, but most importantly he's the first name on this list to have the potential to grow 20 points, from 58 to 78.
38. Arijanet Murić
Moving on to players with 79 potential means we're going to see a drop in growth, but these players are more likely to be ready for game time. He's on loan at Girona so you'll have to wait until he returns to Manchester City, at which point he'll probably have already increased his 69 rating. Murić is worth the wait in our opinion, he stands at a massive 6'6″ and has excellent distribution.
37. Gaëtan Poussin
If you can't wait one season for Murić, check out Poussin – he should be available from Bordeaux straight away. A 67 rating means he might be cheaper anyway for a goalkeeper with 79 potential, his stats are also really well rounded.
36. Ersin Destanoğlu
Another stopper with 79 potential, but Destanoğlu starts out at 66 overall. His kicking needs some work but he's tall and has the "Comes for Crosses" trait.
35. Mark Travers
At 21 years of age he is at the upper limit of our definition of Wonderkid, but that at least means he has nicely balanced attributes. Starts with a rating of 66 but can reach 79 overall within a few years.
34. Christian Joel Sánchez Leal
Depending on your teams level, he could start for you right away. Rated at 65 with decent stats and the potential to hit 79 eventually. He should appear by searching just for Christian Sánchez, but he's the Cuban goalkeeper at Gijón if that helps.
33. Ignacio Peña Sotorres
That's his full name but he should display in game as Iñaki Peña, or just look for Spanish goalkeepers at Barcelona. Well rounded stats, if not spectacular for a 65 rated keeper. Has the potential to reach 79 overall – providing there's no release clause you should be able to get him cheap in your first season.
32. Luca Unbehaun
This 19 year old German offers a nice jump in terms of growth, starting out at just 61 but should reach 79 before long. You will need to work on his diving attribute but he does have the "Rushes out of goal" trait, very useful if you play a high defensive line.
31. Adrián Rodríguez Giménez
Adrián is a good shout if you're looking for a tall goalkeeper that can hit 79 within a few seasons. He's at Deportivo Alavés currently with a mere 60 rating.
30. Maxime Delanghe
Strong reflexes are the highlight of Delanghe's attributes but he does start out rated 59, making him a little more affordable than the other goalkeeper wonderkids with a 79 ceiling.
29. Daniel Martín Fernández
Just like Delanghe, Dani Martín has good reflexes for his 70 overall rating. He might be a little pricey to acquire from Betis if his release clause is active but he's the first name on our list to have 80 potential, things get very interesting from here on out.
28. Lennart Grill
A similar attributes profile to the previous two goalkeepers, Grill should hit 80 within a few seasons but starts out at 68, so might be a budget friendly option.
27. Radosław Majecki
Majecki has the same growth profile as Grill (68 to 80) but he is taller and his stats provide more balance. His contract length does mean he's likely to be a bit more expensive though.
26. Matěj Kovář
You might struggle typing that name in on your console so look for the Czech goalkeeper on loan at Swindon from Manchester United. He will probably have increased from his 64 rating by the following season but his 80 potential should be intact. His height and the "Comes for crosses" trait is very useful, plus he has 4* weak foot so you won't get caught out.
25. Manuel Roffo
Roffo is very similar to #26 (64–80), albeit without the height and a useful trait. He is however out of contract in 2021 so you could steal him from Boca Juniors at a cut price.
24. Diego Altube Suárez
Altube's stats aren't that special but his contract at Real Madrid only runs for another year. Snap up the 63 rated keeper now and he'll be 80 overall before you know it.
23. Joaquín Blázquez
This might be a good differential pick for a young goalkeeper. Nothing outstanding but going from 63 to 80 isn't to be sniffed at. Decent height and no nasty surprises in his stats.
22. Anatoliy Trubin
Only 18 right now and rated 63, another solid keeper with a bright future (80). The standout part of the young keeper at Shakhtar is his height, a whopping 6'6″!
21. Lino Kasten
The young German should be destined for greatness with an 80 potential, his GK Diving and GK Reflexes stats are really impressive considering his 62 rating.
20. Illan Meslier
Now we're into the top 20 goalkeeper wonderkids and Meslier is the first name with an 81 potential. You might recognise the name if you've been following Leeds since their return to the Premier League. A 69 overall rating makes him a good option for most second division sides and he's also 6'5″.
19. Kjell Scherpen
Do not ignore Scherpen. Reasonable stats for a 67 rated goalkeeper, but on top of his 81 potential he has 5* weak foot and he is insanely tall at 6'8″.
18. Kamil Grabara
Matches Scherpen on the growth profile (67–81), has a decent diving stat and is a good height. Sadly the Polish shot stopper is on loan at Aarhus in the first season, one to watch.
17. Luca Plogmann
Also on loan in the first season but he starts out slightly lower at 64 overall so he should still be affordable. Four star weak foot is a nice addition but there's nothing special about him other than the 81 potential.
16. Jan Olschowsky
5'11" is a little short for a goalkeeper (in our opinion) but his 81 potential means he has great resale value even if he never plays a minute for your club. Rated 63 at the start of the game with nicely balanced stats.
15. Stefan Bajic
Another well balanced goalkeeper with 81 potential. The 18 year old Frenchman beats Olschowsky to #15 because of his 62 starting rating, and his 6'3″ height doesn't hurt.
14. Iván Martínez
Another short goalkeeper, but if you can stomach that there are a few interesting things to note about Martínez. You should expect the 81 potential by now but he starts out at just 60 and is out of contract at the end of the season, everyone likes a bargain. He also has two notable traits; "GK Long Throw" and "Saves with Feet".
13. Diogo Costa
Not the fiery striker, Diogo. Starting out at 70 overall isn't bad at all and he should reach 82 overall someday. Should develop into a solid shot stopper but his kicking could use some training.
12. Marco Carnesecchi
Offers the same 82 potential that you're looking for but he's only a 66 rating to start with so will take a smaller chunk out of your transfer budget. Kicking is also a weakness for Carnesecchi but everything else is good.
11. Ángel Fortuño Viñas
Another affordable goalkeeper is Fortuño, only rated 62 right now and contracted to Espanyol until 2021. Should grow all the way to an 82 rating (and hopefully beyond), his reflexes are already a strength of his.
10. Filip Jörgensen
Much the same as #11, a nice 20 point growth profile from 62 to 82 and only has a year left on his contract. Sneaks into tenth place because we like his attributes better, he also has the "GK Long Throw" trait.
9. Gavin Bazunu
His contract at Rochdale means he's not going to be cheap relative to his 60 rating and 82 potential. That being said the 18 year old is still a very decent option.
8. Nico Mantl
Number 8 on our list has 83 potential which gives him enough room to grow from a 69 rating. There's plenty more to like about this guy – he's 6'4″, has well rounded goalkeeping stats and isn't let down by a poor weak foot rating.
7. Christian Früchtl
Has been a mainstay of this list for a few years now, the Bayern Munich youngster is currently on loan at Nürnberg. Hopefully he won't have grown too much from his 66 rating by the time you pick him up. Good height and very strong stats mean he should be one of the best by the time he reaches 83.
6. Lucas Chevalier
Another goalkeeper destined to hit 83 overall, Lille should put up a fight to keep him. His handling and positioning are arguably a little low for his 61 rating but he's only 18 so there's plenty of time for that to improve.
5. Alban Lafont
Lafont has also been featured heavily in recent years, sadly he's on loan at Nantes in the first season. This year he's starting out with a respectable 78 rating that can grow to 84, he's still only 21 after all. Doesn't have the best distribution but he does possess the "Rushes out of Goal" trait.
4. Andriy Lunin
Lunin is rated at 75 overall, which is great if you don't need a top level starter and can afford him. If his release clause is active you'll be looking at just over 20 million. However that would buy you a 6'4″ goalkeeper with great stats and most importantly, potential of 87.
3. Maarten Vandevoort
Vandevoort is a young Belgian who can also boast an impressive 87 potential rating. However he's likely to be much cheaper than Real Madrid's Lunin, primarily because of his 68 starting rating. His attributes are a bit of a mixed bag but his positioning is the weakest.
2. Luís Maximiano
Perhaps not the best choice if your strategy is pinging long balls to your target man, Maximiano's kicking is pretty disappointing in an otherwise impressive profile. However, there's lots of reasons to go and buy him from Sporting Lisbon, the main one being he's readymade for most first division teams at 78 overall and can grow into a 88 rated goalkeeper. The "Cautious with Crosses" trait means you probably need some commanding centre backs in front of him.
1. Gianluigi Donnarumma
Another familiar face, it's hard to believe that Donnarumma is still only 21 years old. This means he sneaks in and tops our list of goalkeeper wonderkids in FIFA 21. He is in the last year of his contract with Milan but he's unlikely to be a bargain considering he's already rated 85 overall. His attributes are already fantastic, especially diving and reflexes – they will be so much better if he reaches his incredible 92 potential. He's also 6'5″ tall and is certainly a proactive goalkeeper thanks to the "Rushes out of Goal" and "Comes for Crosses" traits.
Goalkeeper Wonderkids in FIFA 21 – Conclusion
There's lots of great names on our list, even if the pool of talent for goalkeeper wonderkids in FIFA 21 is quite limited, as often tends to be. However, there are some real gems in this list. Our advice is to take your time and read through the list, don't just go for the highest potential – find a player that really suits your needs.