FIFA 18 Wonderkids: Wing Backs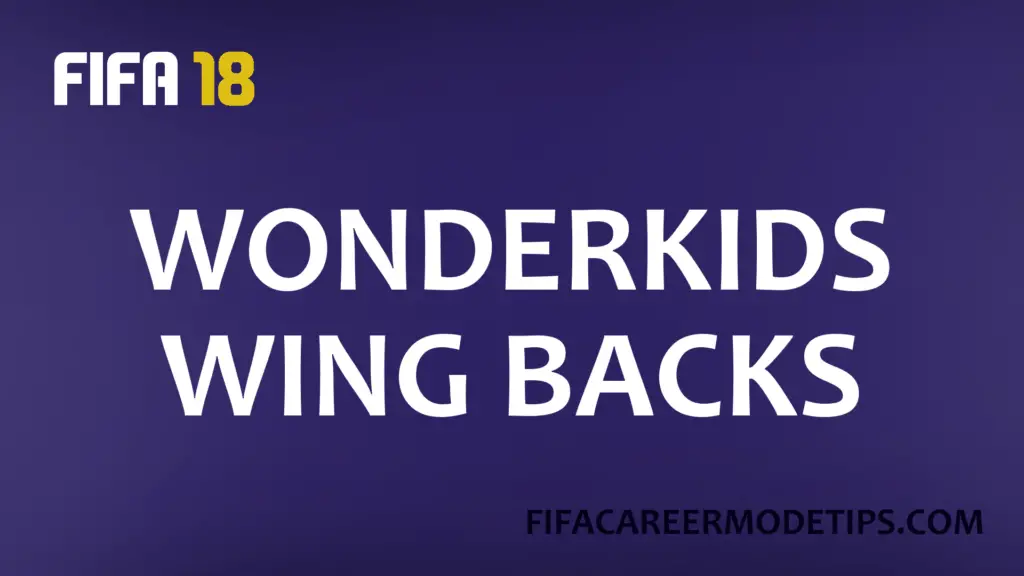 Background
While it took many years for full backs to become recognised as another key component in attacking football, it seems that Wing Backs have exploded in popularity almost instantly. Both Antonio Conte and Pep Guardiola had deployed 'three at the back' formations previously in their careers. So it wasn't surprising to see Chelsea and Manchester City using this system to great effect early on in the 2016/17 season. What was surprising to most football fans was how quickly this tactical change was mirrored by other teams in the Premier League. By the end of the season, 17 teams had at least trialled a system with three centre backs – many teams have stuck with this formation going into the 2017/18 season. For a pretty interesting read on the tactical implications of this switch, take a look here.
High Potential Wing Backs
One of the most interesting aspects of this change was seeing players flourish as out and out wing backs. Victor Moses and Marcos Alonso benefited from this change enormously, especially when they were able to join the Chelsea attack. Lots of the teams in FIFA 18 will be set up to play with wing backs, and I know many people are keen to try this out, which is why I've put this list together.
Bear in mind that wing backs seem to be much less common than full backs, so this list is considerably shorter than our others and not all of the players have +80 potential.
Note: This list covers players that are listed as Wing Backs in FIFA 18. This means left or right Wing Back is their primary or secondary position. If you're not too worried about official positions, check out our list of the best high potential full backs. Lots of them have great attributes that would make them suitable for playing in a wing back role.
15. Kenji-Van Boto
The young Auxerre defender plays on the left and shows promise despite his low starting rating of 64. His crossing and passing abilities definitely have the potential to be some of his key attributes, but he should be an adequate defender too. He has the potential to reach 77 so could be a great back up option.
14. Jason McCarthy
Starts out at 66 overall so you might not be too disappointed to hear he won't be available at the start of the game. However, his 78 potential and high attacking and defending work rates might just convince you to keep tabs on him. His stats are pretty solid all round but his physical attributes make him a fantastic candidate in the RWB position. McCarthy is pacey, reasonably strong and has fantastic stamina (88) too.
13. Ryan Nyambe
Still only 19, the 63 rated right back has plenty of time to reach his 78 potential. His stats are fairly well rounded but I would focus any training sessions on his crossing and defending to really get the best out of him.
12. Ruben Vinagre
Will his stats are mostly similar to the other players on this list, he does seem to have more promising shooting and passing attributes. With a bit of training, his attacking positioning could make him quite a nuisance for opposition defences. Three star skill moves aren't bad for a LWB/LM either! Just like Nyambe, he can go from 63 to 78 with the right training and proper gametime. Try and resist the urge to play Bruno Saltor at right back.
11. Pol Valentin Sancho
At 64, his stats are quite well rounded, so it's a case of seeing how he develops naturally on his path to becoming a 78 rated RWB. He's got a great foundation across his defensive, dribbling and attacking attributes, so could be a fantastic player in years to come. What really caught my eye though was his pace – 89 acceleration and 90 sprint speed.
10. Lorenzo Dickmann
The right-sided defender seems to follow the typical wing/full back mould. Great pace and dribbling, solid defending and crossing. The one other advantage he has relative to his 67 starting rating is his tackling ability. Not unreasonable to imagine this guy hitting his 79 potential by the time he is 25.
9. Cheick Keita
Unfortunately Keita is the first player on this list to have a potential of at least 80. He can play either LB or LWB and is one of the pacier players on the list despite his 6'0″ height. Should be able to do his defensive qualities adequately while also bombing down the wing and sending crosses into the box. Rated 69 overall but currently out on loan.
8. Javi Jimenez
Also starts out at 69 overall but I would have recommended him over Keita anyway just because of his slightly higher potential (81). A few of his stats are also more impressive, including his vision and curve attributes. He's also a little bit speedier, with 88 acceleration and 85 sprint speed. If you want this guy on your left flank you're going to have to wait as Gimnastic won't sell him right away.
7. Mason Holgate
If you follow the EPL, Holgate might be a familiar name to you as he's seen some gametime recently for Everton. For a 67 rated player, he's a good tackler and has enough pace and stamina to do a job on the right wing. Has the potential to reach 82 overall eventually, but you might want to work on his crossing if you want him involved in your attacks.
6. Aitor Bunuel
The attribute profiles for a lot of these players are similar, so I don't want to keep highlighting the same things. He does have a decent amount of pace, but his defending needs to catch up with his 68 rating. For a relatively small investment, you could have a talented 82 rated RWB in your team in a few seasons.
5. Toni Lato
Just about made it onto our full backs list but comes in at number 5 here. His 83 potential is very good but he starts out at 74, so you might favour him over the other options if you need someone to play straight away. Lato has a very good crossing ability so should get quite a few assists over the course of a season.
4. Marin
Great all round stats make the 73 rated defender a great option at LWB. His 84 potential edges him into fourth place, as his defending and passing stats are likely to get even better over time.
3. Rico Henry
You can't really fault any of Henry's stats, especially considering he' still only 68 overall. Any player with 84 potential is going to be desirable in career mode but his blistering pace makes him an irresistible option at left wing back. You will have to wait to get your hands on him but 93 acceleration and 90 sprint speed is worth waiting for.
2. Marcelo Saracchi
His 85 potential meant the Uruguayan defender made the top 10 on our full backs list. He isn't available right at the start but is still only 70 overall, so you're not missing out too much. This left wing back might provide a slightly different style to the other players featured so far due to his excellent passing and shooting stats.
1. Pablo Maffeo Becerra
The on-loan Manchester City player was always going to be near the top of this list of wing backs due to his 85 potential. He starts out at 72 overall, so slightly higher than Saracchi – this is either good or bad depending on how you see things. What convinced me to put this right back at the top of the list was his pace. It's exciting for attacks but its also crucial for defending. Wing backs can often get caught high up the pitch and their ability to sprint back and defend can make a huge difference.
If you found this list useful, take a look at our other Wonderkid guides.