Last Updated on
Hiring a Youth Scout
Looking for the FIFA 19 version of this guide? Click here.
In a rush or looking for the key takeaways? Check out the TL;DR at the bottom of the page.
Getting Started
If you've played FIFA Career Mode over the last few years, you'll already be familiar with the navigation in Career Mode so feel free to skip ahead. If you're new to Career Mode, you're going to want to find the Office tab and in the bottom left corner there should be a rectangle that says Youth Staff. Select this option and lets get started!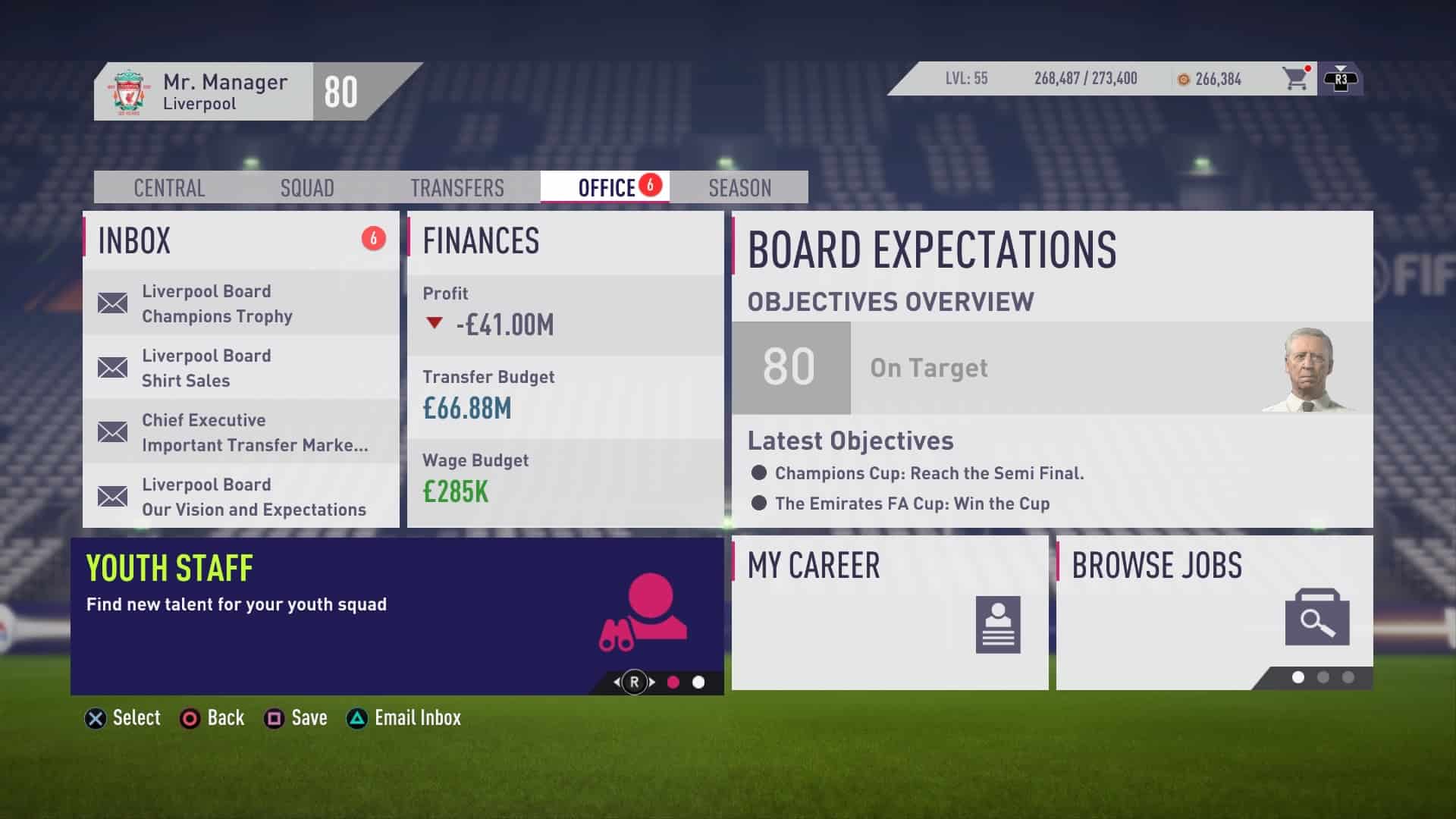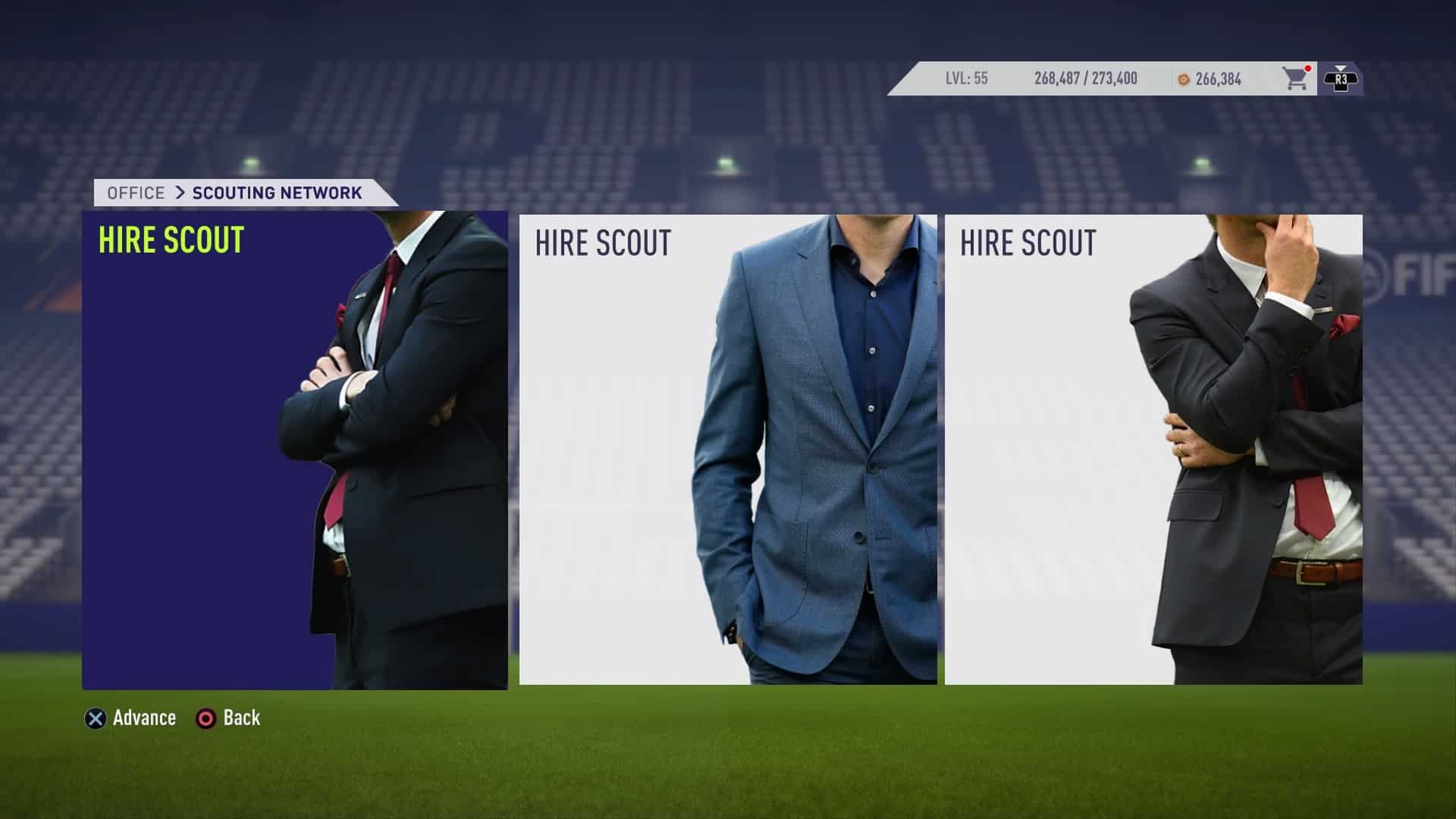 When you first enter this menu, you'll see three empty slots that say 'Hire Scout'. Going into any of these slots will give you a choice of five scouts to hire from. Generally, they'll have different nationalities, names and most crucially different levels of Experience and Judgement that will affect the Scouting Network Cost (how much it will cost you to hire this scout).
What is Experience?
You'll notice each scout has a level of Experience represented by up to five stars. While it's not initially clear how or why this is important, it can be figured out with a bit of detective work and lots of playtime to prove it. The level of Experience that a youth scout possesses affects the following two things:
Number of players scouted per report
Ability to find specific player type
Number of Players Scouted per Report
Starting with the first point, if your scout is finding more players for you each month, you're already more likely to find players with solid starting stats and/or high potential. As a rough guide, this is how many players you can expect to see on your monthly report based on your scout's Experience Level.
| Experience | Players Scouted per Month | After 3 Months |
| --- | --- | --- |
| 1 Star | 1-2 | 3-6 |
| 2 Star | 2-3 | 6-9 |
| 3 Star | 3-5 | 9-15 |
| 4 Star | 4-6 | 12-18 |
| 5 Star | 5-7 | 15-21 |
Focusing on the lower value will tell you that for each Experience star you're likely to get one more player per month. However, the ranges for three stars and above are slightly larger than for one and two stars, which increases the average number of players you can expect to see in a scout report. The final column is to show you a brief projection of how this will affect your scouting over the long term (minimum scouting period is three months) – so while the difference between say a three star and a four star scout might not seem like much, it will be much more noticeable over time. E.g. after 12 months a one star experience scout will return between 12-24 players, a five star experience scout will return between 60-84 players.
Ability to Find Specific Player Type
The second part is the scout's ability to find players that match a specified player type. We're jumping ahead of ourselves a little bit here but stay with me, it'll make sense! When you set up a scouting network later you'll be able to specify which type of player you'd like your scout to look for. Not everyone uses this option but it can be handy if you're looking to fill holes in your squad, want a more balanced academy or are operating on a strict budget.
If you are looking for a specific player type, this is the likelihood that your scout will find this type based on his experience level.
Five Stars – 80% chance
Four Stars – 65% chance
Three Stars – 58% chance
Two Stars – 45% chance
One Star – 30% chance
This also has a knock on effect as even if a scout produces a different player type, he is more likely to be similar to the type that you were looking for if the scouts experience level is higher. There are more numbers to back this up but it starts to get quite complicated and not always that relevant.
Lots of people only remember the second part and hire scouts with low experience to save money, but it can cost you in the long run as you won't scout as many players!
What is Judgement?
Defining Judgement is a little easier and seems more obvious to most – it is the ability of a scout to find higher quality players. It goes without saying that this is very very important if you're hoping to unearth the next wonderkid. As a guide, here's an idea of how effective each scouting level is at finding top talent – for now we'll just refer to them as platinum (best), gold, silver and bronze (worst).
Platinum
Gold
Silver
Bronze
5 Star
Judgement
10%
12%
64%
14%
4 Star
Judgement
6%
8%
50%
36%
3 Star
Judgement
4%
6%
36%
54%
2 Star
Judgement
2%
3%
30%
65%
1 Star
Judgement
1%
2%
15%
82%
I'll go into a bit more detail in a later post but there a few key takeaways from this information. The expected and obvious one is that a higher judgement level gives your scout a better chance of finding the best players (platinum), although even a scout with five star judgement will only find platinum players 10% of the time. Secondly you must accept that regardless of your scout's judgement level, at least 78% of the players you find will be Silver or Bronze – not necessarily a disaster if you're managing a weaker team but the top teams will be looking for platinum players almost exclusively.
Is Nationality Important?
No. This seems to be what I would call a veneer feature, in that it looks nice and perhaps makes the game feel a little more realistic but doesn't actually impact your scouting. Understandably, many people assume that a scout would be more successful in his home country, but this doesn't appear to be the case.
How Much Does it Cost to Hire a Scout?
1 Star
Experience
2 Star
Experience
3 Star
Experience
4 Star
Experience
5 Star
Experience
1 Star Judgement
£16,000
2 Star Judgement
£57,000
£85,000
£178,000
3 Star Judgement
£289,000
£382,000
£892,000
£1,530,000
4 Star Judgement
£1,232,000
£1,742,000
£2,380,000
5 Star Judgement
£2,252,000
£2,762,000
£3,400,000
While this information won't be that interesting if you're managing a mega-money side, if your budget is somewhat limited it's important to know what you can afford. As you would expect, more stars make a scout more expensive to hire but the increase isn't gradual so a scout with five star experience and judgement is going to cost a lot more than a scout with one star for each attribute. The other thing you'll notice if you look very closely is that the pricing system FIFA 18 uses to value scouts appears to place a greater value on Judgement than Experience (2 star judgement/3 star experience costs £178,000, 3 star judgement/2 star experience costs £289,000) – which backs up my earlier point about Judgement being more important!
How Much Does it Cost to Fire a Scout?
1 Star
Experience
2 Star
Experience
3 Star
Experience
4 Star
Experience
5 Star
Experience
1 Star Judgement
£8,000
£17,000
£21,000
£25,000
2 Star Judgement
£17,000
£21,000
£25,000
£30,000
3 Star Judgement
£17,000
£21,000
£25,000
£30,000
£34,000
4 Star Judgement
£21,000
£25,000
£30,000
£34,000
£38,000
5 Star Judgement
£25,000
£30,000
£34,000
£38,000
£42,000
This is worth bearing in mind if you're trying to force the system into reloading new scouts or you're further down the line in your career and want to upgrade. These costs can essentially be thought of as compensation, like when you cancel a player's contract. However, firing a scout results in a one-off fixed cost which will be marginal for most managers – it will never cost more than £42,000 to fire a scout.
How to Find the Best Scouts?
The list of five available scouts will change every week, so you have three options if you're hoping to find a scout of a particular level:
Wait a week – if you're patient, just wait a week and you'll have five new scouts to choose from
Save and reload – completely up to you whether you want to play the game like this but it does make it a lot easier. Simply save the game the day before new scouts are set to appear, advance to the next day. If you don't like the options, reload your save and try again until you find what you're looking for.
Fire an existing scout – if you've already got three scouts working for you this is your only choice unfortunately, you can't see what scouts are available until you have a free slot.
TL;DR
When assessing potential scouts, focus on Experience and Judgement – nationality and name are irrelevant
Experience level affects a scout's ability to find more players and find specific players
Judgement level affects a scout's ability to find high potential players and is slightly more important than experience
Both of these attributes will affect the cost to hire a scout, between £16k and £3.4m