Last Updated on
Scouting Ladders
Ok, if you came here from one of the challenges, you'll already have some idea what Scouting Ladders are about. If not, let me explain. Plenty of people keep asking for ways to make career mode more difficult or keep it interesting months after it's released. In my opinion, youth scouting is too easy once you have half decent scouts. One of the things I've done in previous games is set restrictions on where I can setup a scouting network, so it made sense to share that with you.
If you're an experienced player or if you've read any of my guides on youth scouting, you probably go straight for the 'top' countries. By that I mean the ones that have historically had a better chance of producing platinum players. Using scouting ladders in career mode forces you to scout countries in a certain order. This means you won't be able to go for your favourite countries straight away. There's also the added benefit of maybe scouting players from countries you don't often scout.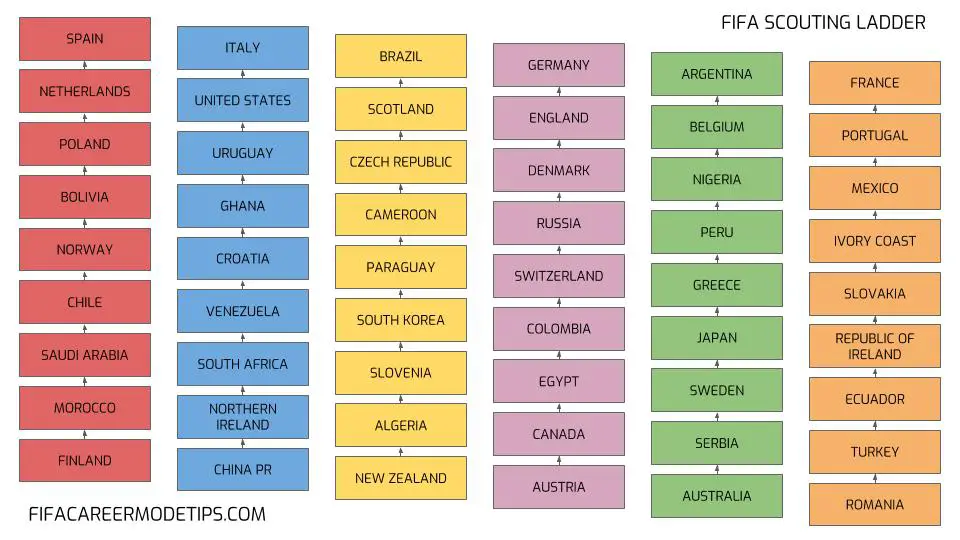 How to Use Scouting Ladders
The general idea is to pick a coloured ladder and start at the bottom. So for example you could start by scouting New Zealand, then move on to Algeria and so on.
You can choose whatever ladder(s) you wish. I usually pick one with an end goal in mind (e.g. scouting Brazil).
Obviously if you have more than one available scout, you can 'climb' scouting ladders simultaneously.
A scout has to finish his scouting assignment in a country before you can dispatch a scout to the next country on the same ladder. This means you won't be able to scout any countries at the top of a ladder until (at least) your third season.
Using this system it would take five seasons to complete all six ladders.
Scouting Ladders in Text
Just in case images aren't being properly displayed on your device, here are the ladders written out in text format. I've written them out as numbered lists which should be easier to follow, you start at 1, finish at 9.
Ladder 1
🇫🇮 Finland
🇲🇦 Morocco
🇸🇦 Saudi Arabia
🇨🇱 Chile
🇳🇴 Norway
🇧🇴 Bolivia
🇵🇱 Poland
🇳🇱 Netherlands
🇪🇸 Spain
Ladder 2
🇨🇳 China PR
🇬🇧 Northern Ireland
🇿🇦 South Africa
🇻🇪 Venezuela
🇭🇷 Croatia
🇬🇭 Ghana
🇺🇾 Uruguay
🇺🇸 United States
🇮🇹 Italy
Ladder 3
🇳🇿 New Zealand
🇩🇿 Algeria
🇸🇮 Slovenia
🇰🇷 South Korea
🇵🇾 Paraguay
🇨🇲 Cameroon
🇨🇿 Czech Republic
🏴󠁧󠁢󠁳󠁣󠁴󠁿 Scotland
🇧🇷 Brazil
Ladder 4
🇦🇹 Austria
🇨🇦 Canada
🇪🇬 Egypt
🇨🇴 Colombia
🇨🇭 Switzerland
🇷🇺 Russia
🇩🇰 Denmark
🏴󠁧󠁢󠁥󠁮󠁧󠁿 England
🇩🇪 Germany
Ladder 5
🇦🇺Australia
🇷🇸 Serbia
🇸🇪 Sweden
🇯🇵 Japan
🇬🇷 Greece
🇵🇪 Peru
🇳🇬 Nigeria
🇧🇪 Belgium
🇦🇷 Argentina
Ladder 6
🇷🇴 Romania
🇹🇷 Turkey
🇪🇨 Ecuador
🇮🇪 Republic of Ireland
🇸🇰 Slovakia
🇮🇪 Ivory Coast
🇲🇽 Mexico
🇵🇹 Portugal
🇫🇷 France