Global Transfer Network
What is the Global Transfer Network?
Essentially, it is a network of scouts at your disposal that can help you identify suitable players to sign. Global Transfer Network Scouts provide two main services for you:
Returning a list of players from a region that match your instructions
In depth scouting on a particular player to uncover more detail about them
The alternative way to find players is to simply use the Player Search function. This tends to work best when you know the player's name already, but you can also look for players with a specific transfer status like 'Free Agent' or 'For Loan'.
I'm going to focus more on GTN Scouting here, it's incredibly helpful if you aren't just signing well known players. Bear in mind it also becomes more useful a few seasons into career mode when you can't be sure which players have progressed or declined.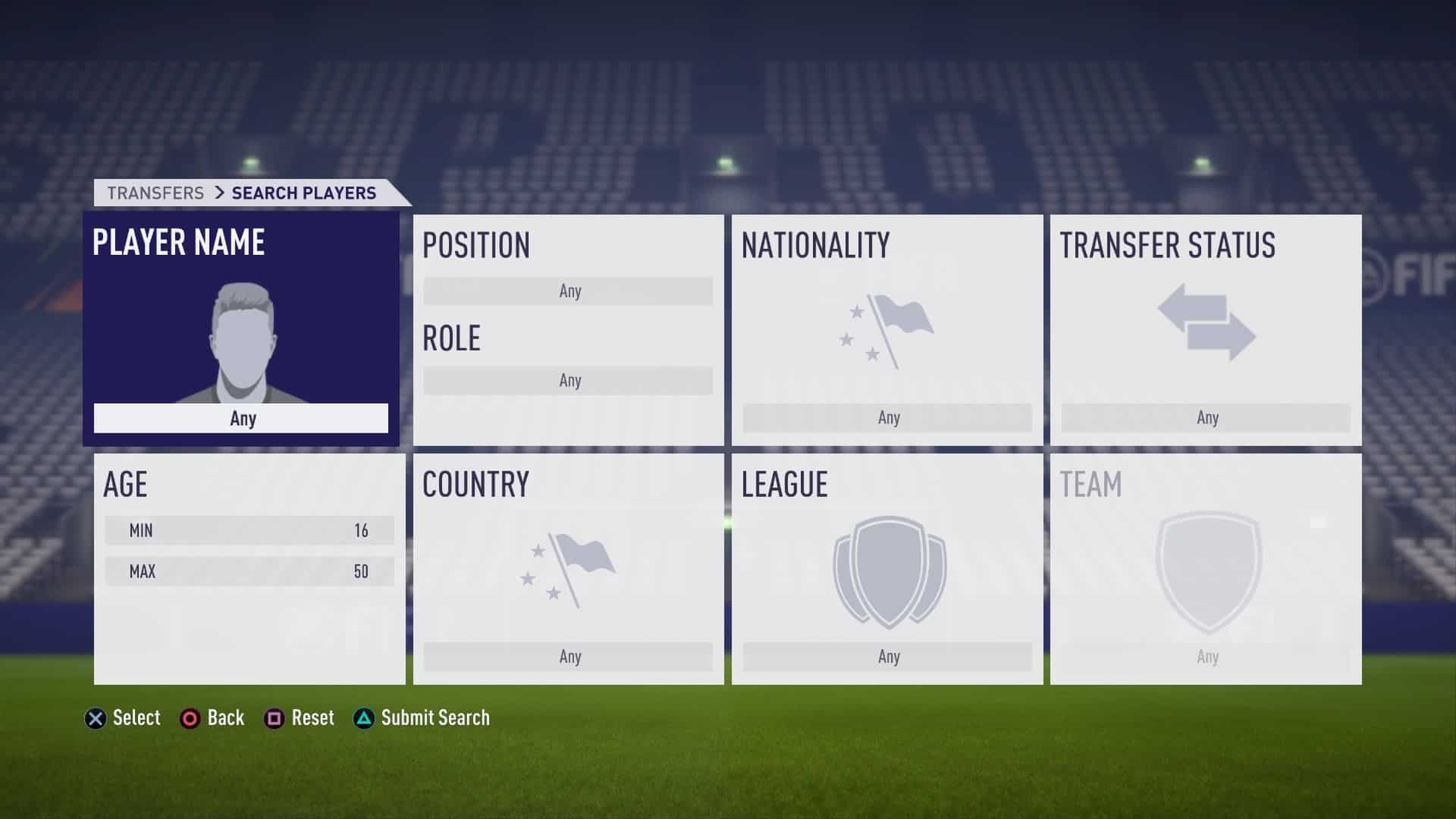 Hiring a Scout
If you've already read my guide on Hiring Youth Scouts then some of this will seem familiar.
Although you"ll have at least one scout in the Global Transfer Network at the start of the game, hiring more is always sensible. You can have a total of six scouts working for you and you may start out with as many as four. When you first start your manager career mode, your inbox will have a few messages in it, one of them will be from your scout to introduce himself.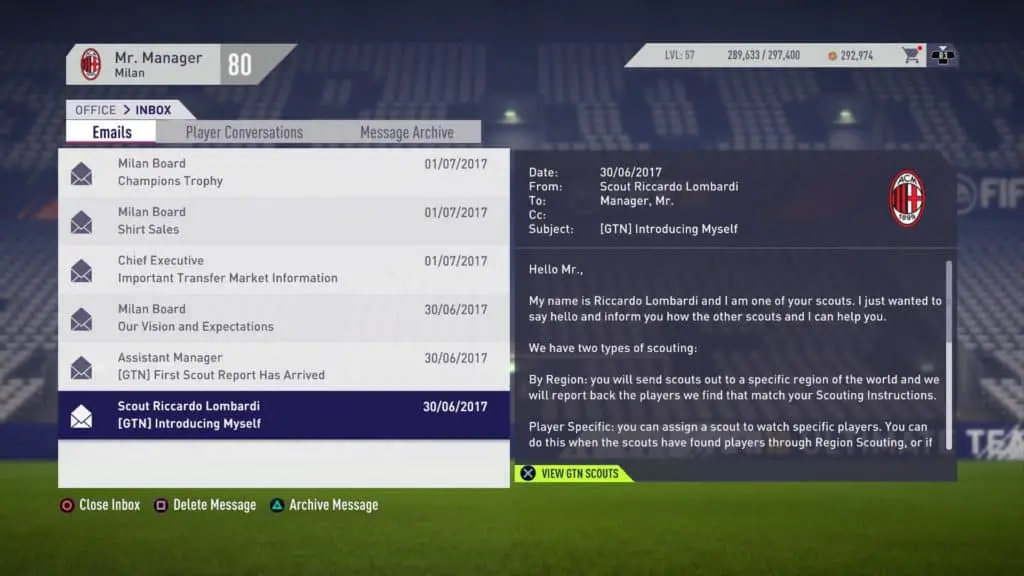 He'll also have sent a second email with the subject line '[GTN] First Scout Report Has Arrived'. This will include some players that match some basic instructions already set by the game. The idea of this is to help you fix any weaknesses in your squad – if you're lacking strikers, they'll often send you strikers, fairly straightforward. It's worth taking a look at this report but don't worry too much if none of the players interest you.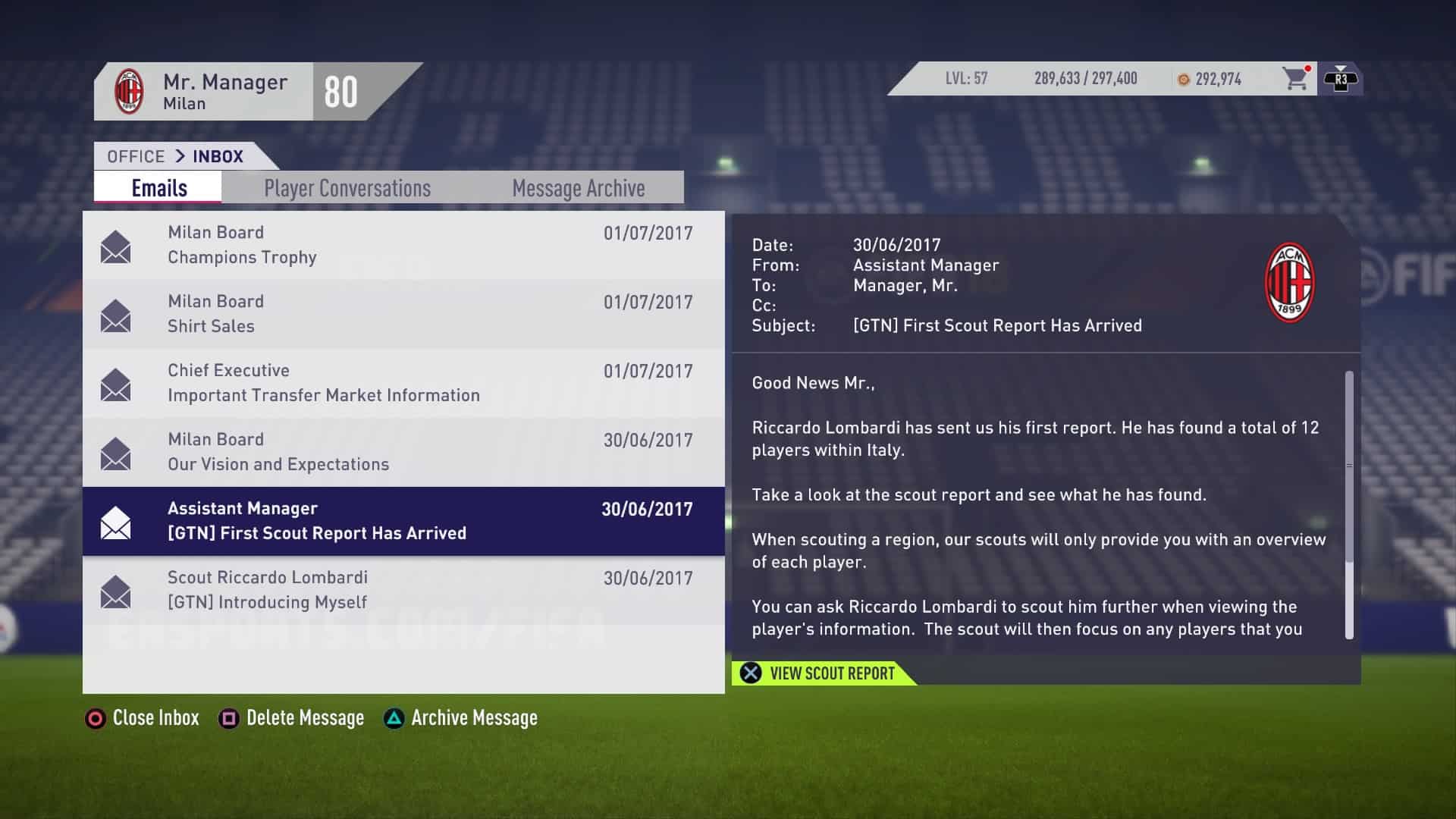 To hire a scout, simply go into any of your empty slots and you'll see a choice of five scouts. Disregard their nationalities, what you want to focus on is their Experience and Judgement ratings.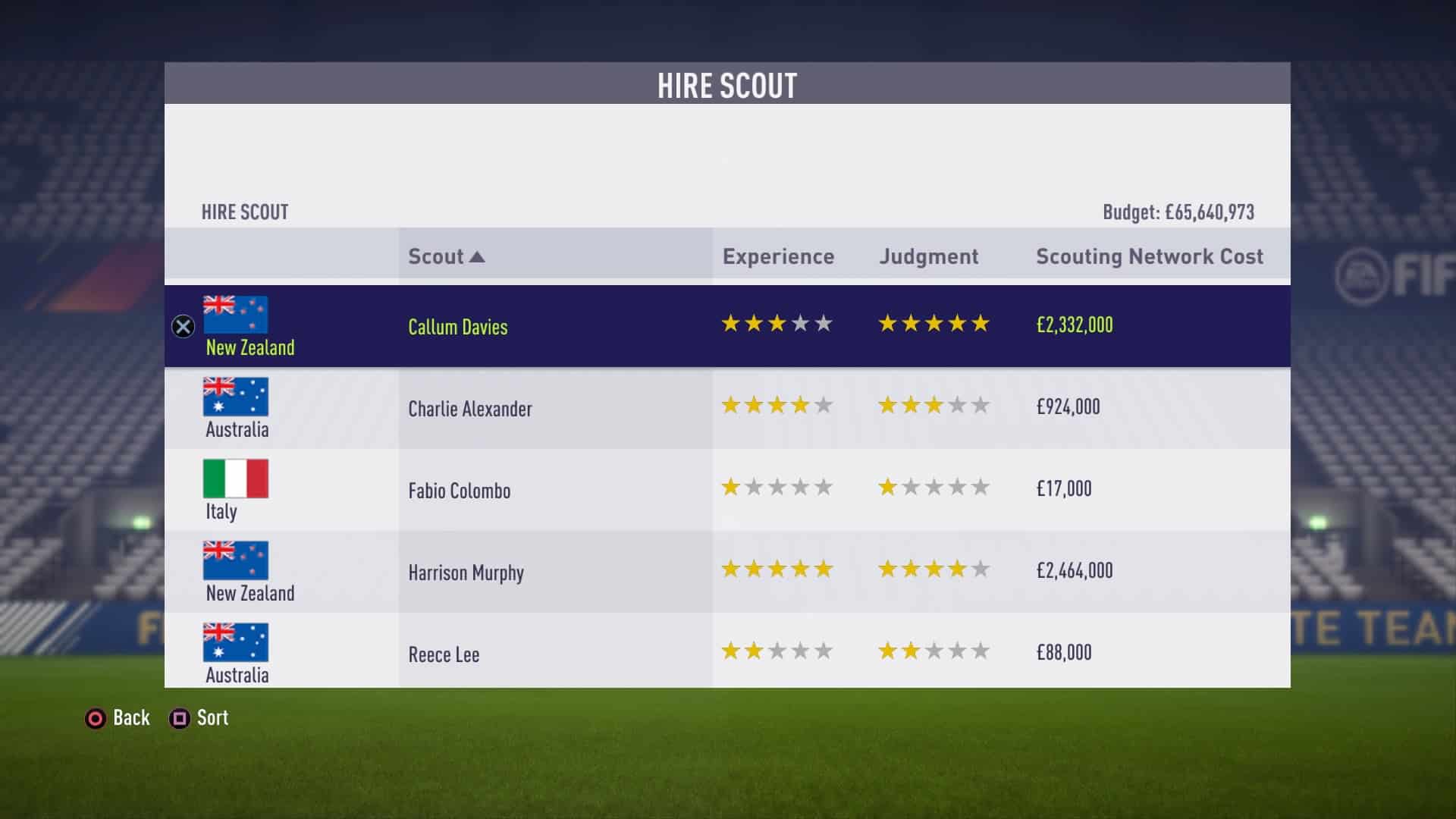 We've seen Experience and Judgement used already to rank youth scouts, but they're also used in the GTN – albeit in a slightly different way. Experience is a scout's ability to find players that match your instructions (more on this below). Judgement is their ability to evaluate players and also determines how quickly they can do it.
If you're a 'top' club with plenty of transfer budget, my recommendation would be to always hire 5 star scouts. If you don't have a huge budget, it's best to put a little more thought into this. I've included a table below detailing how much it costs to hire a scout of each Experience/Judgement rating.
Once you've hired a scout, they'll send you an email to say they're ready, so now you can dispatch them to a region.
Sending a Scout
For a scout to perform their first function (returning a list of players), we need to do two things. The first is to send a scout to a country. You can choose from X countries in the game.
For clarification in the Global Transfer Network, scouting a country will return players that are currently playing in the leagues of that country. NOT players of that nationality.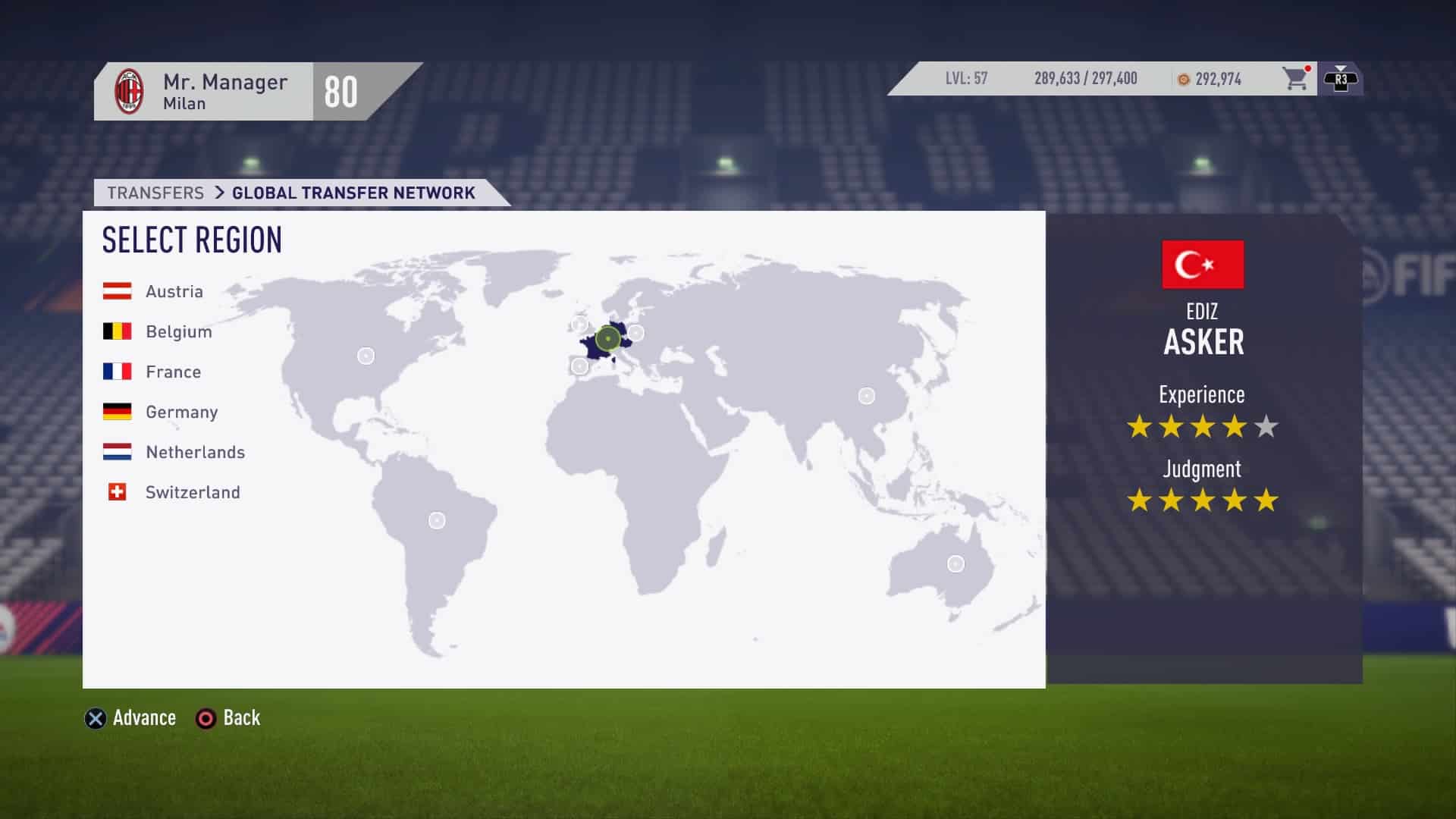 Once you've made a decision, select the country and confirm your choice.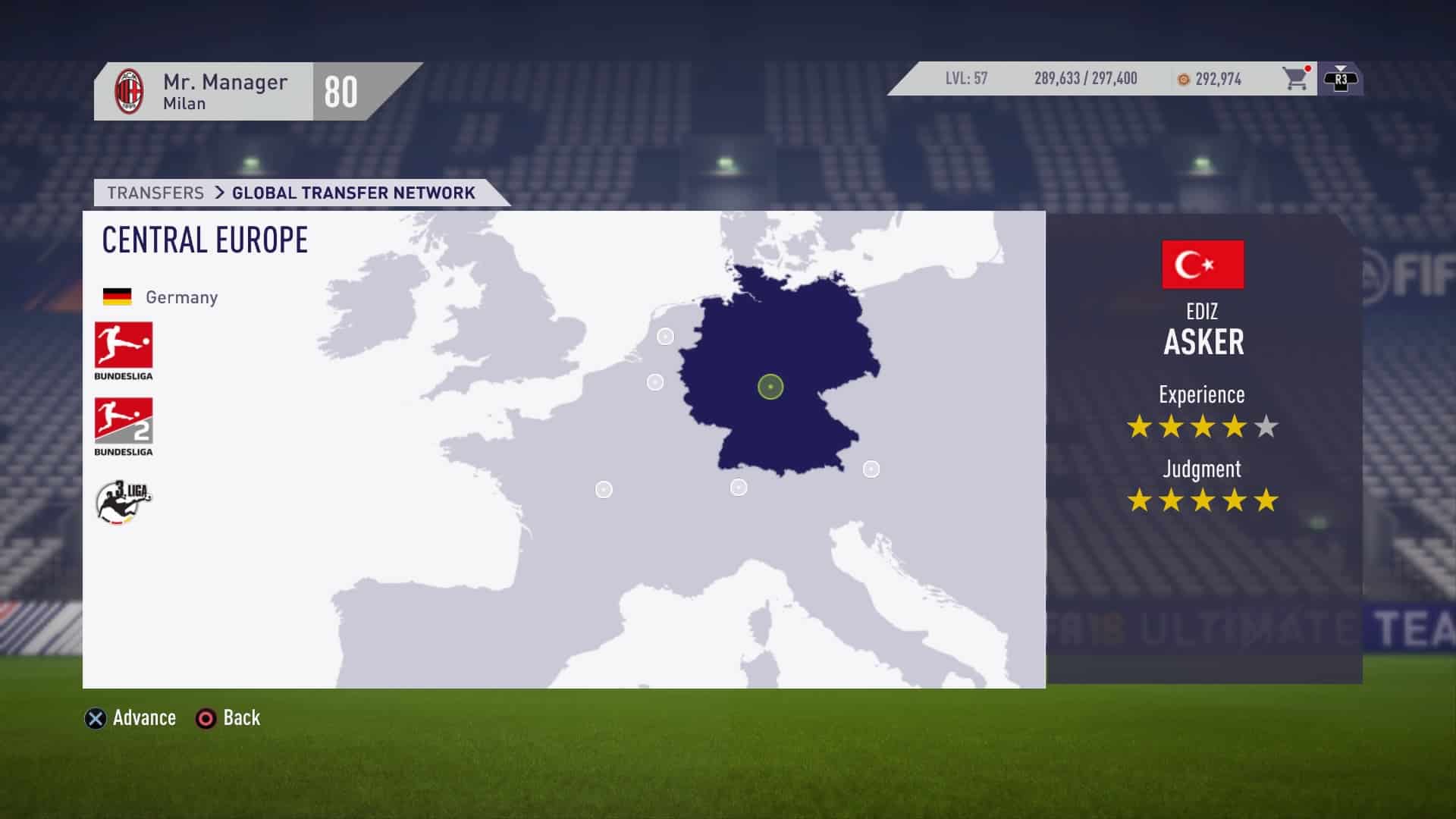 In the scouts menu, you will now see that your scout is 'In Transit'. You'll also receive an email notifying you of this. The key thing here is that the scout won't start looking at players for two days.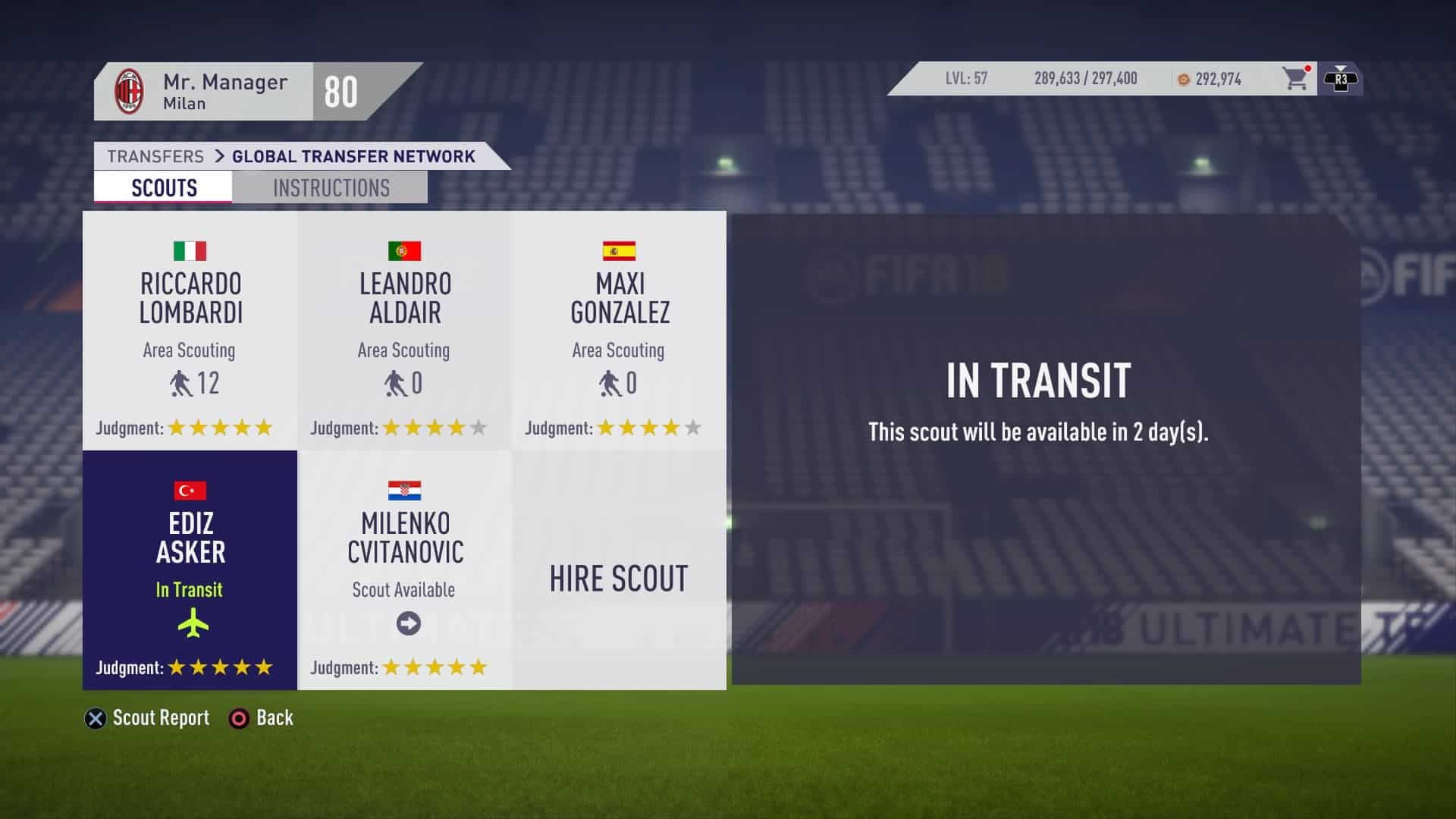 Instructions
The second thing we have to do is to specify Instructions. When you go into this menu, you'll see a few pre-set instructions that were used to populate the first scout report. You'll also see some empty slots, where we can add new instructions. You can also edit or delete the existing instructions.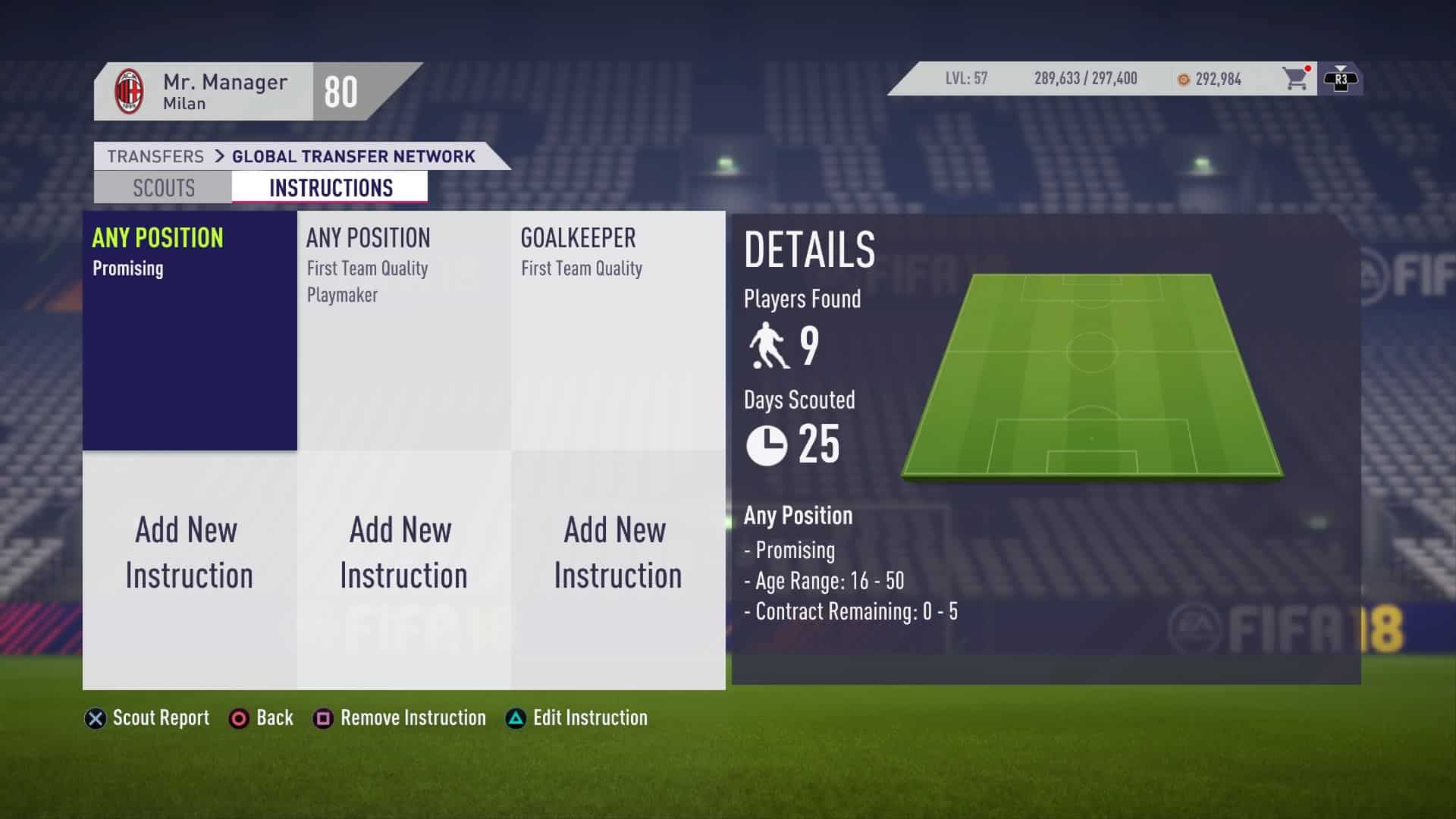 When you go into the menu to add a new instruction, you'll see a Details tile on the right that summarises this instruction as well as the four headings that we can edit:
Position
Attributes
Contract
Age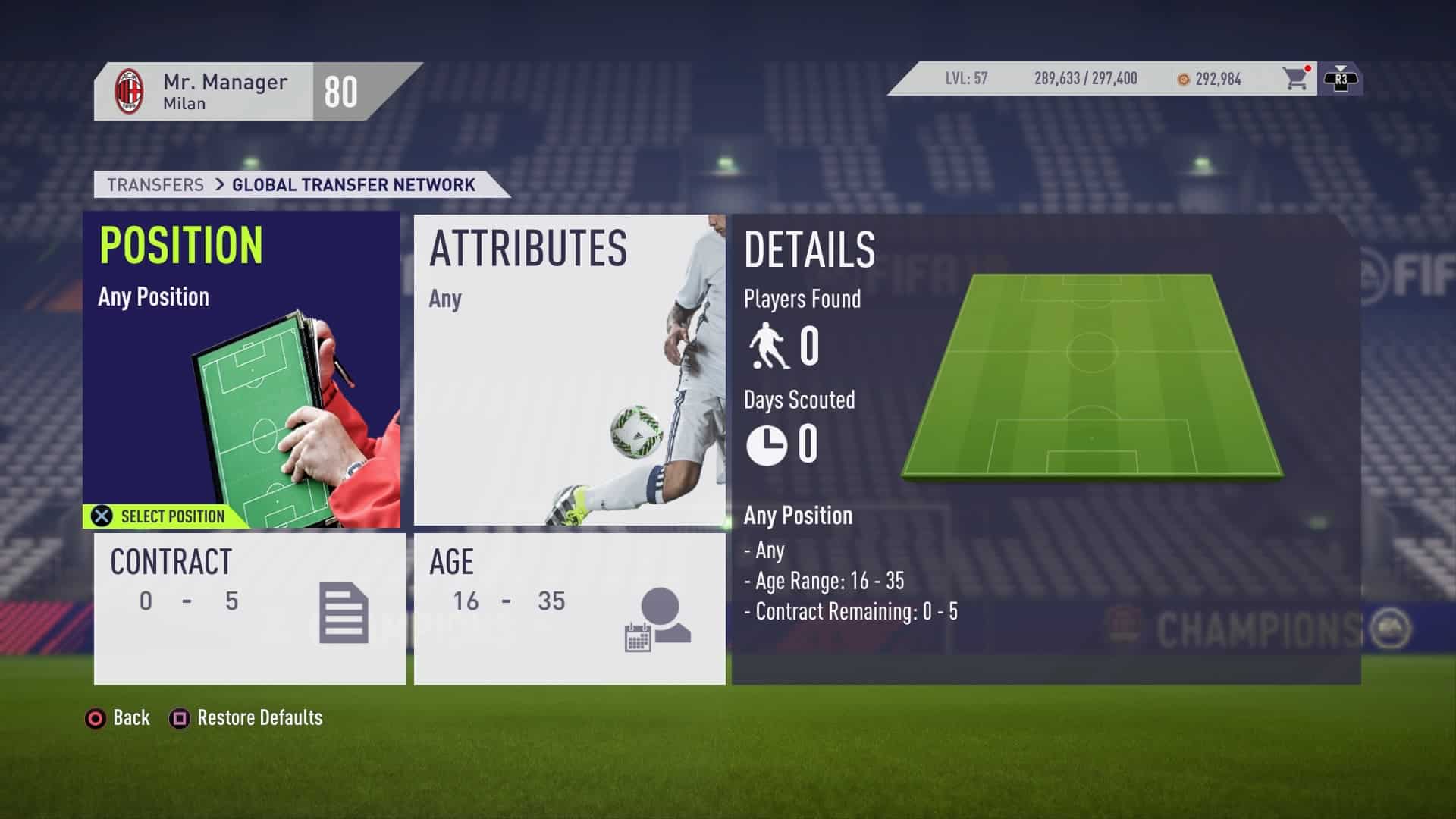 Position
This is the first choice to add to your instruction. You can choose from:
Goalkeeper
Full Back
Centre Back
Left Midfielder
Right Midfielder
Winger
Defensive Mid
Central Mid
Attacking Mid
Centre Forward
Striker
You can of course leave the position option blank, so any positions can be scouted.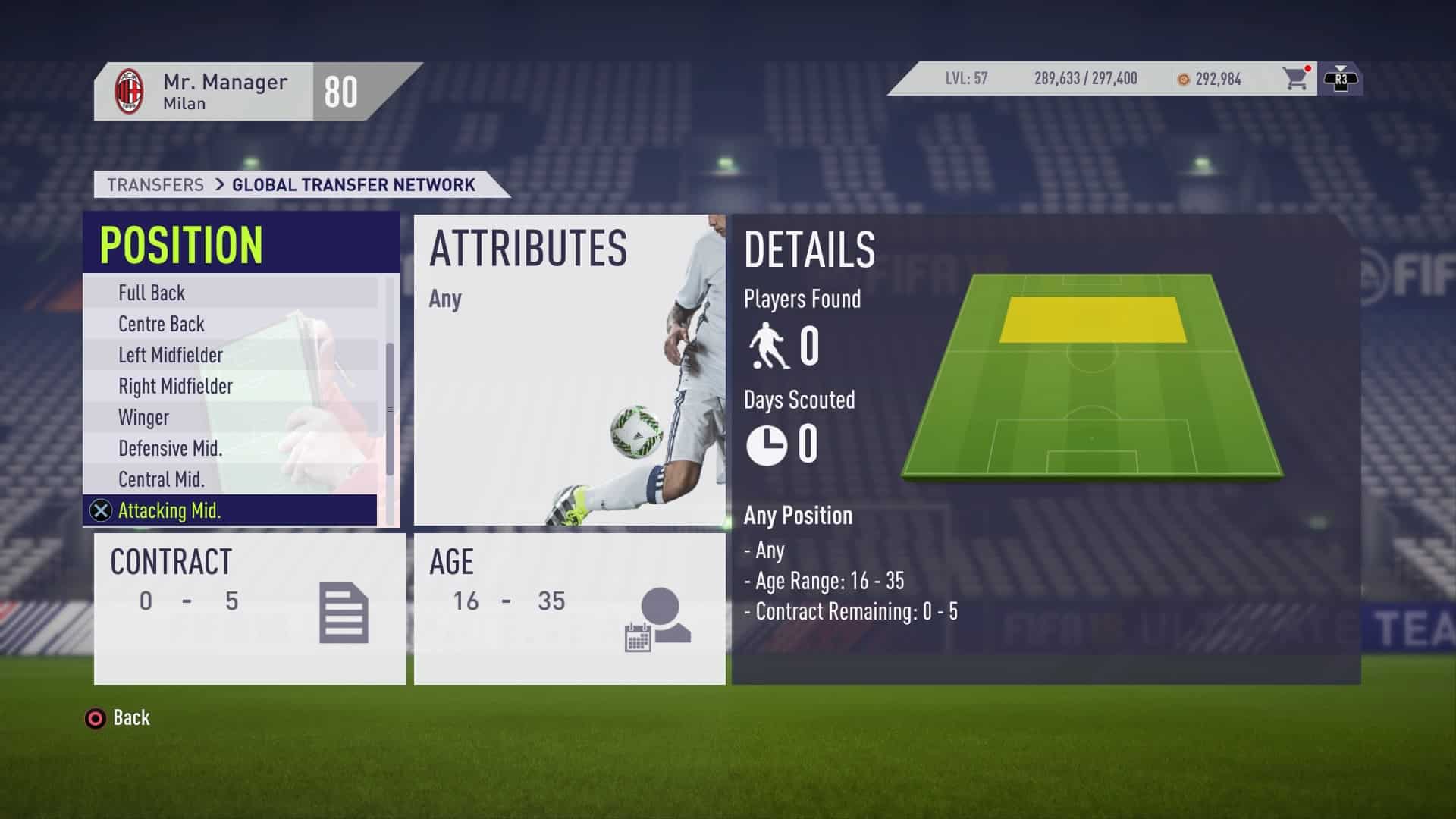 Attributes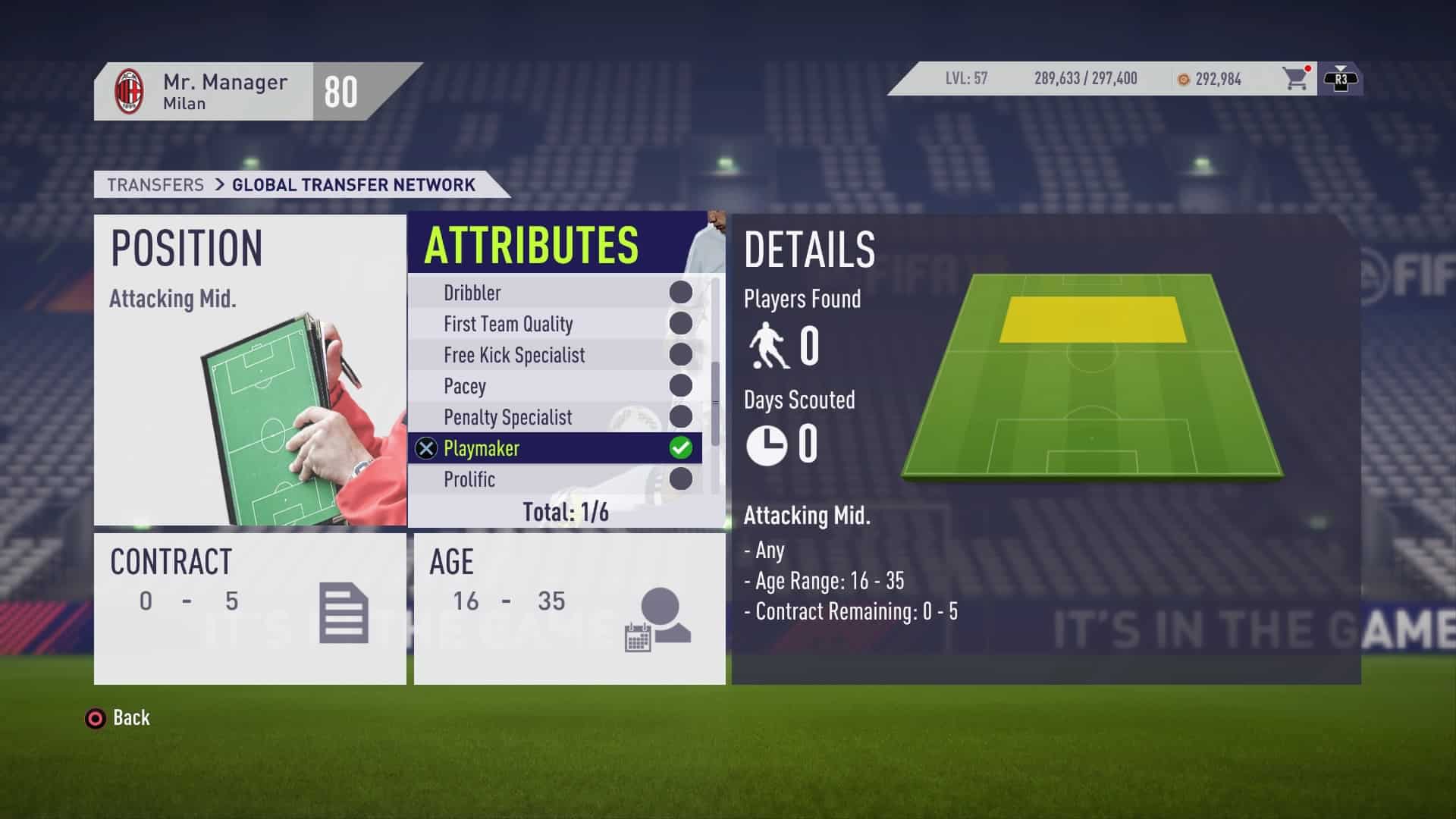 Contract
This allows you to target players that have a certain contract length remaining. This can be helpful in finding cheaper options because their contracts have for example less than two years to run. The best way to use this feature is to set the contract search to 0-1 years and the scout will look for players that can be signed on a free.
Age
This one is self explanatory and your application of it will really depend on what you're looking for. If you're only signing young talent, you'll probably want to set the age range to 16-22. But if you're not as fussy about this, leave the range a lot wider and you'll find more players at their peak that could be useful in your squad.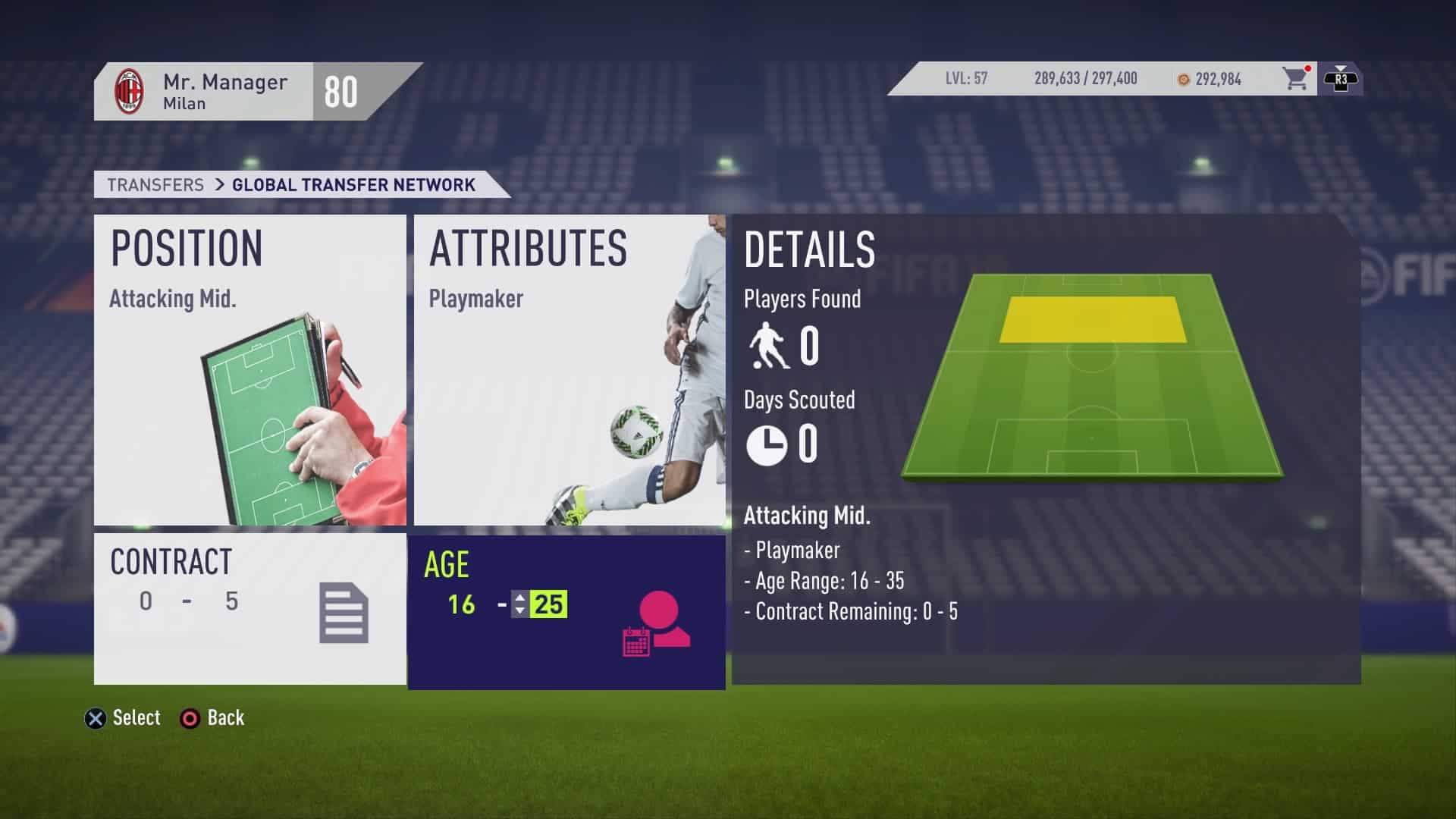 If you're new to the Global Transfer Network, the temptation will be to go crazy with your instructions here. My advice is to not be too prescriptive. Only selecting one position, a small age range and too many attributes will make it difficult, if not impossible for your scouts. After you've picked all of these options, exit the screen and you'll see that your new instruction has been added. It will be titled based on the position you selected.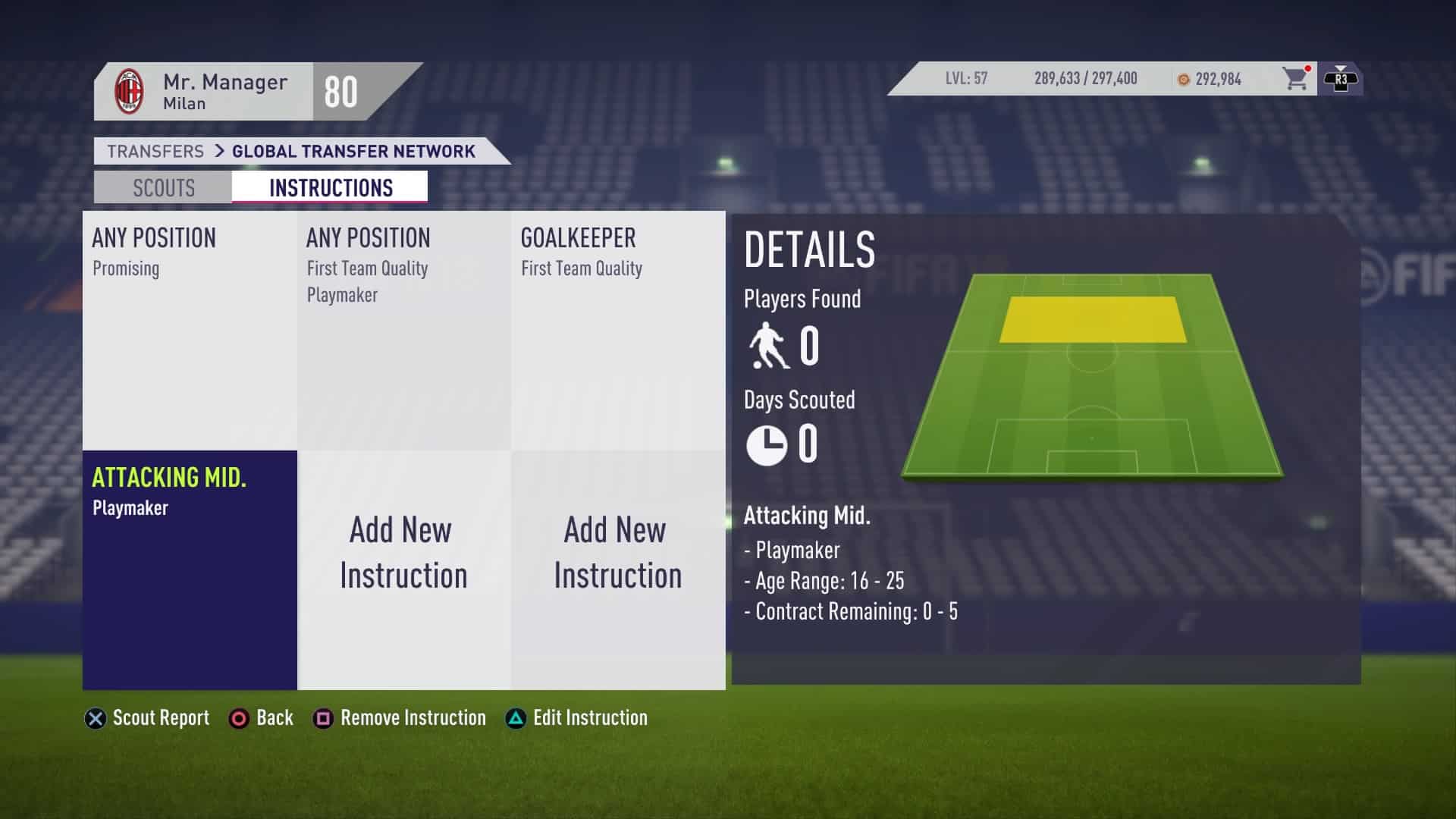 You can also view it from the main menu on the transfer tab in FIFA 18. Move the right stick until you find your new instruction. Initially it will say 'Scouting in progress' but after a few days you should start to see players appear here.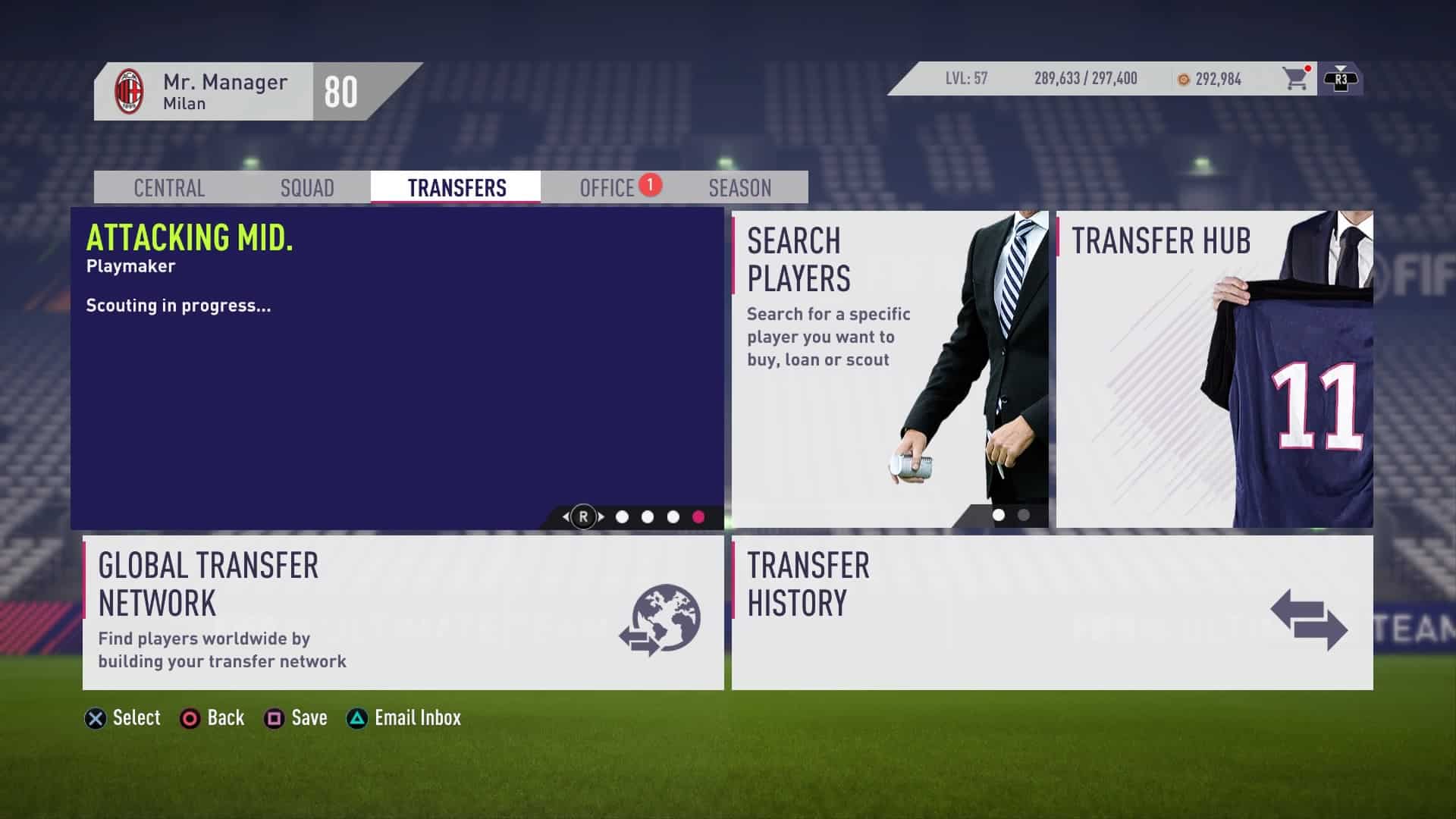 After a few days/weeks, you'll have a list of players for each instruction (providing it wasn't too restrictive) that you can look through. This will only tell you the players name, their position and their potential (as a status, not a definitive number).
Further Scouting
To find out more about players on your scouting report (or for players you've searched for), you can ask a scout to do some further scouting on the player. This will uncover the following pieces of key information:
Overall Rating
Attributes
Value
Wages
These are key in making a decision on a player but also the value and wages will come in handy should you decide to try and sign the player.
Performing further scouting is possible if the scout is still in the country that the player plays in. If you have manually searched for a player, you can only perform further scouting on them IF EITHER:
They play in a country where you already have a scout present
You have a spare scout that isn't currently scouting a specific country
The second of these options is the easiest and will give you the greatest flexibility. Because of this, I always recommend leaving one scout free to scout players from anywhere.
Scout Timing and Bandwidth
When you ask a scout to look at a player in more detail, it will tell you that the scouting report will be ready in X number of days. I worked out what affects this and unsurprisingly it comes back to my previous comment about a scouts Experience and Judgement ability. Understanding this will help you get the best out of the Global Transfer Network.
The bottom line here is that a scout's Judgement rating directly affects two key things:
The maximum number of players that he can scout at one time (bandwidth)
How long it takes to scout a player (timing)
How Many Players can be Scouted at One Time?
1* Judgement – Maximum of 4 Players
2* Judgement – Maximum of 7 Players
3* Judgement – Maximum of 10 Players
4* Judgement – Maximum of 15 Players
5* Judgement – Maximum of 20 players
How Long Does Scouting Take?
Please note the information below is for simultaneous scouting.
1* Judgement – 15 days per player
2* Judgement – 12 days per player for between 1-6 players, 20 days per player for 7 players
3* Judgement – 12 days per player for between 1-7 players, 16 days per player for between 8-9 players, 20 days per player for 10 players
4* Judgement – 9 days per player for between 1-9 players, 12 days per player for between 10-13 players, 15 days per player for between 14-15 players
5* Judgement – 6 or 9 days per player for between 1-11 players, 8 or 12 days for between 12-18 players, 10 or 15 days for between 19-20 players
That might seem like a lot to digest but it's simple once you get your head around it. For example, if you have your available 4* scout performing further scouting on 8 players, it will take 9 days in total (providing you started scouting them all on the same day). If however you add another two players, each player will now take 12 days.
Previous: Introduction
Next: Transfer Hub