Transfer Hub
What is the Transfer Hub?
As the name suggests, the Transfer Hub is where you manage all of your transfer activity in FIFA 18 career mode.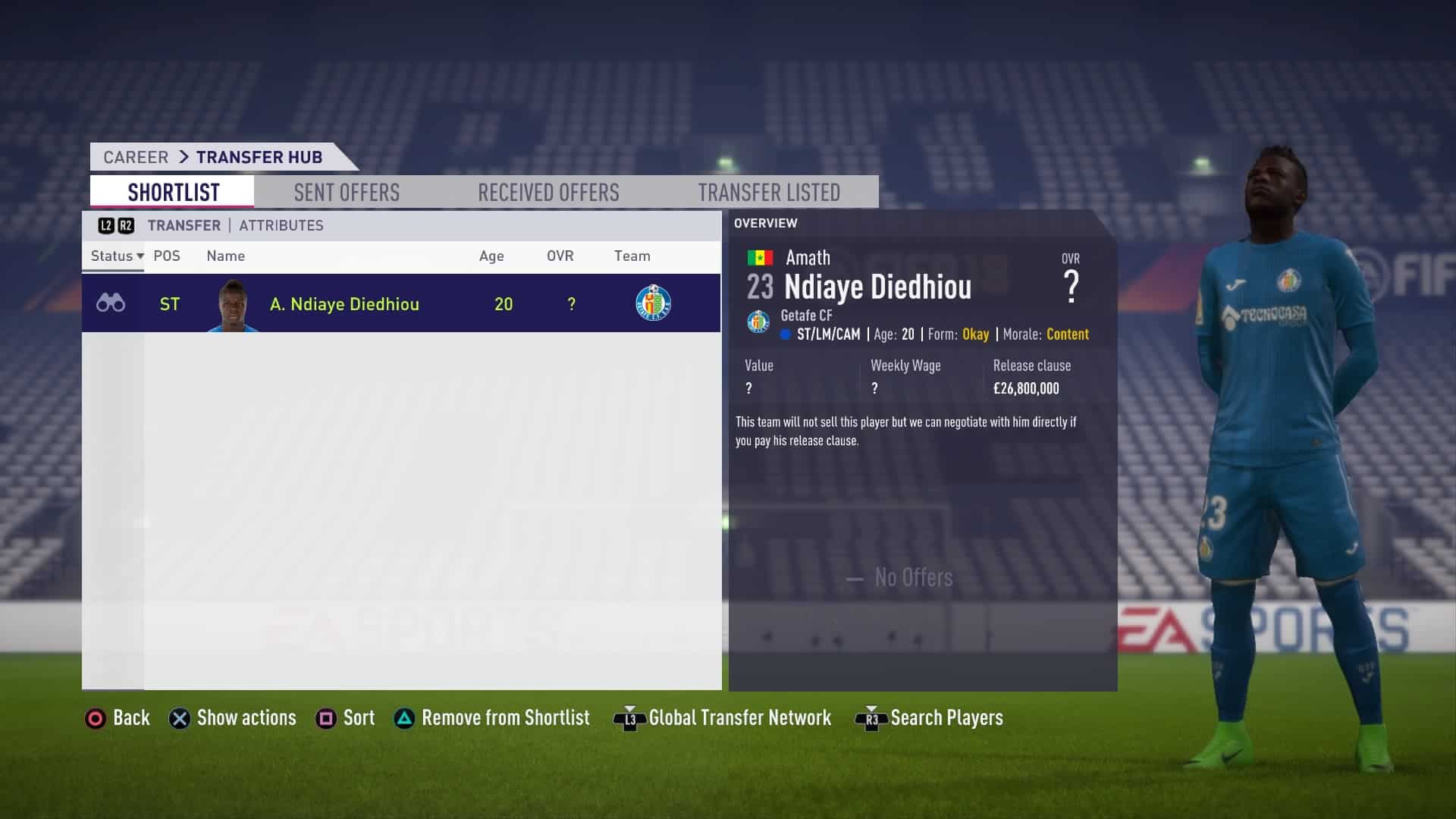 Shortlist
The transfer shortlist is nothing new in career mode, but it's location has changed. Previously you could shortlist players you were interested in to make it easier to find them later. Rather than being a standalone feature, the shortlist in FIFA 18 has been brought into the new transfer hub which makes a lot more sense. The other change is that you now have to shortlist a player before you can make any kind of offer. You can't simply go into a player's information card and make an enquiry or offer from there.
Sent Offers
This tab also seems to be an improvement on previous versions of the game. Previously you'd be looking at offers categorised on their status (Successful and unsuccessful etc). Now you have one single tab to view all offers you have sent in the current season, with a breakdown of their value and status. You can also use the shoulder buttons to cycle between filtered views for Loans or Transfers (helpful if you're very active in the transfer market).
Received Offers
Just like the Sent Offers tab, this has also been improved. The design and organisation feels a lot cleaner and simpler to use. Here you'll find a list of all offers you have received during the current season. The big advantage here is that they are grouped by player, so you'll have a list of your players, scrolling through the list will show you what offers you have received for each player. The reason this is so helpful is because it's common to be bombarded with transfer offers in FIFA 18, this list will help you keep track of any previous offers you've received.
As with the Sent Offers tab, you can also filter by Loans or Transfers. This wouldn't have been all that helpful previously as clubs didn't bother trying to loan your players unless you put them on the loan list. In FIFA 18, clubs will occasionally approach you about loaning a player that isn't even on your loan list.
Transfer Listed
Another tab that should be self-explanatory. This will show you all players within your squad that you have added to the transfer or loan lists. You can also filter by loan or transfer to make things easier. This is a lot easier than scrolling through the squad hub to check which players you've placed on either list.
Previous: Global Transfer Network
Next: Release Clauses