Contract Negotiations in FIFA 18
What's Changed?
Just like the transfer negotiations, negotiating a contract in FIFA 18 is very different to previous games. It's all done in real time and EA have added a bunch of different options like release clauses and performance bonuses. This makes things a little more challenging as players can be more demanding than they have been previously.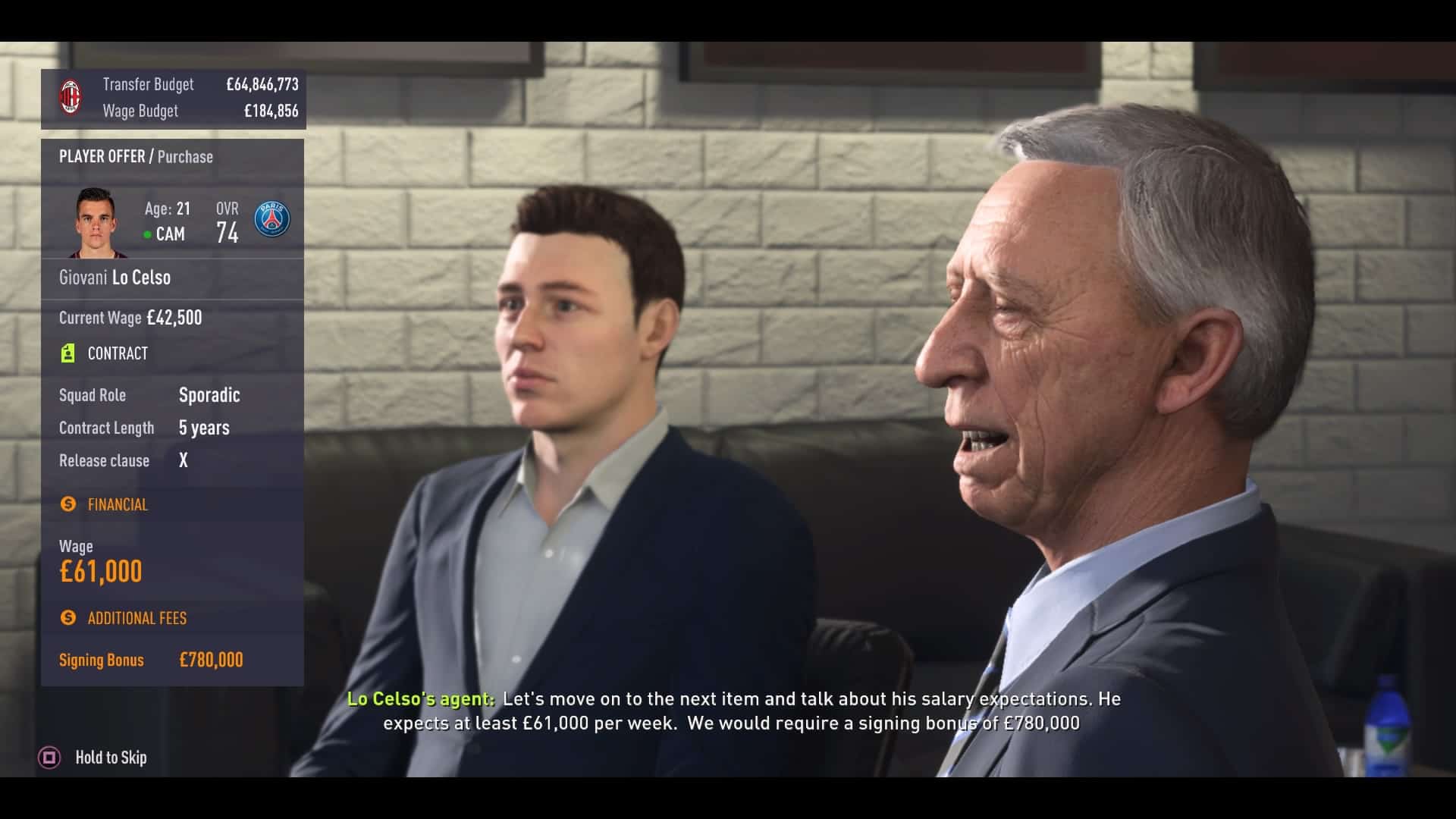 Squad Role
You should already be familiar with the five squad role options you can choose from when negotiating a players contract.
Prospect
Sporadic
Rotation
Important
Crucial
Don't be fooled into thinking these are just there to flatter a player. The squad role you give a player directly affects how much gametime they expect in a season. Get it wrong and you'll have unhappy players in your squad, often asking to be loaned out or put on the transfer list.
Remember in the previous section I mentioned repeatedly that its important to scout players fully? It helps out at this stage too. When signing a new player, your scout can tell you what squad role they have at their current club. This can give you an indication of what to do. Bear in mind that it's not a straight translation. The player could have grown significantly since their contract was signed for example. The other big factor is the status or size of the clubs, think of it like the big fish in a little pond metaphor.
A player moving from a small club to a big club is likely to move DOWN in squad role
A player moving from a big club to a small club is likely to move UP in squad role
Contract Length
Nothing new here, you can give a player a contract anywhere between one and five years. Most times you'll want to go for the maximum of five years to ensure you can get the best price for you player when selling him on. The exception to this is for older players that you'd like to sell before they retire, lose too much value or sign a pre-contract agreement.
On the other side of the table things are slightly different. Most young players will happily agree to a five year contract. However, star players and ageing squad members might suggest or even insist on a shorter length. This is effectively to keep their options open so they aren't locked into a long contract.
It's better to compromise on contract length than lose the player altogether!
Release Clause
I covered this in detail in a previous section. From what I've seen so far, release clauses tend to be infrequent and random. Most times you'll choose to ignore the option or the player's agent will inform you that they aren't looking to insert a release clause. On occasion they will insist that one is included and may even have a figure in mind. If this happens, don't panic. You can always renegotiate later. Having the odd player with a release clause is realistic and keeps the game interesting.
Player Wages
This is one of the key stages of negotiating a contract. Get it wrong and the player will storm out of your office, you won't be able to try again for a week. This is especially risky when you're renegotiating with a player whose release clause has been activated, or attempting to buy a player with multiple suitors.
A player's expectation of wages seems to be affected by a few factors.
Their Overall Rating/Value would be the most significant. I'm in the middle of some analysis on player wages and when you plot wages against overall rating, there's a distinct pattern.
Secondly the club's size or status will affect what wages the player expects. This one is a little more unclear. It seems logical that small players moving to big clubs would need less financial incentive than big players moving to smaller clubs. However, anecdotal evidence suggests that bigger clubs pay higher wages.
Thirdly, and least important in my opinion is the squad role. It's a bit harder to tie these two together but it's not an unrealistic assumption to think they are related. Could a greater squad role make a player expect more wages? Or would it placate them into accepting a lower salary?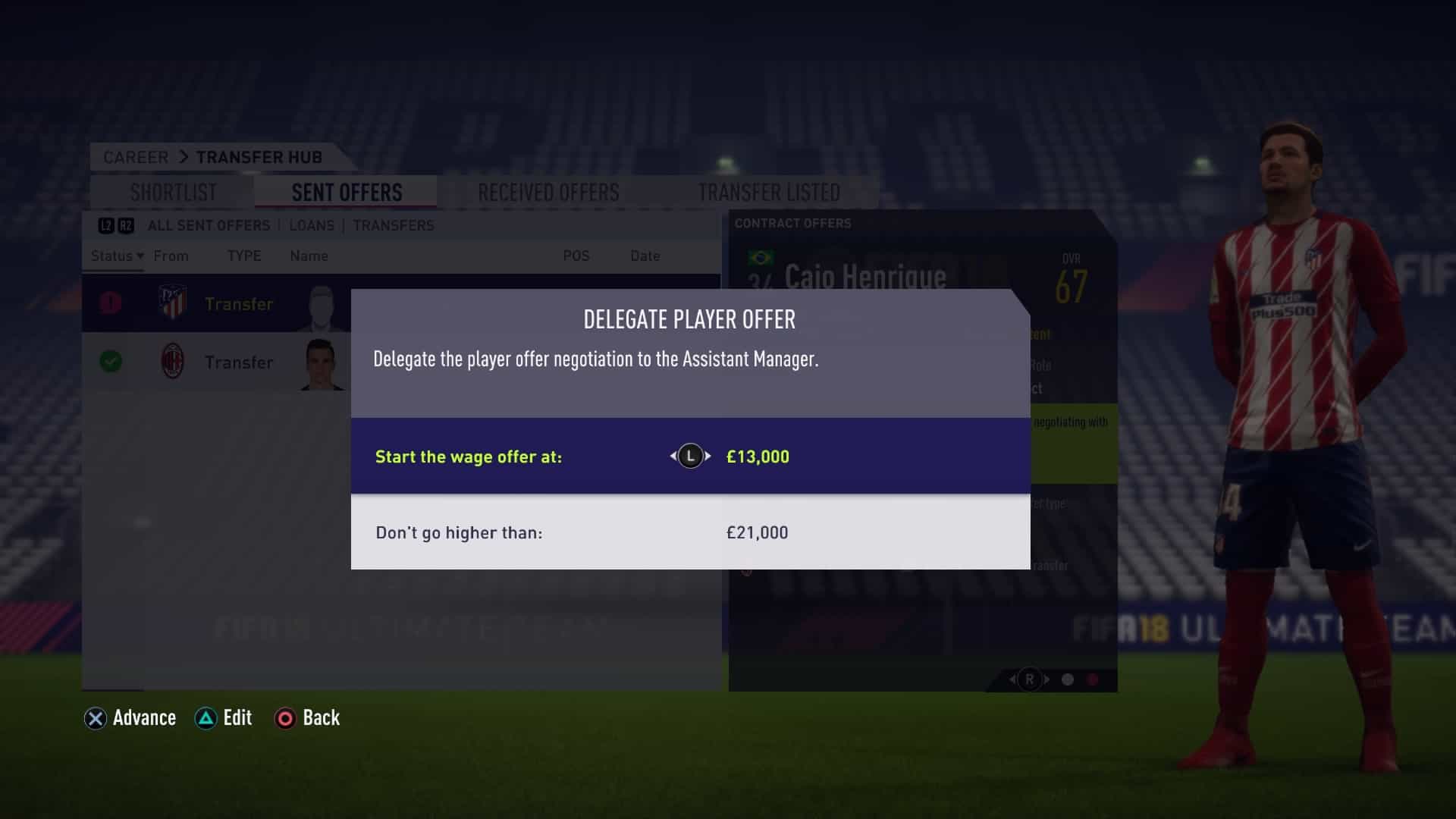 Signing Bonus
An editable signing bonus is a new addition for FIFA 18, and a real pain if you're operating on a limited budget. They existed previously but they were predetermined, seemingly as a percentage of a players salary. This adds a lump sum onto any new contract, whether renegotiating with an existing player or signing a new one. It's very common for players to ask for one, I actually expect it each time now.
This also seems to be linked to wages. Give a player a bigger salary than he was expecting and his need for a fat signing bonus seems to decrease. I need to do some more working on this but there are two ways of thinking about it.
Higher Wages is better than Higher Signing Bonus. If you're looking to have a busy transfer window, cash flow is key. Not giving away your budget now leaves more money in the bank to sign other players with.
Higher Signing Bonus is better than Higher Wages. Sure it means you use up your transfer budget sooner, but it might be better than losing more money each week for up to five years.
Performance Bonus
The realistic inclusion of performance related bonuses into contract negotiations is one I'm very happy about. Yes it's going to suck more money out of your budget but career mode has made it too easy to accumulate insane transfer budgets for years. There are three types of bonus that you can insert into a contract:
Appearances
Goals
Clean Sheets
Standard stuff really, you might agree to give a striker a £1m bonus when they score 10 goals in a season. This is another area that can be affected by the other parts of a contract. Sometimes they are thrown in to sweeten the deal when you're not quite matching a player's salary expectations.
As is probably the case in real life, you could obviously abuse this system. Got a player with a bonus for 15 appearances? Play them 14 times and bench them for the rest of the season. This isn't the smartest move as it stops you being as flexible with team selection. This can be a big issue when your fixtures pile up. It can certainly be a smart move though if you're playing as a smaller club with limited financial resources.
Previous: Transfer Negotiations
Next: Player Loans