Biggest Transfer Budgets in FIFA 18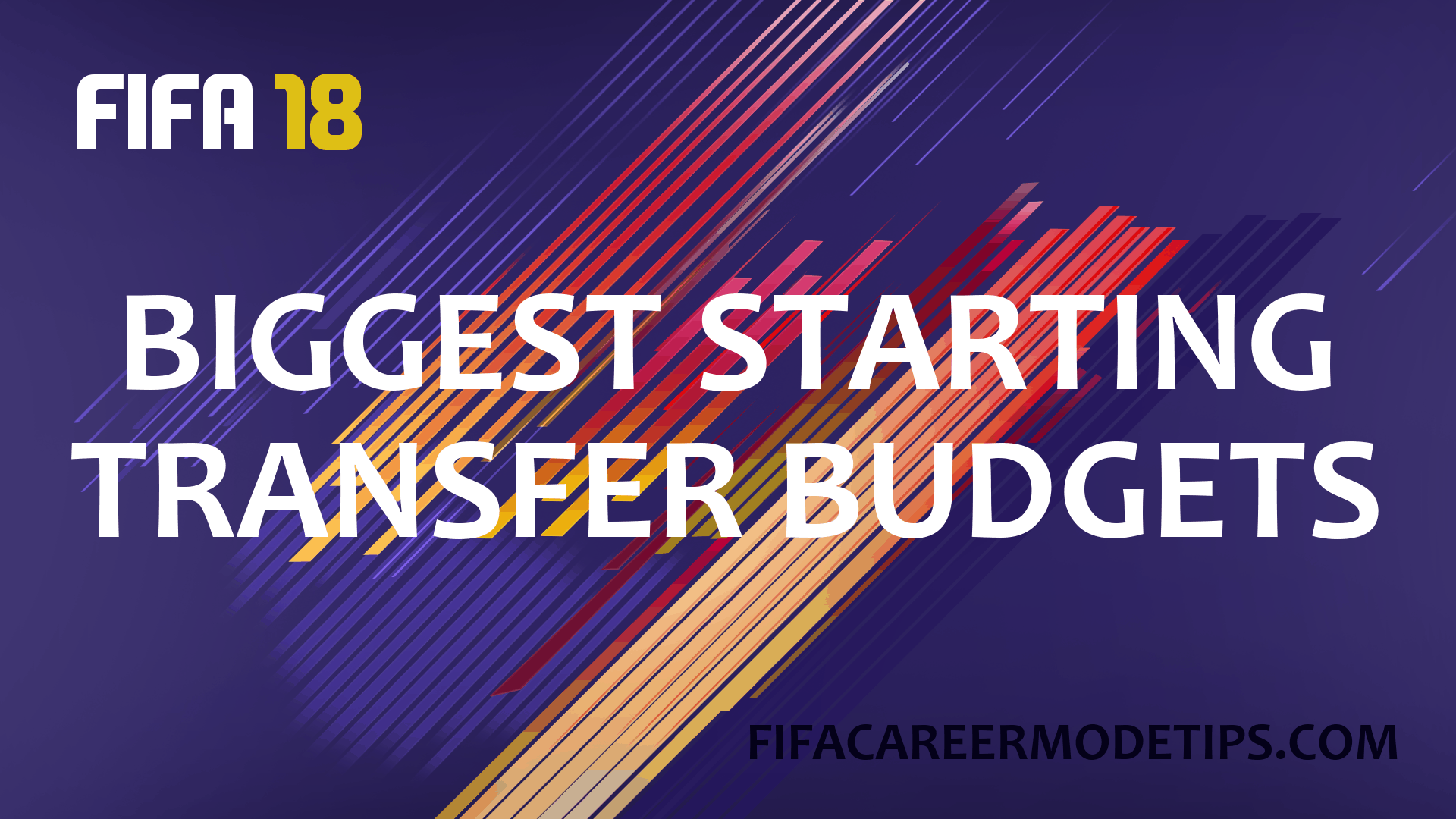 Buying and selling players in career mode is one of the most absorbing aspects of the game, so having some cash to spend is never a bad idea. When starting a new career mode, many of you will be wondering who has the biggest transfer budgets in FIFA 18. To save you the trouble of looking at all 638 team, I've done the hard work for you and put together a list of the clubs with the biggest transfer budgets in career mode. These teams are in the top 3.92% of all teams in the game, so you're really dealing with the elite clubs here. When we're talking about the 'biggest transfer budgets', you're looking at £37m and upwards – read on to see who made it onto the list.
Another thing to bear in mind is that 'biggest transfer budgets' is somewhat relative – achieve success over a few years in career mode with any team and your budget is likely to increase significantly.
25. VfL Wolfsburg
Starting Budget: £37,486,216
A great club if you like history and interesting narratives as their story is heavily connected with car manufacturer Volkswagen. The star player in the squad is Mario Gomez but they've got a lot of players with at least some growth potential. Promising talents such as Osimhen and Itter make Wolfsburg a good long term option too. Use the starting budget to sign a superstar and make an assault on the Bundesliga.
24. Watford F.C.
Starting Budget: £39,459,664
One of a few clubs on this list that might surprise you, don't forget that Premier League clubs will be well endowed thanks to TV rights money. The Hornets returned to the Premier League in 2015 and quickly silenced their doubters by finishing 13th. Joint top scorer Ighalo has since moved on and they had a tougher second season, narrowly avoiding relegation. Their current squad looks fairly unremarkable at first glance but the midfield especially has a lot of potential.
23. Swansea City A.F.C.
Starting Budget: £39,626,752
Just to confuse non-UK readers – The Swans are a Welsh club but play in the English Premier League and would represent England if they made it into European competition. Well-equipped with striking options, the previously-prolific Ivorian Wilfried Bony has just returned to the club and they've also taken Tammy Abraham on loan from Chelsea. They also pulled off a coup this summer by signing future star Renato Sanches on loan from Bayern Munich.
22. Crystal Palace
Starting Budget: £40,272,672
At the time of writing, Palace have started the season in atrocious fashion – losing their opening seven fixtures. Conceding 17 goals in this time but scoring none is a huge concern for the fans. It's also baffling, given the quality within the squad. A front-three of Zaha, Townsend and Benteke should be enough to trouble most defences in career mode. The impressive Sakho and on-loan Fosu-Mensah should be able to keep a handful of clean sheets for you also.
21. Stoke City
Starting Budget: £42,497,312
Now in their ninth consecutive year in the Premier League since gaining promotion in 2008. The Potters gained admiration and notoriety in equal measure for their style of play under Tony Pulis. However, the team has come a long way since then and the playing style has been overhauled by Mark Hughes. They have solid options at centre back and real quality on the wings – including Jese on loan from PSG. Not only that but they also have the most likely candidate for future England No.1 in Jack Butland.
20. Southampton
Starting Budget: £44,479,596
Although the Saints have reluctantly sold many of their best players over the past few years, their squad is still teeming with quality. Virgil van Dijk failed in his attempts to get a move away from the club this summer, so you'll still have him at your disposal. Southampton are famous for producing and developing young talent, this budget will get you a decent scouting network with plenty of cash to spare.
19. RB Leipzig
Starting Budget: £46,352,872
Another club with a fascinating history, albeit a controversial one. Founded in 2009 by energy drink manufacturer Red Bull who bought the playing rights of fifth division side SSV Markranstädt. They ascended all the way to the Bundesliga within eight years, at the displeasure of many clubs and their supporters in Germany. Already equipped with a very capable squad, add some more talent and really upset the apple cart.
18. Leicester City
Starting Budget: £47,262,596
The Foxes wrote themselves into a footballing fairytale by winning the Premier League in the 2015/16 season. A transfer budget of nearly £50m makes a second title a possibility for you. Not only that but they do already have a fantastic squad brimming with attacking talent. Jamie Vardy and Riyad Mahrez lit up the league two years ago but the addition of pacey striker Kelechi Iheanacho will have many of you drooling.
17. Borussia Dortmund
Starting Budget: £47,433,520
One of the most successful clubs in German football history and famous for their 'Yellow Wall'. Blessed with a number of players that are already rated 80 and above including Reus and Aubameyang. Primed for future success as well with a handful of promising young talent such as Pulisic, Dahoud and the exciting Jadon Sancho – who has already been given the No.7 shirt.
16. Valencia CF
Starting Budget: £47,589,400
The first of four La Liga teams to make our rich list, coming in just shy of £48m. This is definitely one of the more interesting options on this list as the squad only has five players of 80 or above. While they've got plenty of youth options, improving your starting XI will be the priority. If you're looking to take over at the Mestalla, one bonus is you have one of the best free kick takers in the game in your squad.
15. Atletico Madrid
Starting Budget: £52,967,376
Now we're into the top 15 and the top 2.35% clubs with the biggest transfer budgets. With around £5m more to spend than Valencia, Atletico might be a good option if you like Spain but Barcelona or Real feels too easy. They have an excellent squad front to back, and are blessed with attacking talent. Taking this into consideration, you probably won't even bother buying Costa for realism.
14. West Ham United
Starting Budget: £55,598,400
The Hammers haven't been as successful as they would have liked over the past decade, but the current owners are doing their best to turn that around. A much publicised move to the London Stadium and some shrewd transfer business could see them occupy a spot in the top half of the table more often moving forward. A great selection of attacking players to fit into the team, with Manuel Lanzini likely to be the jewel in your crown. One area of the team that could definitely be improved is the defence, with £55.5m you could buy a whole new back line if you want to.
13. Everton F.C.
Starting Budget: £56,667,600
The blue half of Merseyside will have been very happy with the club's transfer business over the summer, albeit while losing Romelu Lukaku to Manchester United. Pickford, Keane, Klaassen, Sandro, Sigurdsson and Rooney are great additions to a squad that was already capable of challenging for a spot in Europe. Despite the considerable outlay on players during the transfer window, they still have over £50m to play with in-game. This gives you the option of adding a world class talent to the squad and trying to challenge for the Premier League.
12. Tottenham Hotspur
Starting Budget: £62,813,012
A slight jump up in budget from Everton, The Lilywhites have a transfer kitty of over £60m. Be warned though, their big money moves in recent years haven't always panned out. Much of the talk during the transfer window was how Spurs will struggle to improve their team, but that doesn't really apply in FIFA. Sensible options include bringing in a world class winger and finding a successor to Mousa Dembélé (if you can't wait for Harry Winks to develop).
11. Juventus
Starting Budget: £64,100,632
Only two Italian sides make our list of the biggest transfer budgets and Juventus is the poorer of the two, only just. The Old Lady has an impressive roster of talent for you to begin playing with but thinking long term will be the challenge. A few key players that are perhaps in the twilight of their careers are likely to leave some big boots to fill.
10. AC Milan
Starting Budget: £65,640,960
An impressive recruitment drive has improved their squad massively, even if they've not started the season particularly well in real life. Milan have a pretty decent all round squad and a handful of promising younger players, including highly-rated stopper Donnarumma. Bear in mind he also has a brother who is also a goalkeeper, don't get the two confused if a transfer offer comes in!
9. Liverpool
Starting Budget: £66,882,196
An extra £10m in their transfer budget compared to their local rivals makes Liverpool an attractive option. Not only that but they have a very decent squad, with a fair few players that have good potential. If you're the kind of manager that likes to develop youth players, Alexander-Arnold, Woodburn and Solanke should keep you busy. Defence and Goalkeeper seems to be the area of weakness for Liverpool, nearly £67m can really help you out with this.
8. Arsenal
Starting Budget: £79,831,440
Another considerable jump in transfer budgets puts Arsenal's war chest at close to £80m. Although their fans have been critical over a perceived lack of spending in recent seasons, their squad is impressive. Central Midfield and Right Wing would be two obvious areas that could do with some improvement if you're chasing that elusive 14th League title.
7. Chelsea
Starting Budget: £82,197,504
Edging out their London rivals by a few million, it's no surprise that well-backed Chelsea made the top 10 in biggest transfer budgets. A sizeable squad and a handful of the best players in the game makes Chelsea a great choice if you're looking to conquer Europe (again). Diego Costa will still be at your disposal so you get to choose what to do with him! Similarly to Arsenal, CM and RW might be areas to try and improve. Although Fabregas and Willian are great players, you might want some younger players for competition and longevity.
6. FC Bayern Munich
Starting Budget: £82,583,200
The most successful club in German football history, need I say more? At the time of writing, Bayern are enduring a difficult start to the 2017/18 Bundesliga season in real life. However, in FIFA 18 they're blessed with some of the best players in the game – so challenging for the league title and the Champions League shouldn't be an issue for you. One way to put that sizeable budget to good use would be to bring in some younger players and bring the average age down slightly.
5. FC Barcelona
Starting Budget: £114,584,904
Now we're into the top five clubs with the biggest transfer budgets and the jump in budget is significant, over £30m more than Bayern. Also bear in mind these top five teams are the top 0.78% in the game, financially. Despite a bit of strange transfer business this summer in buying Paulinho, they have one of the best squads in the game. If you're playing for realism you can go and raid Liverpool for Coutinho, or go and buy whoever you like. This sizeable budget is best used for planning for the eventual retirement of the likes of Messi, Iniesta and Pique.
4. Real Madrid
Starting Budget: £118,539,008
Los Blancos beat their fierce rivals into fourth place with an unsurprisingly large transfer budget. Known for their recruitment of 'Galacticos', you could follow this tradition and finally bring David de Gea or maybe Eden Hazard to the Bernabeu. Similarly to Barcelona, you'll also have to plan for the eventual loss of poster boy Ronaldo. Madrid do also have a lot of younger players with reasonable potential if you're looking to try something different.
3. Paris Saint-Germain
Starting Budget: £125,339,192
Despite smashing the world record transfer fee with their purchase of Neymar (and then poaching Mbappe), PSG have a ridiculous amount of money left to spend. Plenty of younger players with good potential in your squad but most career mode players will have an eye on the ageing stars such as Cavani, Silva and Alves. While it shouldn't be too much of a challenge to dominate Ligue 1, competing in the Champions League should be the main aim for PSG.
2. Manchester City
Starting Budget: £132,001,320
No surprises here but perhaps the English TV money makes them edge out PSG by about £7m. Within the squad there are already four players with potential of over 90 (De Bruyne, Jesus, Bernardo Silva and Sane). You might wonder how you would even improve the squad but they do have seven top players who are aged 29 and over. Replacing the likes of Toure, Kompany and Silva withsome younger talent would be a good use of the money.
1. Manchester United
Starting Budget: £148,897,584
Here you go. Number one in the list of biggest transfer budgets in the whole game, edging out their 'noisy neighbours' by nearly £17m. United already have a world class first XI so this enormous budget is best spent on squad players if you choose to move on the likes of Carrick and Fellaini. With £150m burning a hole in your pocket, you really shouldn't struggle to craft your squad exactly how you like it. No excuses, go and win everything!
If you're sick of playing with the clubs that have the biggest transfer budgets and you're looking for more of a challenge, why not check out our list of the clubs with the smallest budgets?