Chelsea in League Two: What Happens?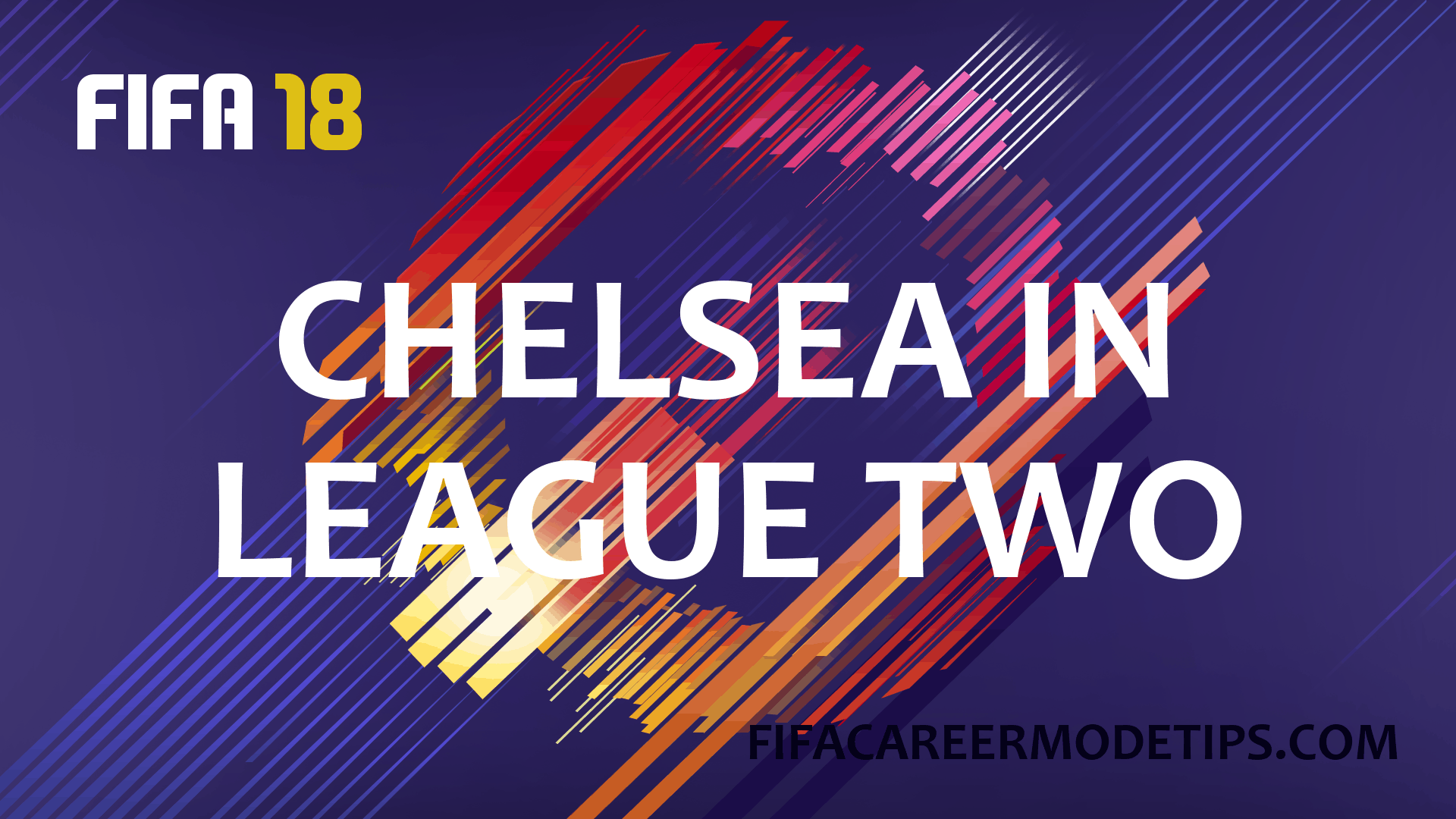 Why?
You've never wondered what would happen if you drop Chelsea FC into League Two? No? Just me then. With any simulation it's fun to play around with it and see what happens. FIFA career mode is no different.
I've run this same test before with previous versions of the game but wanted to document it this time. The question I'm trying to answer is 'What happens when you move a Premier League club into League Two?'. I chose the English leagues because they are the only ones in FIFA 18 that have four tiers. This gives me a better opportunity to see what happens with promotions or relegations over a longer period of time.
Of course dropping a team into League Two is a completely unrealistic scenario. Even if a team were found guilty of match fixing or breaching FFP rules, they would only be docked a few points.
Why Chelsea? It was a random pick, I wanted one of the top sides though.
Setup
First off I go into the Customise tab and download the latest squad updates – this will make sense in a moment. Then I open up a new manager career mode and start switching the teams around using triangle/Y.
I switched Chelsea with Aston Villa, then Wigan, then Coventry. This left Aston Villa in the Premier League, Wigan in the Championship, Coventry in League One and Chelsea in League Two. I could have just switched Chelsea with a League Two team but the only drastic change I wanted in this sim was Chelsea's position. Villa, Wigan and Coventry were picked because they were the better teams in their original leagues and have relatively decent transfer budgets.
Next I setup the usual settings, difficulty, match length and so on. The three main things here are:
Squads – Current Customised. You won't be able to change this because you switched teams around. This is why I did the squad updates first.
European Competition – turned off for the first season. I assumed that Chelsea would retain their Champions League place and thought this would be an unfair advantage.
Transfer Window – the way they describe this setting is slightly confusing. I left it as it is, which means teams can make transfers in the very first window. I wanted to observe if and how Chelsea's transfers would change.
2017/18
As I'm playing as Arsenal, the first thing I noticed was the Community shield. The fixture should have been Chelsea (2016/17 Premier League Winner) vs Arsenal (2016/16 FA Cup Winner). However, it was Aston Villa vs Arsenal. It looks like when you switch teams, they take on the other ones place in any other competitions. If I had turned European competitions on in the first season, Aston Villa would have been in it.
After the summer transfer window closed, I looked at the Transfer History section to see what Chelsea had been up to. Frustratingly, it only shows a certain number of transfers, so I had to sort by transfer value. This meant I would only see the big transfers but I decided this would be ok. I mostly wanted to see if any Chelsea players would jump ship now that they were in League Two. The other way to check was just to search for Chelsea players through the player search. I only observed one key transfer during this window and it was Andreas Christensen to Monaco for £27.3m. He's not a regular first teamer at this stage anyway but his wonderkid potential means that this was a great deal for Monaco.
Now it was time to sim the game forward in time to 31st December and see how Chelsea are getting on…
Midway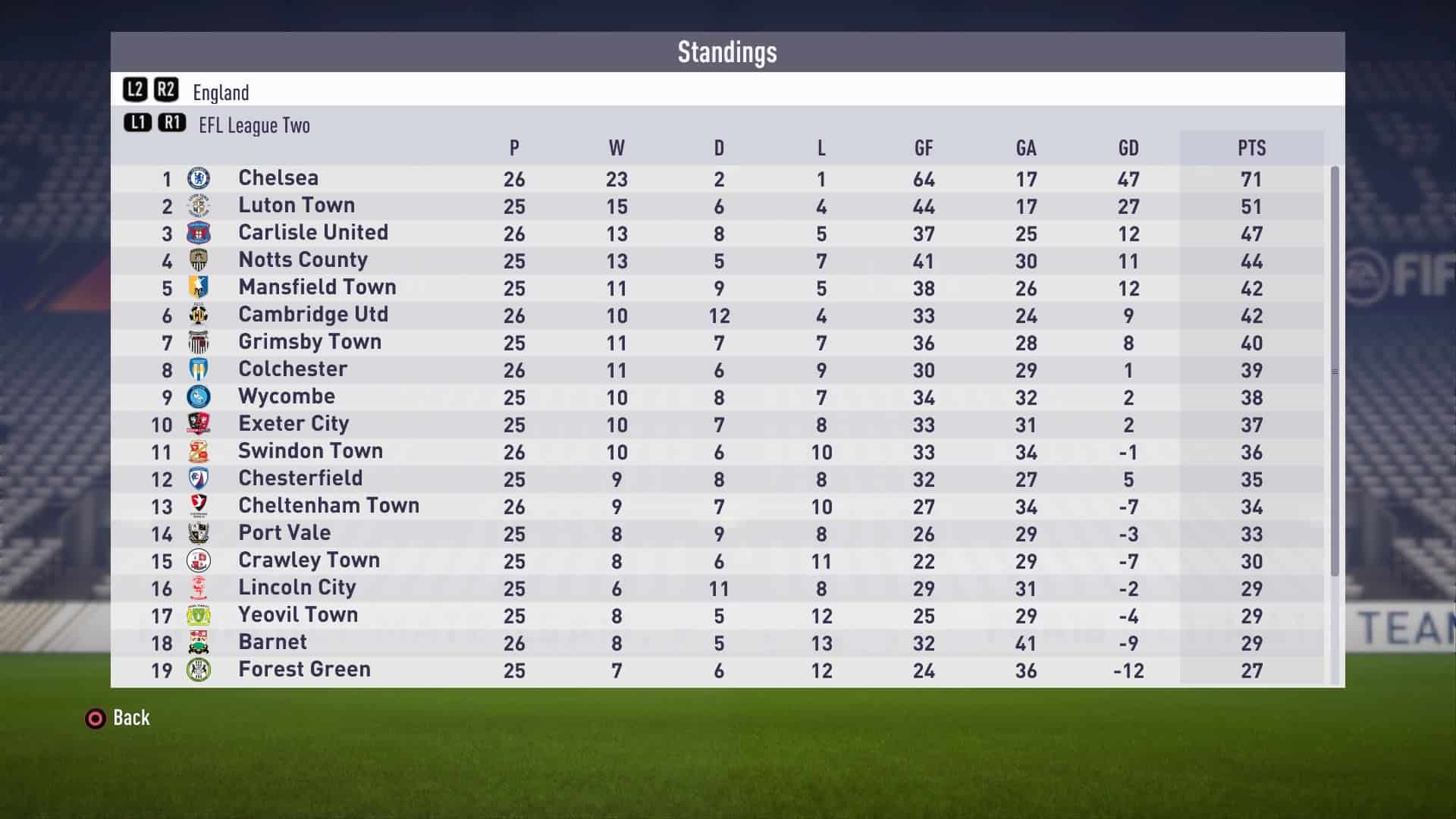 Unsurprisingly (considering they didn't lose any key players), Chelsea made a fantastic start to life in League Two. Winning 88.46% of their games put them top of the league by 20 points, with a huge goal difference.
I thought I'd also see how they were doing in the Carabao Cup. Turns out they had been beaten 2-1 by Swansea City in the quarter finals. They didn't lose any big players in the January transfer window so I continued on to the end of the season.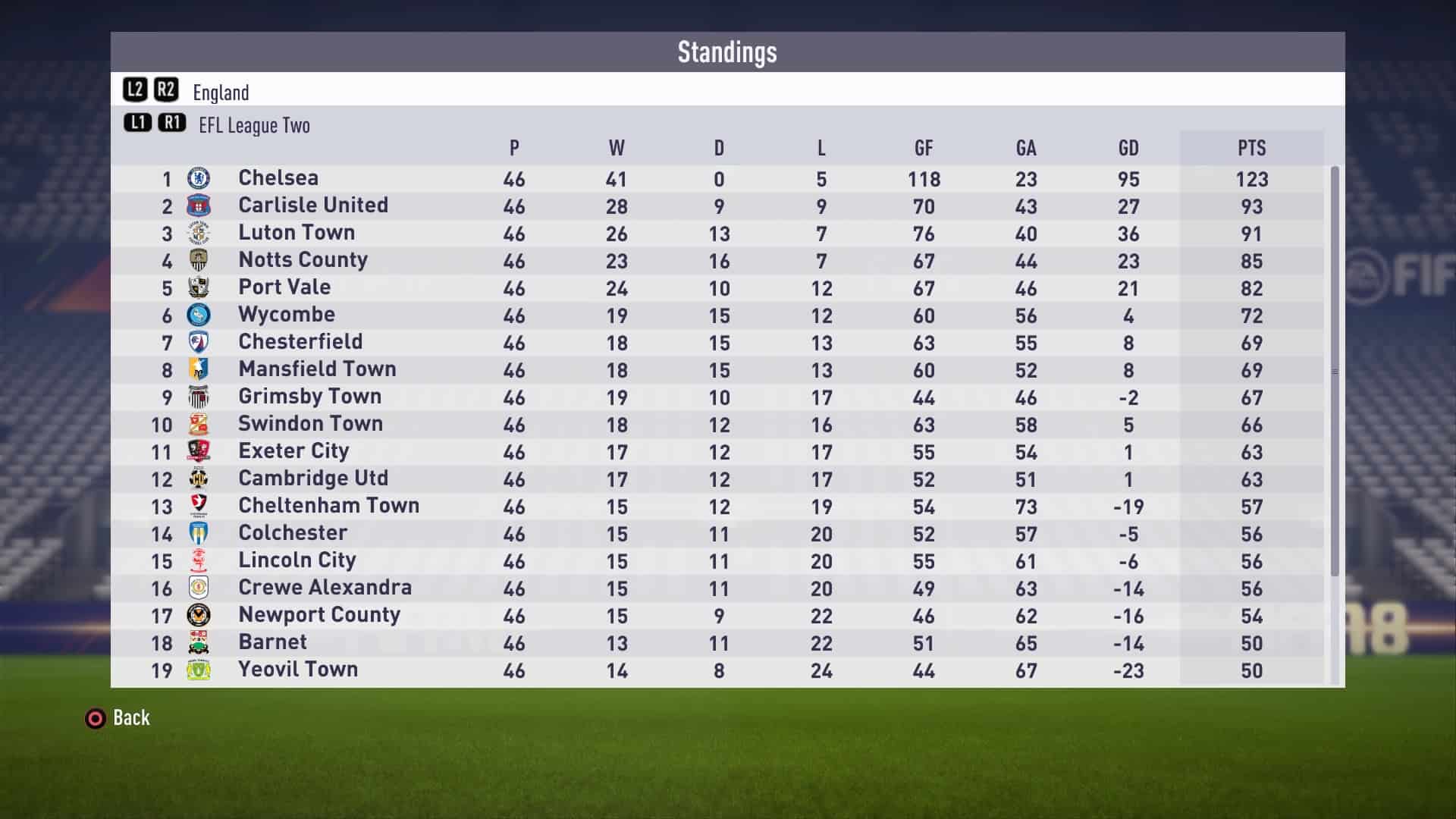 As you can see Chelsea maintained their great form and went on to win League Two in their first season. Considering their 30 point lead and goal difference of +95, they probably wrapped the title up in March/April.
It's only while writing this post that I notice something strange has happened. Did you notice it? At the end of 2017, Chelsea had drawn twice but at the end of the season the league table reports zero draws for Chelsea – WTF. I've seen anomalies before in career mode when you switch jobs mid season but nothing like this, maybe I've just never noticed it.
Chelsea had been knocked out of the FA cup early (they weren't visible in the cup tree display) to my surprise. West Bromwich Albion actually won the FA Cup which was a little surprising but not unheard of. As far as the Premier League goes, Manchester City won the title and Aston Villa were relegated. Wigan were also relegated but Coventry were doing alright in League One and had finished mid table.
2018/19
Second season gets underway and the only notable transfer is Abdul Rahman Baba to Ajax for £17.6m. Not a huge loss really, it's weird that they haven't lost any big players like Hazard or Courtois.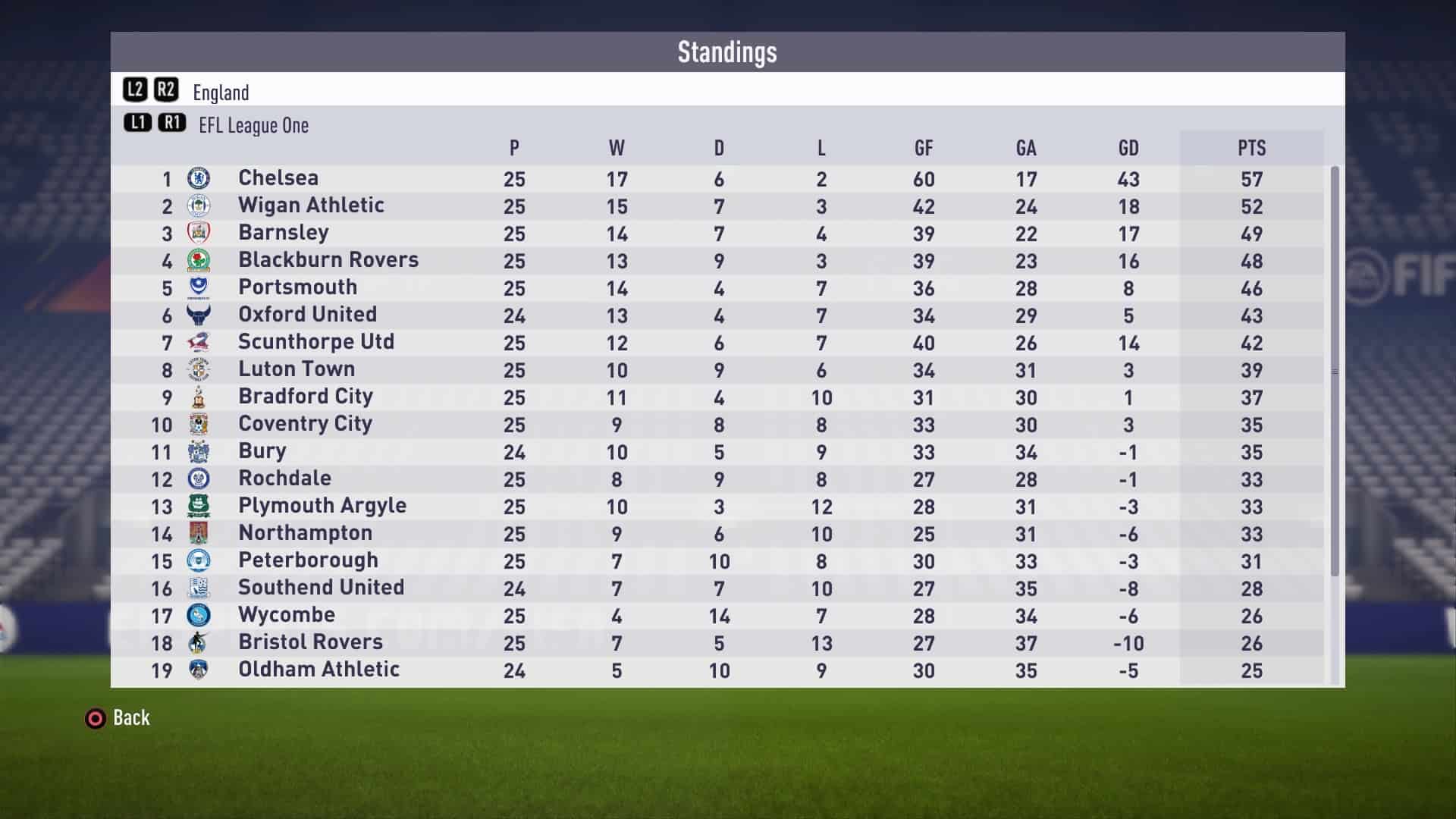 At the end of the calendar year, Chelsea are top once again but not by a huge margin, only five points. Their goal difference is much better than anyone else's but I'm wondering if this league will be a little tighter. I'm still expecting them to gain automatic promotion but maybe not with a 30 point lead, maybe not even in first place.
My team (Arsenal) were drawn against Chelsea in the Carabao Cup in September, they lost 2-1. It doesn't seem like anything major happened for them in the January transfer window so I continued on to May.
At the end of the season I check in on League One and see that Chelsea have triumphed again. For the second season in a row they were knocked out of the FA Cup early on. Back to back promotions is very good, even if their squad is miles ahead of the competition in terms of quality.
2019/20
At this point, Chelsea are about to start their first season in the Championship and the transfer window starts to get a little more interesting.
As Arsenal manager, I had signed Gianluigi Donnarumma in one of the previous seasons. I didn't want to go too crazy with transfers but needed the squad to be good enough to meet some objectives so I wouldn't get fired. During the summer transfer window, Chelsea made an approach for Donnarumma, offering £49.8m. This was a strange move anyway considering they still had Courtois (who was rated 91 at this point) but I declined their offer anyway.
They also sold two of their strikers during this window. Diego Costa moved to Barcelona and Michy Batshuayi was sold to Roma for £40.7m. The only player I could see that they bought during this window was Ivorian left back Ghislain Konan. The fee paid to V Guimaraes was £16.1m, so this seems to be a direct replacement for Baba Rahman.
Midway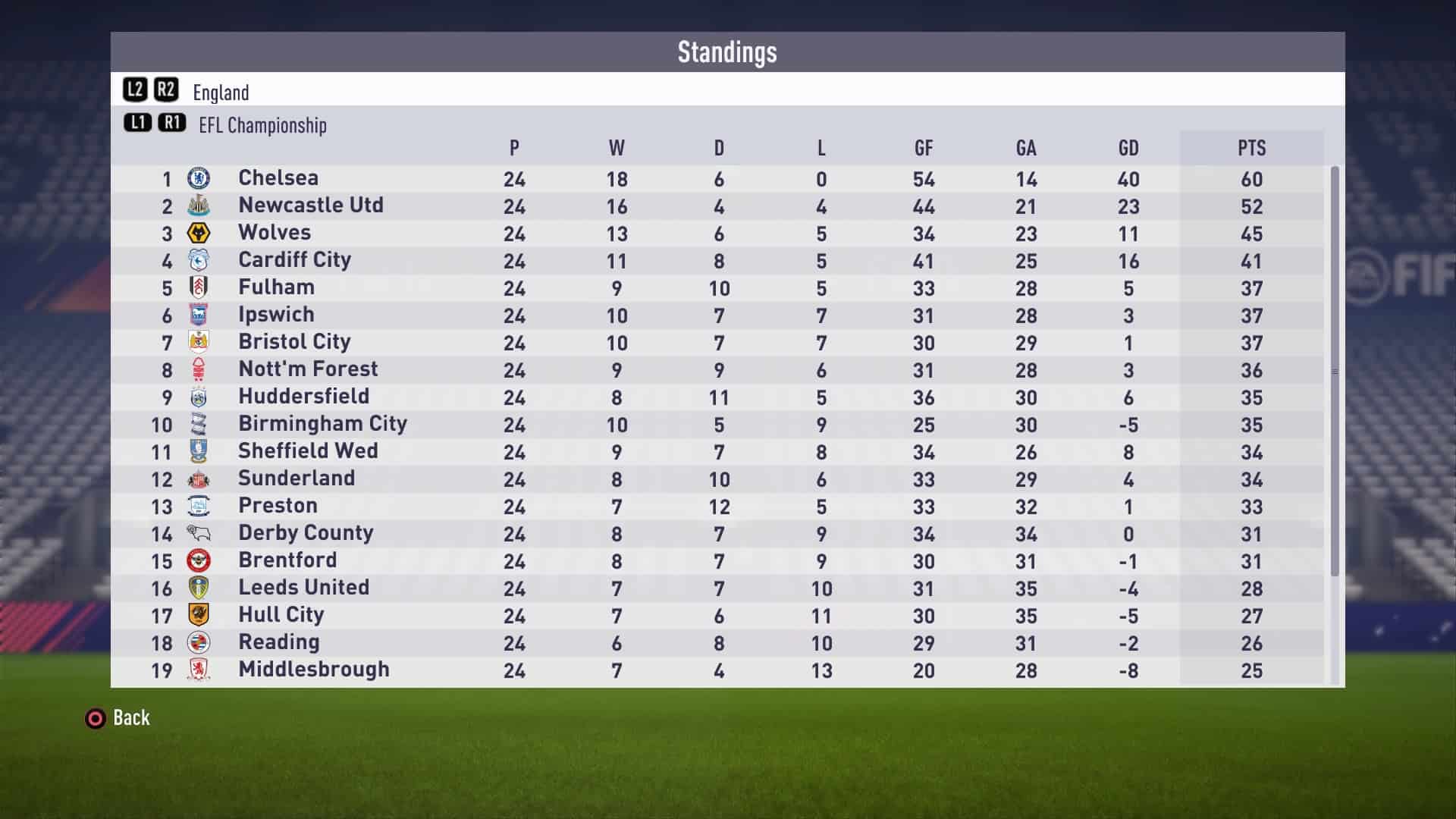 Stopping at the end of December, I noticed that Chelsea had been knocked out of the Carabao Cup early on but were already leading the Championship. A pattern was emerging, they had a fairly comfortable lead and an impressive goal difference, just as they had in the previous two seasons.
During the January transfer window, Chelsea bid a massive £57.7m for Stefan de Vrij (also an Arsenal player at this point). I again rejected their offer, just to force them to pursue other targets rather than just purchasing my in form players.
End of Season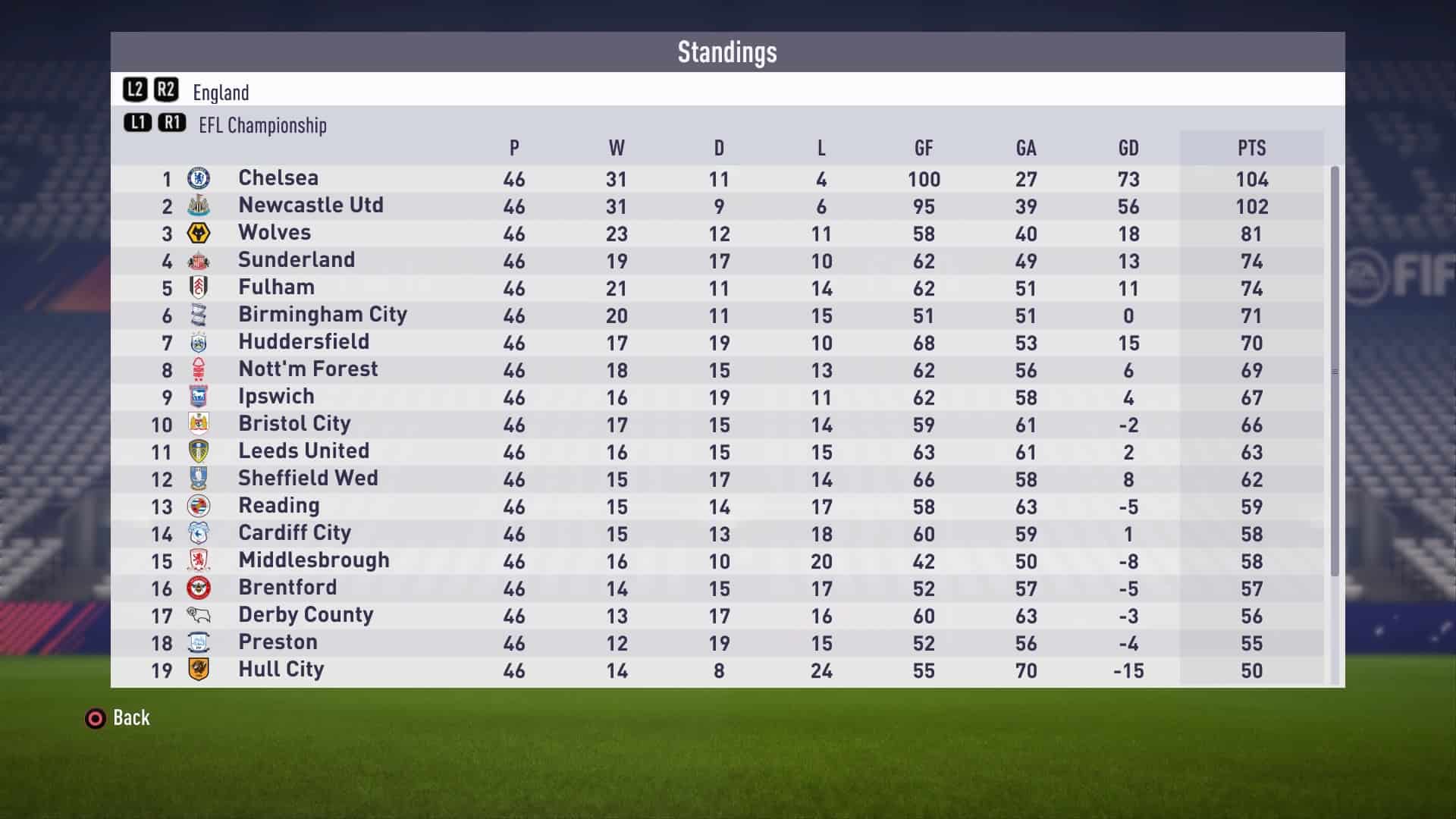 Skipping ahead to the end of the season and things have mostly gone as expected. Chelsea finished top of the Championship and won automatic promotion back to the Premier League (in just three seasons). Although they made the automatic promotion spots comfortably (ahead of third-placed Wolves by 23 points), they only beat Newcastle by two points. Chelsea won the same number of games as Newcastle but drew two more games than them.
For the second time in this simulation, Swansea destroyed Chelsea's cup dreams by beating them in the FA Cup semi final 1-0. It's strange that Chelsea have performed so well in the league campaigns but haven't won any major silverware. I suppose the knockout format of the cups make things a little more unpredictable, but their players should have been in good form because of their regular league wins. There is of course a chance that Chelsea won the Johnstone's paint trophy along the way but there doesn't seem to be a way of checking this.
At this point I was a little disappointed that Chelsea had found it so easy to get back into the Premier League. The big sides can often struggle in seasons I've played but my guess is that the difference in squad quality plus good form meant Chelsea were able to steamroller most sides. The fact that they only won the league by two points gives me a bit of hope that they might struggle on their return to the Premier League.
2020/21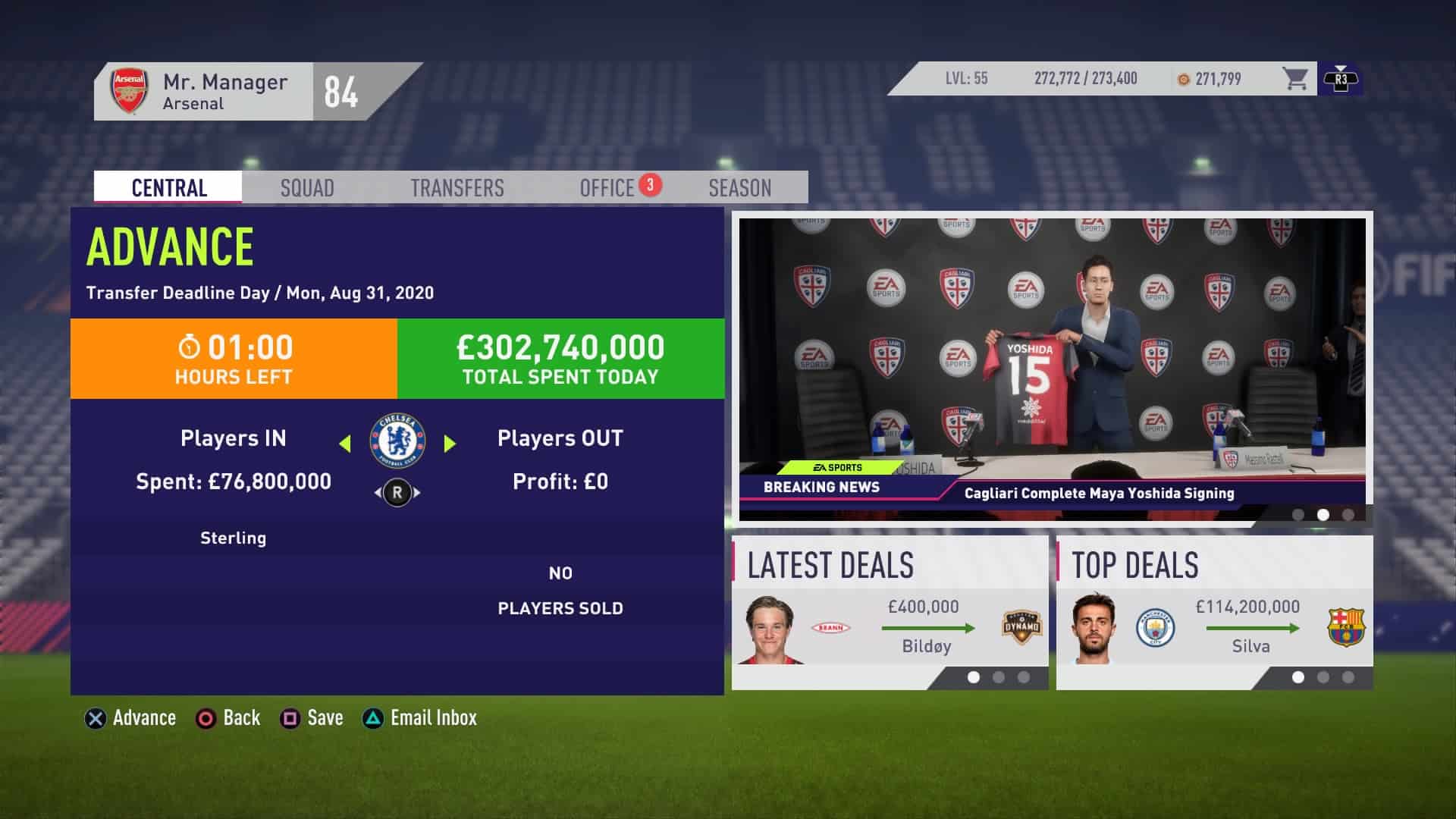 At the start of the season, they didn't lose any players and only brought in one. The sizeable purchase of Raheem Sterling for £76.8m from Manchester City was quite the statement of intent. Viewing their transfer activity is much easier when the team I'm managing is in the same league as them.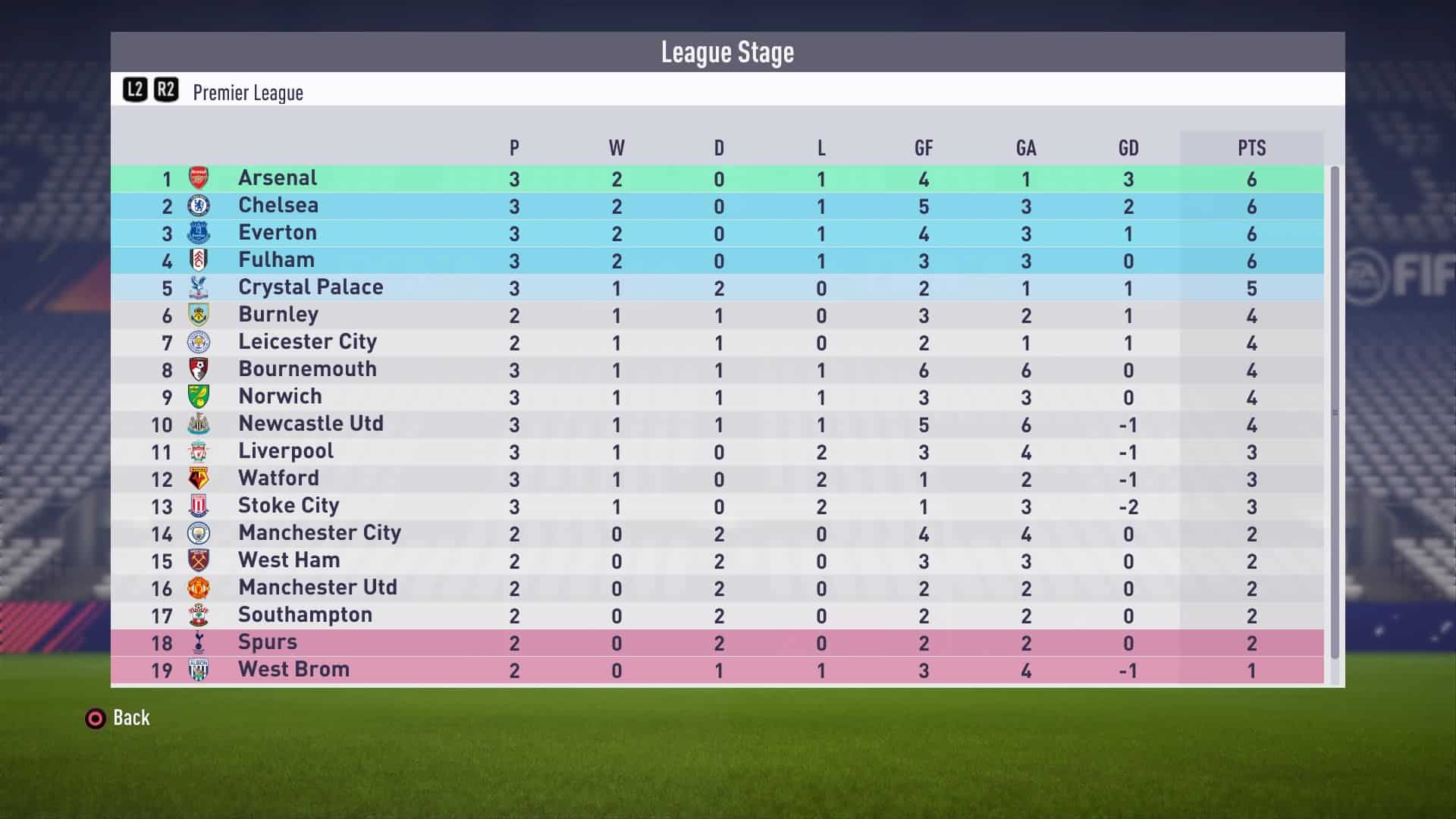 At the end of August I had a quick look at the league table and Chelsea had taken no time to get back to winning ways in the Premier League. In previous games, early fixtures have often had a big impact on a team's success due to form so things were looking good for Chelsea.
Midway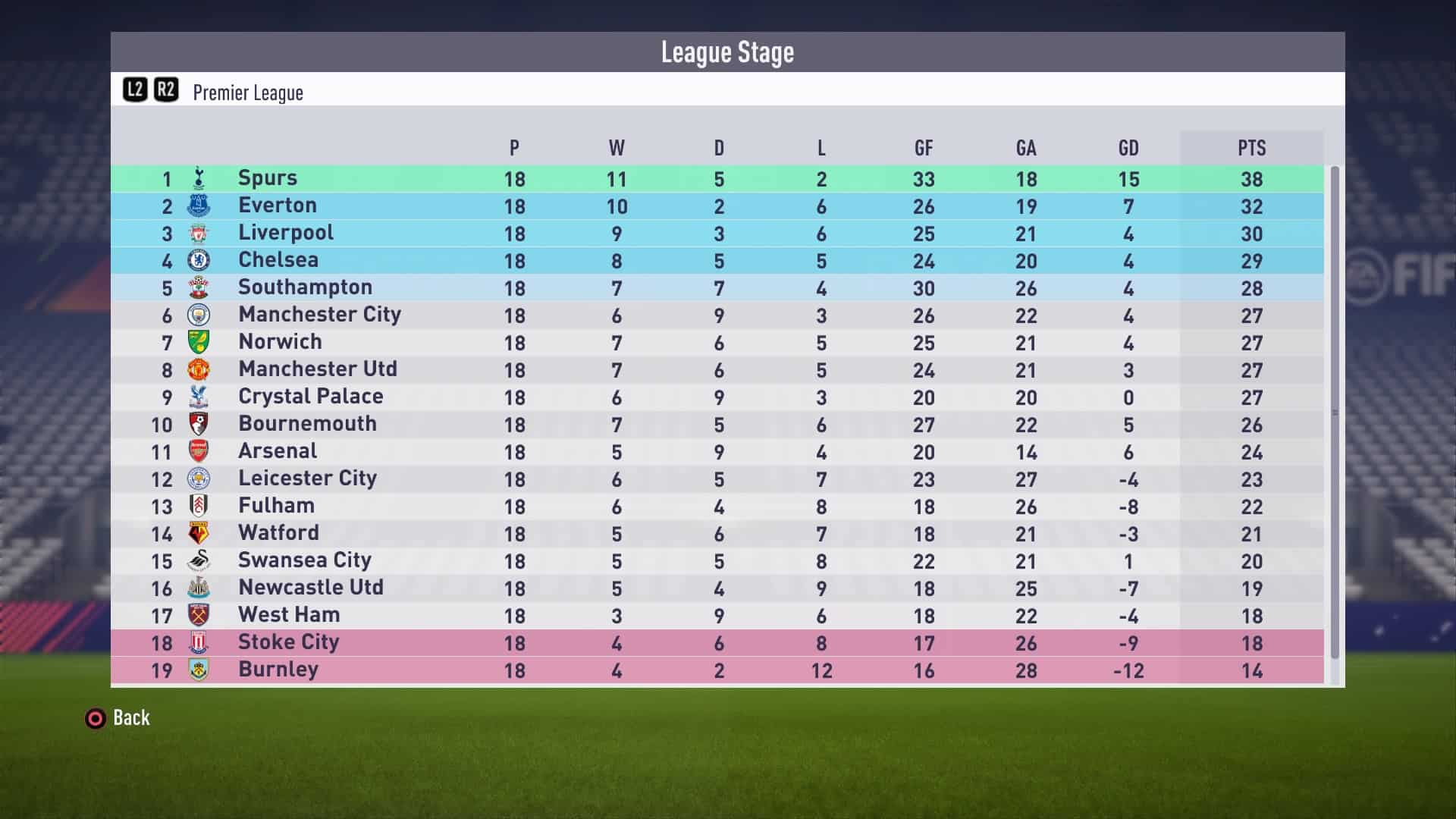 Skipping ahead to the end of December and Chelsea are still near the top of the table. Things are a lot tighter this time around, only five points separate second and ninth place. At this point, they're on course for a return to European football next year.
Another relatively quiet transfer window for Chelsea. Kenedy hasn't quite fulfilled his potential and is sent out on loan. Meanwhile they bring in Lukasz Teoodorcyzk from Anderlecht. They haven't spent very much money so I don't know if one of these is a loan deal or maybe they don't have long left on their contracts. Unexpected frugality from Chelsea.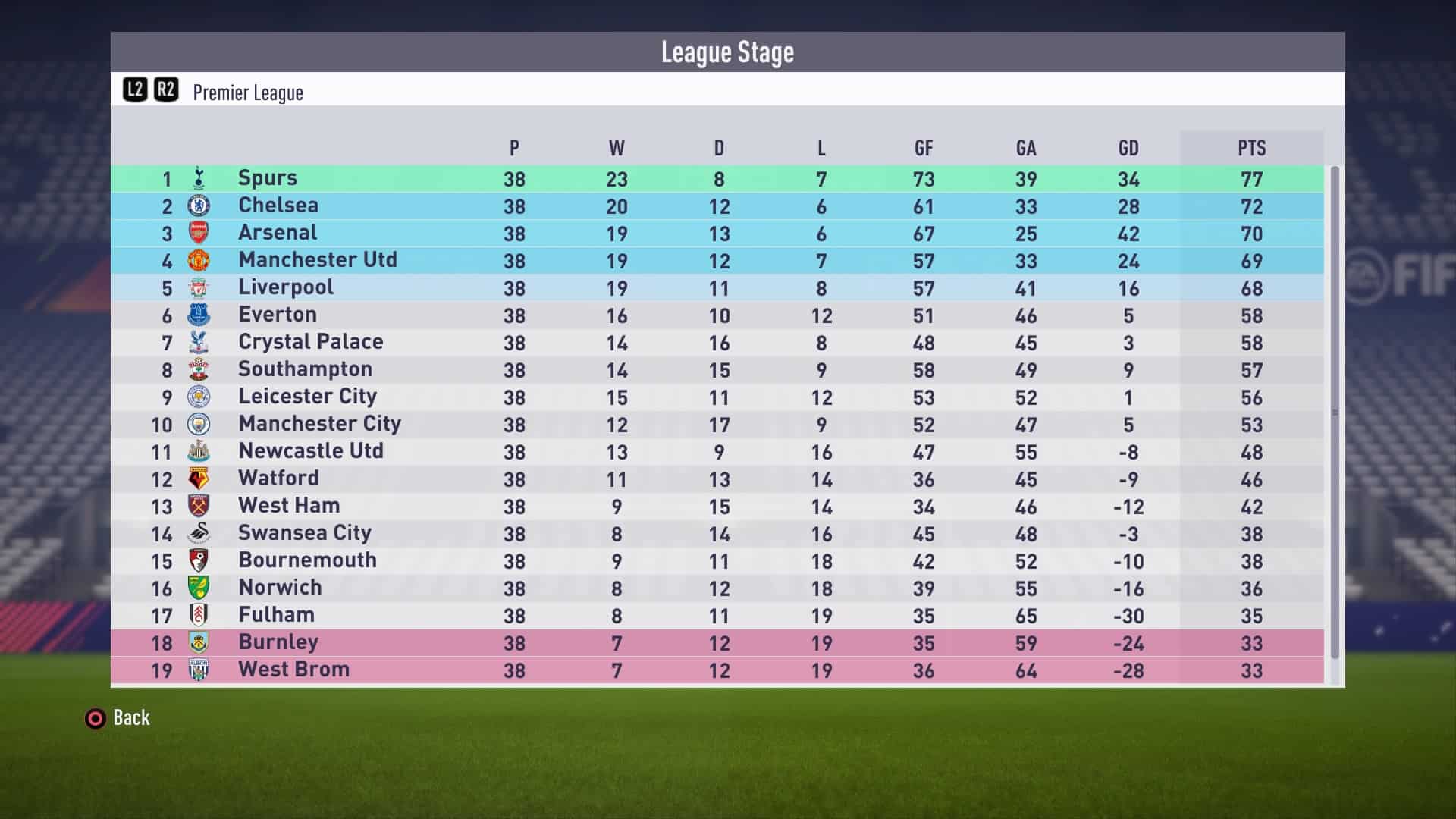 Simming ahead to May and Chelsea have finished second in the Premier League. They were beaten to the title by five points but the race for Champions League places was a lot closer. In just four seasons, Chelsea are back in the Champions League.
However, Chelsea's wait for silverware goes on as they were knocked out of the FA Cup in the early rounds. Bizarrely, they also lost the quarter final of the Carabao Cup to Derby.
Closing Thoughts
Four seasons in and I'm calling quits on this experiment. I completely expected Chelsea to ascend the leagues, but was surprised they did it in the minimum amount of time. No major silverware in that time will have been a blow to them, but other than that they are back on track. They seem to have kept their star players, who have progressed nicely due to consistently being in good form. Next season they would be back in the Champions League and would have a good transfer budget due to the Premier League prize money.
I have plans for other experiments, to test the career mode framework. I'm keeping quiet for now as I have some other guides to write but I'll add them soon. The ones I have planned should be a bit more disruptive than this one.